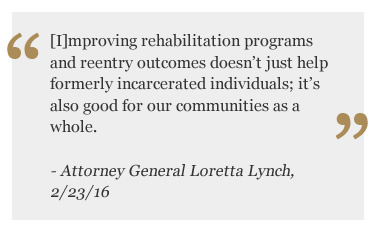 Reentry programs and reentry courts are designed to help returning citizens successfully "reenter" society following their incarceration, thereby reducing recidivism, improving public safety, and saving money.
A primary focus of our reentry efforts is to remove or reduce barriers to successful reentry, so that motivated individuals - who have served their time and paid their debt to society - are able to compete for a job, attain stable housing, support their children and their families, and contribute to their communities. 
 
Reentry Plan for the Eastern District North Carolina (EDNC)
The United States Attorney's Office for the Eastern District of North Carolina (EDNC) has developed a Reentry Plan to assist in crime prevention and reentry efforts throughout our District.  The segments of our four-part plan are as follows:
1.  Drug and Reentry Courts
The EDNC staffs two drug and reentry courts: H.O.P.E. (Helping Offenders Pursue Excellence) Court and S.T.A.R. (Striving To Achieve Recovery) Program.  Both courts consist of a collaborative effort between the Eastern District of North Carolina's U.S. District Court, U.S. Probation Office, U.S. Attorney's Office, Federal Public Defender's Office, and other agencies to provide rehabilitative services to individuals with substance abuse issues who are involved in the federal criminal justice system.   Participants are provided with a system of support through a range of incentives and sanctions aimed at promoting and targeting long-term, sustainable, positive offender change.   The H.O.P.E. Court based in Raleigh, North Carolina, and the S.T.A.R. Program based in Greenville, North Carolina, both hold regularly scheduled court hearings to assess the progression of its participants.  Participants are required to complete four different phases of the programs in order to graduate successfully.  The focus of the programs is to enable participants to conquer their substance abuse issues and provide them with the tools that they will need to be successful on supervision and afterwards, particularly educational and vocational support.   Both the H.O.P.E. Court and the S.T.A. R. Program accept participants post-conviction, where an individual is on probation or supervised release after having been sentenced for a federal offense.  Additionally, the S.T.A.R. Program accepts approved participants pretrial, where there has been no adjudication of guilt, and presentence, where the individual has been adjudicated guilty, but has not yet been sentenced.  Upon successful completion of the voluntary programs, participants can earn a reduction in time from their supervised release sentence.
For more information about H.O.P.E., please watch this Giving Hope video. LINK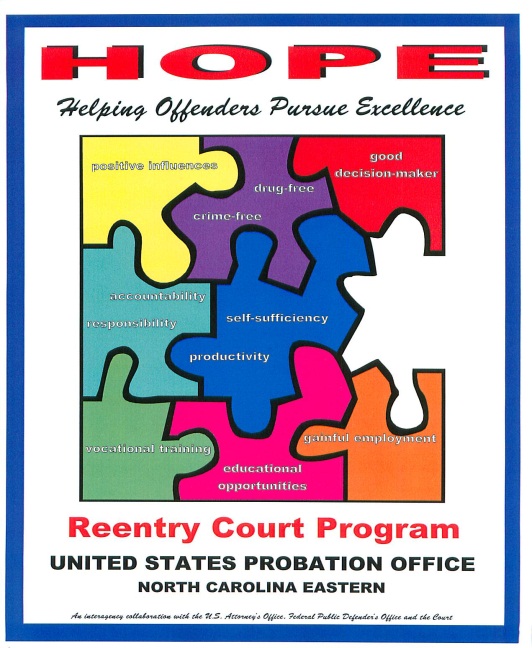 2.  Focused Deterrence Notification (Call-Ins)
A focused deterrence notification (call-in) is a systematic and thorough problem identification strategy to deter violence, gun and drug crimes.  A comprehensive and strategic focused deterrence plan is created by local and federal law enforcement partners to target chronic and repeat offenders.  Once notified, offenders are provided a unified message that they have been targeted and will be sanctioned if they continue to commit criminal acts.  Community members and resource providers participate and augment the aggressive law enforcement approach by providing participants with support services and resources including housing, vocational and employment services, educational services, and substance abuse programming.  The EDNC is currently operating six (6) Focused Deterrence Notification (Call-In) locations:
Fayetteville: LINK
Goldsboro
Greenville
Jacksonville
Elizabeth City
Rocky Mount
3.  Community Outreach and Local Reentry Councils
The EDNC has been highly successful in its community outreach efforts.  We have participated with the community in joint events meant to foster awareness, crime prevention, and to open lines of communication.  Our office also engages in community outreach through participation in reentry councils across the district.  Local reentry councils are comprised of individuals and agencies within a community that provide assistance, services and resources to formerly incarcerated individuals to help formerly incarcerated individuals transition from incarceration back into society as productive citizens.  There are local reentry councils in various communities throughout the EDNC including:       
Capital Area Reentry Council (Wake and Johnston Counties): LINK
Carteret County
Craven and Pamlico Counties: LINK
Cumberland County
Nash, Edgecombe, and Wilson Counties
Onslow and Jones Counties
Pitt County
New Hanover County
Additional information about Reentry Councils can be found in the links below:
4.  Prison In-reach
The  final  piece  of  the  EDNC's  four-part  plan  for  reentry/prevention is  prison  outreach. Currently, we are working with the Federal Bureau of Prisons in Butner, North Carolina in-reach program within the prisons, targeting offenders who are within a year of release.  The program works in conjunction with the Reentry Affairs Division of the Bureau of Prisons and assists in efforts to secure reentry plans for each individual who will be released back into the community.   This also provides us a platform from which to recruit individuals for our reentry and drug courts.
 
Federal Interagency Reentry Council (FIRC)
The FIRC, established by the Attorney General in January 2011, comprises 20 federal agencies representing a significant executive branch commitment to coordinating reentry efforts and advancing effective reentry policies. It is premised on the recognition that many federal agencies have a major stake in prisoner reentry.  Learn more
 
Reentry Issues

Public Safety
Reentry improves public safety.  Approximately two million adults are incarcerated in state prisons and local jails. Nationally, two out of every three people released from state prisons are rearrested for a new offense and about half are reincarcerated within three years. Reducing recidivism is critical for increasing long-term public safety and lowering corrections costs.

Employment
Individuals who have been incarcerated can expect their future earnings to be reduced by about 40 percent after they return to their communities.   Reentry efforts seek to reduce barriers to employment so that people with past criminal involvement – after they have been held accountable and paid their dues – can compete for work opportunities.

Health
There is often a lack of continuity in care from inside the prison to the community.  Reentry efforts can help ensure that the Affordable Care Act and other reforms will significantly increase access to appropriate physical and behavioral health interventions after release from incarceration. Substance abuse can be a significant impediment to successful reentry and a major health concern. Addressing the root causes of substance abuse leads to improved public safety.

Education
Education is a core resource for release preparation, and is an evidence-based tool for reducing recidivism among adults and juveniles. Participation in education programming was associated with a 16 percent reduction in recidivism in one study. Education is also a critical building block for increasing employment opportunities.

Housing
Stable housing with appropriate supportive services is a key factor in preventing homelessness and reducing recidivism.  The goal is to reduce barriers to public and subsidized housing, and advance promising models that improve outcomes for people who repeatedly use corrections and homeless services.
 
Additional Resources
Please visit the following resources for more information about reentry:
Updated January 26, 2021