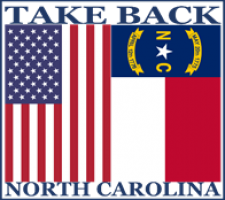 Take Back North Carolina
Leadership and Partnership: "Take Back North Carolina" was implemented as a new initiative in March 2018 to combat violent crime, drug trafficking and crimes against law enforcement. The initiative renews the partnership between the United States Attorney's Office; District Attorney's offices; and federal, state, and local law enforcement agencies across the 44 counties of the district. This partnership includes 44 Sheriffs, 188 Police Departments, and 15 elected District Attorneys, and utilizes the regional assignment of Assistant United States Attorneys (AUSAs), strategic targeting, decentralized case intake authority, and public messaging.
Targeted and Prioritized Enforcement: Based primarily on the violent crime rate, the district was divided into six areas, focusing on key cities within each area.  At least two AUSAs have been designated for each of these areas. The prosecution teams have been given the responsibility of working directly with law enforcement on a sustained basis to reduce violent crime by targeting those organizations and individuals responsible for the increased violent crime rates and for introducing the poison of illegal drugs into those particular communities. "Take Back North Carolina" allows the entire district to have the full range of enforcement tools available through the federal court system, allows the regional teams to quickly route matters to federal court when prosecution in that venue would deliver the most significant impact, and protects and supports law enforcement officers who face unacceptable threat levels as they enforce the law.  These targeted efforts resulted in an increase of violent crime prosecutions across the district and have had an impact in the communities. The United States Attorney's Office conducts training for state and local law enforcement on a variety of topics, including the federal firearms laws, other federal violent crime and drug crimes. Under "Take Back North Carolina," federal prosecutors meet with federal, state and local officers on a weekly basis to discuss and strategize about how to address the offenders driving the violence. This dialogue allows for swift prosecution in the jurisdiction that can provide the most certain and appropriate sanction. The United States Attorney's Office has significantly increased the speed with which it routes appropriate violent drug and firearms offenders to federal court, often on the same day that the crime was committed. Law enforcement partners and the District Attorneys have been extremely supportive of the "Take Back North Carolina" initiative.
Prevention of Additional Violence and Community Engagement: The United States Attorney's Office and law enforcement are working to develop the most effective public messaging strategy for each community utilizing press releases, press conferences, and advertising campaigns highlighting the penalties for committing federal narcotics and firearms offenses. This district also utilizes call-in meetings with individuals identified to be at-risk of committing future violent acts.  These meetings are conducted in partnership with federal, state and local law enforcement officers; community-based social service providers; business leaders; and the faith-based community to communicate a deterrence message by describing focused enforcement efforts and to link those individuals to services to address the root causes of violence and recidivism.  Other prevention efforts include reentry programs, an outdoor summer movie series to engage the community and create public awareness about gun violence, and school-based programs, such as Educating Kids about Gun Violence and bully prevention programs. The objective of the prevention and community engagement elements of the program is to prevent additional gun crimes by increasing the perception of risk and the perception of legitimacy of law enforcement among targeted offenders, and by connecting these individuals to necessary and desired services.
New Violent Crime AUSAs: As part of the largest increase in federal prosecutors in decades, in 2018, the Department of Justice allocated 4 new Assistant United States Attorneys to the Eastern District of North Carolina to work on reducing violent crime.
Updated August 25, 2021