The USAO/Eastern District of New York takes every available opportunity to communicate with its citizens. Our outreach efforts include participation in a variety of events to promote DOJ mission specific topics. The Office's Community Resource Specialist and other USAO personnel work with many agencies and organizations to enhance public safety through community outreach and help make our district safer and more secure.
CRIME PREVENTION INITIATIVES
Project Safe Neighborhoods
Project Safe Neighborhoods (PSN), which was first initiated in 2001 by the Department of Justice, is a nationwide commitment to reduce gun and gang crime in America by networking existing local programs and providing these programs with additional tools.  The Office has partnered with the district attorney's offices in Queens, Kings and Nassau Counties to work to reduce and prevent gun violence. Learn more
United States Attorney Loretta Lynch and Nassau County District Attorney Kathleen Rice present awards to the winners of the annual PSN anti-gun poster contest to students at Roosevelt Middle School in Roosevelt, NY.  June 8, 2012.
Project Safe Childhood
Project Safe Childhood is a unified and comprehensive strategy to combat child exploitation.  Initiated in May 2006 by the Department of Justice, Project Safe Childhood combines law enforcement efforts, community action, and public awareness. The Office has partnered with the National Center for Missing & Exploited Children on multiple occasions to provide valuable child safety training to federal, state, and local law enforcement as well as participated in local community events to raise awareness. Learn more
USAO staff volunteer at the NY Islanders game to benefit the National Center for Missing and Exploited Children. Nassau County Coliseum, March 29, 2012.
SPEAKERS BUREAU
Providing Federal Information to the Community
USAO/Eastern District of New York staff members are often requested to present on matters of public interest, agency objectives, leadership, and special initiatives. Speakers participate in panel discussions, public presentations and special appearances.  AUSA Pamela Chen speaks in a panel discussion on identifying and interviewing victims of human trafficking at the Freedom Network Conference. New York, NY. March 21, 2012.
Presenting Opportunities and Encouragement to Young Leaders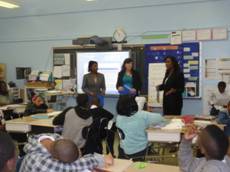 USAO/Eastern District of New York staff speaks to 4th grade students at Warren Prep Academy in Brooklyn, NY.  May 15, 2012.
Communinty leadership
Engaging the Community
USAO/Eastern District of New York and SDNY staff participates in the FBI's Muslim Youth Career Day at Kingsborough College, Brooklyn, NY. May 19, 2012
Volunteerism
USAO Staff volunteer at the Weed & Seed neighborhood cleanup in the Cypress Hills, Brooklyn.  September 17, 2011.
Updated July 6, 2015