From left are Caddo Parish Sheriff's Office Fleet Manager Mike Gregory; U.S. Attorney for the Middle District of Louisiana Walt Green; Holly Sheets, Victim Witness Coordinator for the U.S. Attorney's Office Middle District of Louisiana; First Assistant U.S. Attorney for the Western District of Louisiana Alexander Van Hook; Baton Rouge Constable Reginald Brown; and Mike Campbell, Law Enforcement Coordinator for the Western District of Louisiana.
The U.S. Attorney's Office for the Middle District of Louisiana is a proud partner of the Louisiana Law Enforcement for Gun Safety.
Louisiana Law Enforcement for Gun Safety ("LLEGS") was created in 2013 in response to the alarmingly high rate of accidental firearm injuries and deaths among children in Louisiana. Louisiana currently ranks second in the nation in such accidents. Childhood firearm-related deaths rank third in causes of death only to be exceeded by vehicular accidents and cancer.
The mission of LLEGS is to deliver an educational program to the state's youth promoting gun safety and awareness in an effort to reduce the risks of these accidents.
The program uses POST-certified officers or deputies to teach parents and children about gun safety through an innovative, interactive presentation and the distribution of gunlocks. The program aims to (1) identify the hazards of unsecured firearms, why children are fascinated with firearms, and ways to safely maintain firearms; (2) identify distinguishing characteristics between real and toy guns; and (3) illustrate the destructive force of firearms through the use of the demonstration trailer.
Partners of LLEGS consist of the United States Attorney's Offices for the Middle, Eastern and Western Districts of Louisiana, Baton Rouge City Constable's Office, Louisiana Department of Corrections, Louisiana Sheriff's Association, Louisiana Association of Chiefs of Police, Louisiana City Marshals and City Constables Association, Louisiana District Attorneys Association, Louisiana State Police, and the Louisiana Attorney General's Office.
Through the endorsement of these agencies, the program is available for use by all Louisiana law enforcement agencies. Demonstration trailers are geographically disbursed throughout the state and are housed by Baton Rouge City Constable's Office, Gretna Police Department, and Caddo Parish Sheriff's Office.
For more information or to schedule a presentation, please call a representative in your area:
Middle District of Louisiana
Holly Sheets, U.S. Attorney's Office
225-389-0443
Parishes of: Ascension, East Baton Rouge, East Feliciana, Iberville, Livingston, Pointe Coupee, St. Helena, West Baton Rouge, West Feliciana
Eastern District of Louisiana
Jason Dimarco, Gretna Police Department
504-363-1748
Parishes of: Assumption, Jefferson, Lafourche, Orleans, Plaquemines, St. Bernard, St. Charles, St. James, St. John the Baptist, St. Tammany, Tangipahoa, Terrebonne, Washington
Western District of Louisiana
Mike Gregory, Caddo Parish Sheriff's Office
318-681-1106
Parishes of: Acadia, Allen, Avoyelles, Beauregard, Bienville, Bossier, Caddo, Calcasieu, Caldwell, Cameron, Catahoula, Claiborne, Concordia, Jefferson Davis, De Soto, East Carroll, Evangeline, Franklin, Grant, Iberia, Jackson, Lafayette, LaSalle, Lincoln, Madison, Morehouse, Natchitoches, Ouachita, Rapides, Red River, Richland, Sabine, St. Landry, St. Martin, St. Mary, Tensas, Union, Vermilion, Vernon, Webster, West Carroll, Winn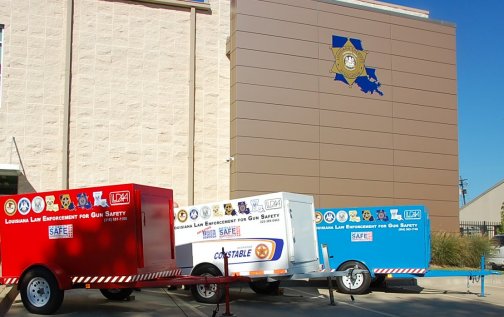 Pictured are the three demonstration trailers that represent LLEGS throughout the state.
Updated May 1, 2015