In 2009, the Mayor of Salinas met with the U.S. Attorney to address burgeoning gang violence and homicide rates in the City of Salinas. In 2005 and 2006, Salinas had 7 homicides. In 2007 the numbers doubled to 14, and by 2008 the numbers had nearly doubled again to 25. In 2009, the number exceeded the prior year with 29 homicides – all gang related. This was a staggering homicide rate for a population of 150,000.
As a start to a comprehensive effort, the U.S. Attorney convened a two-day Gang Crime Summit in September of 2009 which included the political leadership of Salinas and Monterey County and the nonprofit, education, and service provider community known as the Community Alliance for Safety and Peace or CASP. The second day was a closed-door session with over 100 law enforcement officials from local, state and federal agencies focused on short term and long term enforcement and suppression operations. For more information on the law enforcement meeting, please see the attached agenda.
The first day's meeting was an essential component to a broad strategy for violence reduction. Law enforcement can deliver a time of relative peace through enforcement and suppression efforts, but it is the community, particularly the education community, organizations serving at risk youth, and service providers for the prisoner re-entry programs that bear the laboring oar and have the "heavy lifting" of taking back a neighborhood and a city plagued by gang violence.
Salinas leadership, CASP and local, state and federal law enforcement continue to work on issues involving Salinas. The major law enforcement effort in 2009 and 2010 known as Operation Knockout was extremely successful. As a result of the Crime Summit in late 2009, increased law enforcement efforts at the state and federal levels and the strong efforts of CASP sustained over a two year period, Salinas has seen a time of stability in violent crime statistics. In 2008, there were 142 shootings, 25 homicides of which 23 were gang related. In 2009 there were 151 shootings, 29 homicides, all gang related. In 2010 there were 126 shootings and 20 homicides of which 19 were gang related and through November 2011, there have been 48 shootings and 12 homicides, of which 11 are gang related.
The broad strategy and strong partnerships formed as part of the ongoing anti-violence efforts has received national attention. The City of Salinas was recently chosen as one of six cities in the country to participate in a White House/Department of Justice Initiative known as the National Forum on Youth Violence Prevention discussed further below. For more information on the Salinas plan, please see the NDCA website section National Forum on Youth Violence Prevention.
Federal, state and local law enforcement gather to discuss law enforcement measures to address gang violence in Salinas, including ATF, Homeland Security Investigatons, Department of State, IRS, Governor's Office, California Highway Patrol, California Attorney General's Office, California Department of Corrections and Rehabilitation, U.S. Attorney's Office, FBI, and DEA.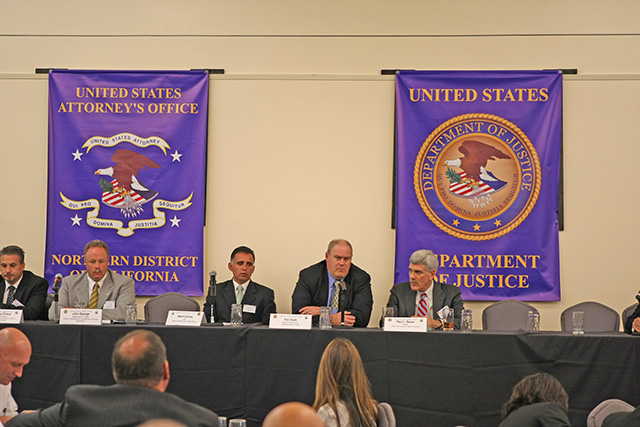 Federal, state and local law enforcement gather to discuss law enforcement measures to address gang violence in Salinas
Updated July 6, 2016