On Friday October 7, 2016, the first annual National "Coffee with a Cop Day" was held at Albany Police Department Headquarters. Members of the City of Albany Police Department, the Albany County Sheriff's Department, the New York State Police and local residents enjoyed coffee and doughnuts together in bright sunshine and warm fall weather. The event was part of the Department of Justice "National Community Policing Week" (October 3 -7, 2016) and was designed to encourage community members and police to get to know one another in a relaxed setting in order to build relationships and trust.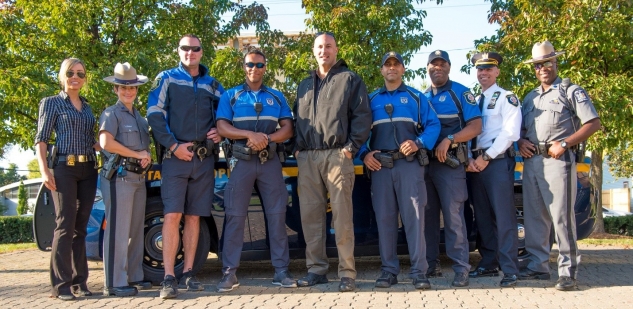 Photo credit: Steve Smith, Albany Police Department
United States Attorney Community Outreach Coordinator Emily Gagnon attended the event on behalf of the United States Attorney's Office.
The October 7th event was observed across the nation on the final day of Community Policing Week and some departments are already planning further meetings. In Ogdensburg, New York, Police Lt. Daniel Mousaw said the two-hour "Coffee with a Cop" gathering was so successful that his department is already considering future events at other locations in the city. "We not only had officers who attended that were on shift, but officers who voluntarily held over from their midnight shifts, as well as others who came in on their days off, to partake in our efforts to step up positive community policing and relationship building," Lt. Mousaw said. "The event was a tremendous success, and we certainly expect to hold more 'Coffee with a Cop' events in the future."
 The next Coffee with a Cop event to be held in the Northern District of New York will take place on October 19th from 12:00-1:00 at the Saratoga Springs Public Library. This will be the first in a series of monthly "Coffee with a Cop" events in the city hosted by the Saratoga Springs Police Department.
For more information or to become involved, please visit http://coffeewithacop.com/.
Updated April 24, 2017