Press Release
Justice Department honors Ohio County Sheriff's Deputy in Second Annual Attorney General's Award For Distinguished Service In Policing
For Immediate Release
U.S. Attorney's Office, Northern District of West Virginia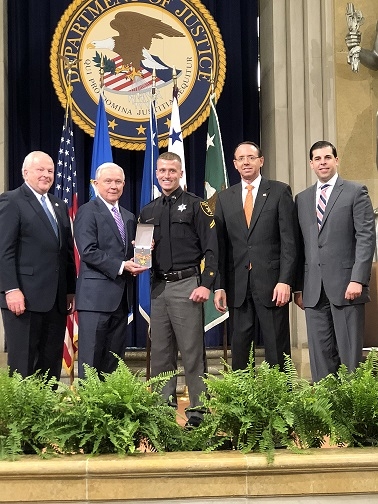 WASHINGTON – United States Attorney Bill Powell joined Attorney General Jeff Sessions and Justice Department leadership this week in announcing the recipients of the Second Annual Attorney General's Award for Distinguished Service in Policing, recognizing the exceptional work of 25 law enforcement officers and deputies from 12 jurisdictions across the country.
"The Trump Administration supports law enforcement at all levels—and we always will," said Attorney General Sessions. "The awards honor the incredible work that is being done across this country every day.  This Department of Justice takes pride in announcing today's winners of the Attorney General's Award for Distinguished Service in Policing."
"I was enormously proud to be there when Corporal White received the Attorney General's Award.  He was so deserving, but incredibly humble.  Corporal White is a fantastic representative of our law enforcement community.  So many members of law enforcement do incredible things every day for our communities without fanfare.  It was great to see such a deserving person honored'" said Powell. 
Ohio County Sheriff's Corporal Richard White, III, was one of the honorees. He was recognized for his bravery and quick action in rescuing a 13-year-old girl and an adult female from swift flood waters along Wheeling Creek near Greenwood Cemetery on June 24, 2017. Corporal White put his life at risk to save others, preventing a tragedy.
The Justice Department has been committed to supporting law enforcement and continues to back the "women and men in blue," as directed by President Trump's February 2017 Executive Order. The Department has recently awarded grants to assist law enforcement and first responders who supported mass shootings in Las Vegas, Nevada, Parkland, Florida, and Santa Fe, Texas.  In addition, the Department has helped police departments across America to hire hundreds more police officers through the COPS grant program. 
The Attorney General's Award recognizes individual state, local, and tribal sworn rank-and-file police officers and deputies for exceptional efforts in policing. The awarded officers and deputies have demonstrated active engagement with the community in one of three areas: criminal investigations, field operations or innovations in community policing. The Department received 207 nominations for 469 individuals ranging from state police departments, to local police, to campus public safety agencies. This award highlights the work that officers and deputies do to prevent, intervene in, and respond to crime and public safety issues. 

 
Updated September 21, 2018
---