On September 30, 2015, The U.S. Attorney's Office for the District of New Jersey partnered with the N.J. Attorney General's Office to host the "Building Trust: Strategies to Strengthen Police/Community Relationships" summit at the War Memorial in Trenton.
Approximately 300 federal, state and local law enforcement officers, community group members, educators, and members of faith-based organizations attended the day-long summit.
Opening remarks were provided by Acting Mercer County Prosecutor Angelo Onofri, New Jersey Acting Attorney General John J. Hoffman, and United States Attorney for the District of New Jersey Paul J. Fishman. Principal Deputy Assistant Attorney General Vanita Gupta, who leads the Civil Rights Division at the Department of Justice, and Director Ron Davis, who leads DOJ's Office of Community Oriented Policing Services (COPS), gave keynote addresses.  All of the speakers stressed the importance of building and maintaining relationships with the communities served by law enforcement.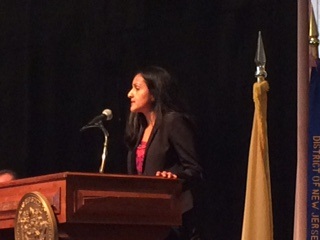 Four panels explored how to improve police/community relations and increase communication:
(1) Investigating Potential Police Misconduct
(2) Constitutional Policing: Identifying and Solving Problems
(3) Community Policing: Increasing Transparency and Improving the Dialogue
(4) Strategies for Improving Community Confidence and Trust in Police
The summit agenda can be found here: 
summit_building_trust_program.pdf.
Updated January 12, 2017