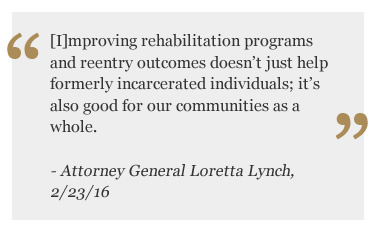 April 24- April 30 is Federal #ReentryWeek.

Reentry programs and reentry courts are designed to help returning citizens successfully "reenter" society following their incarceration, thereby reducing recidivism, improving public safety, and saving money.
A primary focus of our reentry efforts is to remove or reduce barriers to successful reentry, so that motivated individuals - who have served their time and paid their debt to society - are able to compete for a job, attain stable housing, support their children and their families, and contribute to their communities. 
Federal Reentry Efforts in New Jersey
Federal prisoner re-entry support in Newark doubled on January 4, 2016, with the opening of a second re-entry court led by U.S. Magistrate Judge Michael A. Hammer. This second court joins the District of New Jersey's robust re-entry efforts which include the pilot court in Newark launched in January 2013 as well as the Camden court which opened in June 2015.  The Newark re-entry court, called "ReNew," is a partnership between U.S. District Court Judge Madeline Cox-Arleo, the U.S. Attorney's Office, the Federal Public Defender's Office, and the U.S. Probation Office designed to help ex-offenders recently released from federal custody successfully reintegrate into society.  "ReNew" stands for "RE-entry into NEWark."
The program provides participants with close supervision, tangible support services including job placement and training, education, treatment, and counseling; as well as the access to a network of support services for housing, re-establishing valid identification, reinstatement of driving privileges, child support, and other domestic, health or legal issues that affect successful re-entry into society.
ReNew holds annual graduations for program participants who have successfully completed 52 weeks of rigorous requirements.  Since 2013, ReNew has hosted two graduations and will hold its third on April 29, 2016.
 
During his visit to Newark in November 2015, President Obama lauded ReNew and its partners as an example of extraordinary work in rehabilitating prisoners and reintegrating former inmates into society.
For more information regarding ReNew, please contact: Heather Moore, USAO DNJ Outreach Coordinator / Prevention and Re-entry Coordinator at Heather.Moore@usdoj.gov. For information on the Camden Re-entry Court, please contact Kelly Lukacs, USAO DNJ Smart on Crime Paralegal at Kelly.Lukacs@usdoj.gov.

 
Federal Interagency Reentry Council (FIRC)
The FIRC, established by the Attorney General in January 2011, comprises 20 federal agencies representing a significant executive branch commitment to coordinating reentry efforts and advancing effective reentry policies. It is premised on the recognition that many federal agencies have a major stake in prisoner reentry.  Learn more
 
Reentry Issues

Public Safety
Reentry improves public safety.  Approximately two million adults are incarcerated in state prisons and local jails. Nationally, two out of every three people released from state prisons are rearrested for a new offense and about half are reincarcerated within three years. Reducing recidivism is critical for increasing long-term public safety and lowering corrections costs.

Employment
Individuals who have been incarcerated can expect their future earnings to be reduced by about 40 percent after they return to their communities.   Reentry efforts seek to reduce barriers to employment so that people with past criminal involvement – after they have been held accountable and paid their dues – can compete for work opportunities.

Health
There is often a lack of continuity in care from inside the prison to the community.  Reentry efforts can help ensure that the Affordable Care Act and other reforms will significantly increase access to appropriate physical and behavioral health interventions after release from incarceration. Substance abuse can be a significant impediment to successful reentry and a major health concern. Addressing the root causes of substance abuse leads to improved public safety.

Education
Education is a core resource for release preparation, and is an evidence-based tool for reducing recidivism among adults and juveniles. Participation in education programming was associated with a 16 percent reduction in recidivism in one study. Education is also a critical building block for increasing employment opportunities.

Housing
Stable housing with appropriate supportive services is a key factor in preventing homelessness and reducing recidivism.  The goal is to reduce barriers to public and subsidized housing, and advance promising models that improve outcomes for people who repeatedly use corrections and homeless services.
 
Additional Resources
Please visit the following resources for more information about reentry:
2016 National Reentry Week Events in the District of New Jersey
April 21, 2016 – Resource & Employment Fair

In collaboration with the U.S. District Court and U.S. Probation Office, the USAO-DNJ will host its first "Reentry Resource and Employment," Fair in Camden, NJ.  The fair will bring together hiring employers with reentering individuals seeking employment.  Additionally, social service organizations will be on hand to provide reentrants and their families with information on resources and benefits they are eligible to receive.  Some of the agencies participating are: 1. Project HOPE – non profit organization that provides primary health care, counseling for mental health, and substance abuse counseling; 2. Catholic Charities – provides emergency services for those in needs of food, clothing, counseling); 3.  Seeds of HOPE - faith based mentoring program), to name a few.
 
April 25, 2016  – Stakeholders Panel at FCI Fairton with U.S. Attorney Paul Fishman, U.S. Chief of Probation Willie Torres, ReNew Graduate Amare Terrer, U.S. Federal Judge Noel Hillman

The Stakeholders Panel at FCI Fairton will bring together all parties that have a stake in the reentry process in DNJ.  The panelist will include U.S. Attorney Paul Fishman, U.S. Chief of Probation Willie Torres, ReNew Court Graduate Dquan Rosario, and U.S. Federal District Court Judge Noel Hillman. They will discuss what to expect upon release from incarceration, resources available, best practices to ensure successful reentry, how families can provide support, common missteps and how to avoid them, amongst other relevant topics.
 
April 26, 2016 – HUD & USAO – DNJ Presentation during the "Applicant & Resident Screening" Panel at the New Jersey Chapter of the National Association of Housing & Redevelopment Officials Conference

Two HUD Public Housing Specialists along with the USAO – DNJ Prevention and Reentry Coordinator will speak to over 200 Public Housing Authority Executive Directors and Administrators during the "Applicant & Resident Screening" panel.  The speakers will reinforce HUD and White House guidance on how arrests and convictions should be used when screening individuals for public housing eligibility, discuss information that can be used to show "mitigating circumstances," and review how revisions of PHA administrative plans can help reentrants and their families gain access to housing.
 
April 26, 2016 – Art display of the winning entries of the FCI Fairton "Don't Let Your Past Mistakes Dictate Your Future," in the Federal Courthouse in Newark, NJ.
 
April 27, 2016 – "Reentry Technology Seminar: Using Technology to Propel Your Life Forward Positively"
In collaboration with the U.S. District Court, U.S. Probation, and Essex County College, the U.S. Attorney's Office, District of New Jersey, will host a "Reentry Technology Seminar," for individuals whose terms of incarceration prevented them from becoming fully acclimated and comfortable with technology. The seminar will cover basic computer and internet skills, smartphone usage, and how technology can be a positive vehicle to propel the lives of reentrants forward.

April 29, 2016 –  Reentry Employer Breakfast

The USAO-DNJ Newark Office in collaboration with New Ark Farms (an urban farm in Newark that primarily hires ex-offenders) will host an employer breakfast with the largest employers in Newark and the surrounding towns to discuss the District's commitment to reentry, jobs available for reentrants that pay a livable wage, and ways that the District can alleviate any concerns that these employers may have in hiring reentrants.

April 29, 2016 – ReNew Court Graduation

ReNew Court will host its third graduation for seven participants who have successfully completed the program.  U.S. Senator Cory Booker will deliver the opening remarks / keynote address and U.S. District Court Judge Madeline Cox Arleo will preside.
 
TBD– "Reentry Financial Health Seminar," presented by Dr. Buster Soaries
In collaboration with the U.S. District Court, U.S. Probation, Federal Public Defenders, and non-profit organization dFree, the USAO-DNJ will host the launch of the "Reentry Financial Health Seminar," series.  The program, created by Dr. Buster Soaries, is geared toward helping individuals learn financial health basics such as budgeting, checking / savings account management, and planning for the future.
Updated November 23, 2016