Press Release
Oregon Man Sentenced to 14 Months in Federal Prison for Instagram Threats Against Portland Mayor Ted Wheeler (Photo)
For Immediate Release
U.S. Attorney's Office, District of Oregon
PORTLAND, Ore.—Kermit Tyler Poulson, 40, was sentenced today to 14 months in federal prison and one year of supervised release for transmitting threatening communications with the intent to extort Portland Mayor Ted Wheeler.
"Using social media to threaten violence against any person regardless of that person's position in our community is wrong. The Portland JTTF actively investigates all threats of violence," said Billy J. Williams, U.S. Attorney for the District of Oregon. "Federal law enforcement will continue working with our state and local partners to respond quickly to threats. These partnerships prevent many horrific acts of violence from occurring."
"True threats victimize individuals and undermine the foundations that make our country a place where we can disagree, debate and find common ground," said Renn Cannon, Special Agent in Charge of the FBI in Oregon. "The FBI's Joint Terrorism Task Force and our partners remain committed to keeping our shared community free of violence and intimidation."
According to court documents, on October 9, 2018, Poulson posted multiple threatening comments on Mayor Wheeler's personal Instagram account. Poulson threatened to firebomb the mayor's home and office if he did not immediately fire Portland police officers recently involved in an on-duty shooting. Investigators tracked the IP address associated with the comments to a Portland residence where Poulson was staying. Poulson was present when investigators searched the property and after initially making a number of misleading statements, admitted that he alone was responsible for the comments.
On July 3, 2019, Poulson pleaded guilty to one count of transmitting threatening communications with the intent to extort Mayor Wheeler.
This case was investigated by the Portland FBI Joint Terrorism Task Force (JTTF) and the Portland Police Bureau (PPB). The Portland JTTF includes FBI special agents and more than a dozen state and local law enforcement officers.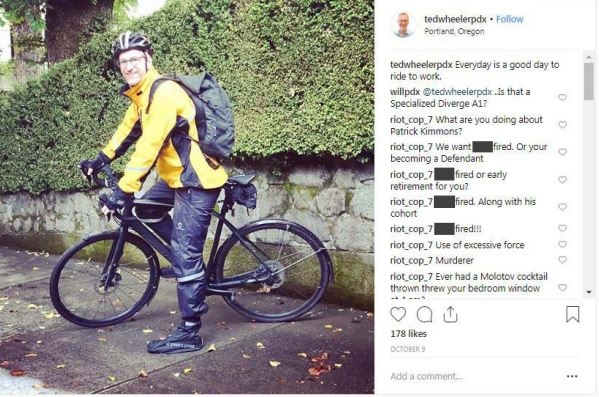 Updated September 19, 2019
---