Press Release
Alleged Utah Drug Trafficker Arrested Following Seizure of Illicit Drugs, Including 41,000 Pills of Suspected Fentanyl
For Immediate Release
U.S. Attorney's Office, District of Utah
Salt Lake City, Utah – A federal grand jury in Utah returned an indictment today charging a foreign national with multiple drug and distribution charges after seizing 41,000 suspected fentanyl pills from a home in Herriman.  
According to the complaint and law enforcement affidavit, on March 7, 2023, Luis Alexander Coronado, 24, of Herriman, Utah, was arrested after FBI agents with the Wasatch Metro Drug Task Force (WMDTF) executed a search warrant at his residence based on probable cause he was engaging in drug trafficking. During the search, agents located and seized approximately 2,363 grams of methamphetamine, 2,208 grams of cocaine, 3,506 grams of heroin, and 41,000 pills containing fentanyl. The methamphetamine, cocaine, fentanyl, and heroin were weighed in their packaging and field tested-positive.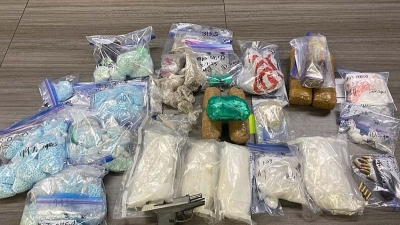 Coronado is charged with possession of methamphetamine with intent to distribute; possession of cocaine with intent to distribute; possession of heroin with intent to distribute; and possession of fentanyl with intent to distribute.  The defendant is scheduled for his initial court appearance March 23, 2023, at 9:30 a.m. in courtroom 8.4 before a U.S. Magistrate Judge at the Orrin G. Hatch United States District Courthouse in Salt Lake City, Utah.
U.S. Attorney Trina A. Higgins for the District of Utah made the announcement.
The case is being investigated by the FBI Wasatch Metro Drug Task Force. 
Assistant U.S. Attorney, Vernon G. Stejskal, of the District of Utah is prosecuting the case. 
This case is part of Project Safe Neighborhoods (PSN), a program bringing together all levels of law enforcement and the communities they serve to reduce violent crime and gun violence, and to make our neighborhoods safer for everyone. On May 26, 2021, the Department launched a violent crime reduction strategy strengthening PSN based on these core principles: fostering trust and legitimacy in our communities, supporting community-based organizations that help prevent violence from occurring in the first place, setting focused and strategic enforcement priorities, and measuring the results.
An indictment is merely an allegation and all defendants are presumed innocent until proven guilty beyond a reasonable doubt in a court of law. 
Updated March 22, 2023
---
Press Release Number:
23-23