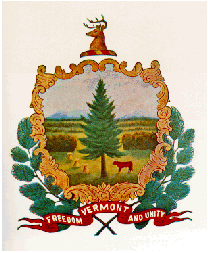 The District of Vermont is approximately 9,614 square miles and is bordered by New Hampshire on the east and Lake Champlain (the sixth Great Lake) and New York on the West. The state shares a 90 mile border with Canada to the north and a 41 mile border with Massachusetts to the south. Vermont's largest city, Burlington, is a short hour and a half drive from Montreal. Native Americans, primarily from the Abenaki nation, lived in Vermont for thousands of years and have a long and proud history. Many place names in Vermont use Abenaki words. For example, Winooski means wild onion place and Ascutney means at the end of the river.
French explorer Samuel de Champlain came to Vermont in 1609 guided by Algonquin Indians from Canada. He claimed northern Vermont for France. The French built the first fort in Vermont at Isle LaMotte and established other smaller settlements. When the British won the French and Indian War in 1763, the territory became part of what is now New England.
During the Revolutionary War, Vermont's Green Mountain Boys, led by Ethan Allen, became famous for their role at the battles of Hubbardton and Bennington in 1777. In 1791, Vermont joined the Union as the 14th state, and the first state to join the Union after the original 13 colonies.
Vermont is nicknamed the Green Mountain State because of the Green Mountains which run all the way through the middle of the state. Mount Mansfield is the tallest mountain in Vermont at 4,235 feet. Every year thousands of people come from all over to visit Vermont to ski her mountains, view her scenic splendor and enjoy her rivers, lakes and forests.
Businesses in Vermont range from electronics and computer chips to Ben & Jerry's Ice Cream to Vermont Teddy Bears. Vermont also has many family farms that still make up a significant part its economy – and scenic views. Every year, Vermont farmers and sugar makers lead the nation in the production of Maple Syrup.
For additional information about Vermont, please visit the official State of Vermont Website.
Updated June 29, 2015