Federal Prosecutor praises program's introduction
By Sarah Bennett - Thursday, March 29, 2012 at 6:00am ( March 29, 6:25am)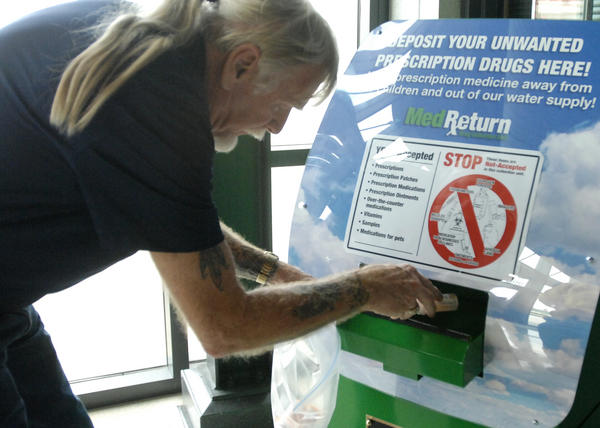 Elizabethtown Police Department opened a prescription drug disposal site Wednesday afternoon, just hours after area law enforcement served 21 warrants for drug-related crimes, several of which involved trafficking in pills.
Vic Cook drops old prescription drugs into the drop box for prescription disposal recently placed at the Elizabethtown Police Department after a program Wednesday to announce the site that is available 24 hours a day, 7 days a week to dispose of medications.
Kentucky State Police Post 4 in Elizabethtown conducts a take-back collection twice a year, but EPD's 24-hour green disposal container is the first permanent drop point in Hardin County.
Elizabethtown Mayor Tim Walker said creating the disposal site was a collaborative effort between the city and police department and was supported financially by the Elizabethtown Lions Club and AM Rotary.
Last fall, the mayor attended a program where Attorney General Jack Conway discussed the state's struggles with prescription drug abuse. Walker returned to Elizabethtown excited to implement some kind of program to address the problem.
"The easier we make it to destroy these drugs, the more people will participate," he said.
The Elizabethtown Police Department is at the intersection of South Mulberry and College streets and the disposal site is in the main entrance lobby and available to the public.
David J. Hale, U.S. Attorney for the Western District of Kentucky, was among those who attended Wednesday's ceremonial opening. Of the 52 counties he represents, Hale said Hardin County is "on the front edge" in installing a 24-hour site.
Hopkinsville Police Department has implemented a similar program, he said.
Community engagement is imperative to solving the statewide problem, Hale said, and awareness is increasing across the western half of the state.
"We hope it's a positive trend," he said.
EPD Chief Tracy Schiller said Kentucky leads the country in prescription drug abuse and a rapidly growing problem is prescription drug abuse among teenagers, who are lulled into a false sense of security because pills are "legal."
By experimenting with prescription medicine, many teens have become addicted and overdosed on pills, Schiller said.
"The impact can be devastating," Schiller said.
The police chief said he hopes local school districts and the community will collaborate with local law enforcement in their efforts to control the growing problem of prescription drug abuse.
Hardin Circuit Judge Kelly Mark Easton said local courts already plan to collaborate by requiring Drug Court participants who are being weaned off prescription medicine to dispose of the pills at EPD's site.
"This is going to be a very good development for drug issues in our courts system," Easton said.
Virgil Willoughby, EPD public information officer, said the site is monitored by a security camera, and all medication will be disposed of using an on-site incinerator.
Leaving unwanted medication in the home raises risk for abuse while disposing of them in a toilet or a sink contaminates drinking water and destroys ecosystems, according to a"This is one of the biggest components of getting prescription drugs off the street," EPD Sgt. Tim Cleary said.
Sarah Bennett can be reached at (270) 505-1750 or sbennett@thenewsenterprise.com.
Updated February 11, 2015