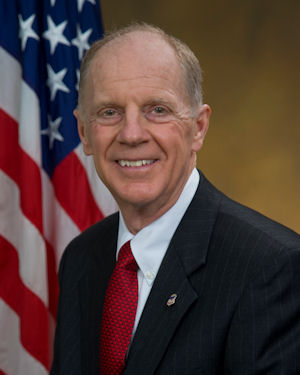 Donald A. Davis, 63, was appointed by Chief U.S. District Judge Paul L. Maloney to serve as the U.S. Attorney for the Western District of Michigan in October of 2008. Mr. Davis was US Attorney until July 9, 2012 at which time Mr. Patrick A. Miles was sworn in as the new United States Attorney.
Mr. Davis is a graduate of Western Michigan University and the University of Michigan Law School. Raised in Allen Park, Michigan, Mr. Davis has spent his entire legal career in Grand Rapids, first as the law clerk for then Chief U.S. District Judge Noel Fox and, from 1975 in the U.S. Attorney's Office for the Western District of Michigan. His positions in that office have included serving as Criminal Chief, First Assistant US Attorney, Sr. Litigation Counsel, and then United States Attorney. Mr. Davis is a former president of the West Michigan chapter of the Federal Bar Association, and former Chair of the Hillman Trial Advocacy Program. He taught extensively at the Attorney General's Advocacy Institute on a variety of subjects. He is the recipient of two Directors Awards and an I.R.S. Lifetime Achievement Award. Mr. Davis and his wife Linda have two married children, Erin (Scott Warner) of Chicago, and Trevor (Claudia) currently living in Germany, as well as four granddaughters.
In a statement, former U.S. Attorney Gross praised Mr. Davis as "a talented and dedicated attorney with a long history of faithful service to the Western District of Michigan. Don has served this office with distinction, and I take great comfort in knowing that federal law enforcement in the district will be entrusted to his capable hands." When asked to comment on his position Mr. Davis stated, "The Western District of Michigan has outstanding attorneys and support staff ensuring a great office in a great state. I am very proud of my colleagues. It has been a very rewarding experience to serve as their United States Attorney and I am extremely grateful for the opportunity."
Mr. Davis retired from the U.S. Attorney's Office for the Western District of Michigan November 29, 2013.
Updated April 1, 2015