John Power United States Attorney - Western District of Michigan 1894 - 1898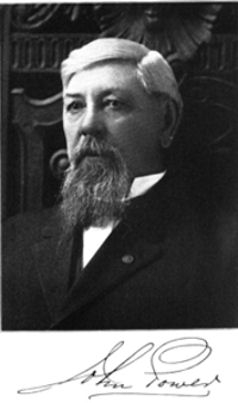 John Power, of this review, immigrated to the United States in the year 1863, he being the first of the family to come to this country. He first located at New York, and there enlisted in the Seventeenth New York Volunteers. After the close of the Civil war, Mr. Power engaged in the work of teaching for four years, after which he took up the study of law. He was admitted to the Bar of the State of Michigan in 1872 and was admitted to practice before the Supreme Court of the United States in 1892. He entered upon the practice of his profession in 1872 and had been continuously engaged therein through the long intervening years to the present time, in 1911. In 1881 he located at Escanaba, Michigan, where, as well as throughout the state, he is recognized as a versatile trial lawyer and as a skilled and well fortified counselor. His clientele is of a general nature and he was prominently concerned in many important litigations in the State and Federal Courts. As a Democrat in politics, he was never aligned as a stalwart supporter of the principles and policies of the Democratic party in the local and state councils of which he was a most active factor. He was village and City Attorney of Calumet and Escanaba for some fifteen years and was also prosecuting attorney of Keweenaw and Manitou counties.
In 1894 he was appointed United States Attorney for the Western district of Michigan, remaining incumbent of that position for over four years. He was candidate of his party for representative in Congress from the ninth, eleventh and twelfth Michigan districts on five different occasions but failed of election in the ensuing campaigns on account of the normal Republican majority in this section of the state, though always running ahead of his ticket. He was district delegate to the Democratic National Conventions of 1880, 1884 and 1892 and was delegate at large from Michigan to the National Convention of 1904. He was also the candidate of his party for elector at large of president and vice-president in 1888.
Mr. Power was a member and president of the Board of Education of Escanaba for ten years and was County Superintendent of schools. He was also secretary of the Board of School Examiners and in every possible way showed his interest in all things pertaining to the general advancement of educational matters in the old Wolverine State. He was a man of high ideals and generous impulses and was ever on the qui vive to do good in both a public and an individual way. In religion was always a Catholic and was intimately affiliated with that church; he was a man of many friends and his charity knew only the bounds of his opportunities. His intrinsic devotion and patriotism to the land of his adoption was shown by his gallant service, when not much more than a mere boy, as a soldier in the Union ranks in the Civil war. He enlisted as a private in Company A, Seventeenth New York Infantry in May, 1863, and after participating in many important conflicts marking the progress of the war, including the memorable march of Sherman's army to the sea, he was mustered out of service on the 19th of June, 1865. Mr. Power retained a deep and abiding interest in his old comrades in arms and signified the same by membership in the C. F. Smith Post, Grand Army of the Republic, in which he was Post Commander. He was also affiliated with the Knights of Columbus, in which he was grand knight for nine years.
On the 30th of September, 1868, at Cliff, Michigan, was celebrated the marriage of Mr. Power to Miss Elizabeth Corgan, who was a daughter of Charles and Mary Corgan, the former of whom was in the service of the United States light-house establishment on the Great Lakes for fully thirty years. Mrs. Power received an excellent education in her youth and was a woman of the utmost graciousness and refinement.
Concerning the children of Mr. and Mrs. Power, the following brief data are here incorporated:
Walter J. Power, who was born at Copper Harbor, Michigan, March 30, 1870, was a lawyer and a mining operator, with business headquarters at Hibbing, Minnesota. He married Miss Dottie O'Connell. Catherine was also a resident of Hibbing, Minnesota.
Patrick S., who was engaged in the practice of law at Menominee, Michigan, married Miss Nina Doton, Escanaba, Michigan.
May Frances, of Chicago, Illinois, was also married.
Roscoe B. was a dentist at Green Bay, Wisconsin.
Matthew L., who was a doctor, and was engaged in the practice of his profession at Hancock, Michigan.
Victor L. was a prominent lawyer at Hibbing, Minnesota.
Patricia, who was the wife of George Wink, resided in Sioux City, Iowa.
Updated April 8, 2021