Lewis G. Palmer United States Attorney - Western District of Michigan 1890 - 1894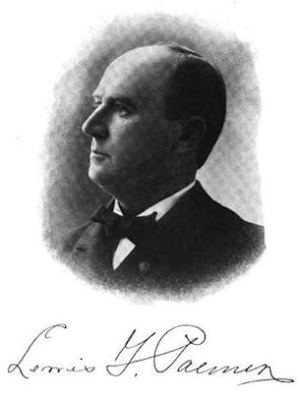 (Much of what is written below was taken from an old newspaper article and re-written slightly to make it more understandable. The language may seem a bit odd, but this is how articles were written in the early 1900s.)
Lewis Gilbert Palmer of Big Rapids, Michigan had the reputation when practicing law, and when in the State Senate, of being one of the most eloquent and persuasive advocates.
Mr. Palmer was born September 17th 1851, in Herkimer County, NY. His father was Morgan Lewis Palmer. The son, Lewis G., received his general education in the public schools of Detroit, MI., and the Michigan Agricultural College at Lansing, MI.
In January, 1863 Mr. Palmer enlisted in th Michigan Provost Guard, and was regularly mustered into the United States service as a drummer boy at the age of eleven years and about four months. He served from then until the close of the war; was discharged at camp Blair in Jackson, MI. Mr. Palmer was without a doubt the youngest member of the Grand Army of the Republic (G.A.R.) in the country, and the claim was made for him that he was the youngest Union Soldier to be found on the muster rolls of the nation. In this service he partook in the spirit that moved other members of his family, for his father and three brothers served in Michigan regiments, leaving only his mother and one sister at home.
Returning from the army, he was employed one year covering part of 1865 and 1866 as a messenger boy and clerk for Isadore Kauffman, merchant and clothier in Detroit; then attending school until 1868; then moved away from his family to Big Rapids, MI. He taught his first school in Meridian, Ingham County, MI in 1869; taught school for three years in Mecosta and Osceola Counties, MI; was then elected county Superintendent of schools for Mecosta County, MI and served in that capacity until the law; providing for such officials, was repealed. Mr Palmer was then elected Prosecuting Attorney of Mecosta County, MI and served three terms. He practiced law in Big Rapids, MI and vicinity until 1886, and was then elected to the State Senate, where he served two terms. In 1888 Mr. Palmer was appointed by Govenor Luce to represent the State of Michigan in an address at Marietta, OH and also at Columbus, Ohio to celebrate the Centennial of the founding of the Northwest Territory.
Mr. Palmer was appointed as the United States Attorney for the Western District of Michigan in 1890 where he served until the end of his term in 1894. Mr. Palmer was reappointed as an interim Assistant United States Attorney to try important cases pending. He resumed the practice of law in the State and United States Courts until elected Circuit Judge for the Twenty-seventh Judicial Circuit for the unexpired term, succeeding his brother, the late Honorable John H. Palmer. He was elected for the full term of six years.
Among the measures introduced by Mr. Palmer when he was in the State Senate was the present Michigan marriage license law, and the law permitting prosecuting attorneys to appear and argue cases for the people before the Supreme Court. He championed many other important measures which became laws under his leadership and management. In politics he was always an unswerving Republican, voted first for U.S. Grant, and was a delegate to nearly every State Convention since he attained his majority.
Mr. Palmer was a Mason and a Knight of Pythias. He was married at Ravenna, Michigan on November 12, 1874, to Miss Una Rice. His children were Emily Una, Mollie, and Frank R. Palmer.
Updated April 8, 2021