Wendell A. Miles United States Attorney - Western District of Michigan 1953 - 1960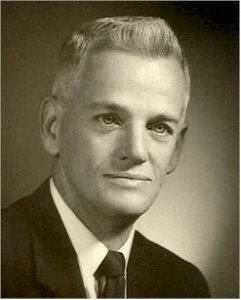 Wendell A. Miles was born in Holland, Michigan on April 17, 1916. He received a bachelor of arts degree from Hope College in 1938, a master of arts degree from the University of Wyoming in 1939, and his Juris Doctorate from the University of Michigan Law School in 1942.
He served in the United States Army during World War II, completing his service as captain of the 493rd Military Police Escort Guard, which was involved in transporting and interrogating German prisoners of war. After the war, Miles remained in Europe and tried black marketeering cases as an officer of the Judge Advocate General (JAG) Corps in Marseille, France. While serving in Strasbourg, he met Mariette Bruckert, a Frenchwoman who assisted him with translating. Mariette became his wife in 1946.
The couple moved to Heidelberg, Germany, where he became a law officer in the Third Army's General Court. Upon their return to Holland, Michigan Miles' father Fred T. Miles, the circuit judge of Allegan and Ottawa counties, resigned from the bench and the two men formed the law firm of Miles and Miles.
Wendell A. Miles was elected the Ottawa County prosecuting attorney in 1948, and was Ottawa County Prosecutor from 1949 - 1953.
In 1953, President Dwight Eisenhower appointed Miles as the United States Attorney for the Western District of Michigan, a position in which he served as an active trial attorney. Miles served as United States Attorney, Western District of Michigan from 1953-1960.
A life-long Republican, Miles was the party's nominee for Michigan Attorney General in the 1960 election, losing to Democrat Frank Kelley.
In 1961, he joined the law firm of Miles, Mika, Meyers, Beckett and Jones where he practiced law until 1970. During the 1960s, Miles was special city attorney for the city of Grand Rapids in all the downtown urban renewal cases. He assisted in the condemnation of many historic buildings in the city's downtown to allow for the construction of the Vandenberg Center (Calder Plaza), the federal and state office buildings, Grand Rapids City Hall and the Kent County Administration Building.
From 1963 to 1969, he was special counsel for the Grand Rapids School Board and argued before the U.S. Supreme Court in the case of Sailors v. Board of Education of Kent County, which presented a constitutional challenge to the Michigan statute addressing the election of county school boards.
In May 1970, Michigan Gov. William Milliken appointed him judge for the 20th Judicial Circuit in Ottawa and Allegan counties. On April 17, 1974, he was appointed U.S. District Judge for the Western District of Michigan by President Richard M. Nixon, assuming the bench on May 9, 1974.
On May 9, 1986, he took senior status with a reduced case load and continued hearing cases until Dec. 2008. In 1989, he was appointed by Chief Justice William H. Rehnquist to serve on the Foreign Intelligence Surveillance Court for a seven-year term, authorizing wiretaps, eavesdropping and clandestine searches in the name of national security.
As a senior district Judge, he was able to accept temporary assignments in other federal courts having backlogs of cases, enabling him to travel to and serve in Florida, Texas, Nevada, Washington, D.C., and the United States Virgin Islands.
Although he took inactive status and resigned from the bench at the end of 2008, he continued to maintain regular office hours each week until the week before his death, at age 97. U.S. District Judge Robert Holmes Bell described Miles as a "judge's judge" and a student of legal history.
Wendell A. Miles died July 31, 2013 at the age of 97. Miles was preceded in death by his wife, Mariette, 2009.
He was survived by his three children, Lorraine Miles, Michele Miles Kopinski, and Thomas Paul Miles; seven grandchildren, Chad Rector, Kelly Rector-Engstrom, Brian Kopinski, David Kopinski, Sara Miles, Christopher Miles and John Miles; six great-grandchildren, Petra Engstrom, Soren Engstrom, Annike Engstrom, Tova Engstrom, Milo Rector, and Aldis Mariette Bromeland; and three nephews, George Miles of Holland, Cap Miles of Rockford and Steve Miles from Loch Lomond, Calif.
Updated April 7, 2021