Who and What We Are
Bringing people together in communities and sharing information on crime prevention
Promoting best practices in crime prevention and reentry
Matching organizations to resources, and
Reaching out to special groups in our area to strengthen ties to law enforcement.
We are grateful for the warm welcome the U.S. Attorney's office has received in communities throughout Western Virginia and for the solid crime prevention undertaken by hundreds of non-profits, businesses, service providers, schools, volunteers, churches and law enforcement organizations.
The U.S. Attorney's Office has experts in a wide variety of fields – Internet safety for children, sovereign citizens movement, law in Iraq, effective anti-gang strategies, environmental law, and other wide ranging topics -  who would be pleased to speak to your group.   Please let us hear from you if you would like a speaker.
Thank you for keeping Western Virginia safe and our youth engaged in positive, productive activities.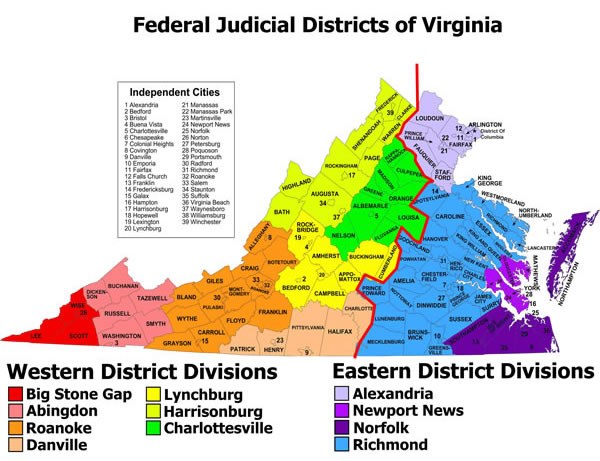 The Western District of Virginia includes Frederick County to the north, east to Louisa, south to Halifax, and west to Lee County -  two thirds of the Commonwealth.
Winchester, Charlottesville, Lexington, Buena Vista, Covington, Staunton, Waynesboro, Salem, Radford, Harrisonburg, Lynchburg, Roanoke, Danville, Martinsville, Bristol, Bedford, Marion and Pulaski, are the largest cities and towns.
We have large rural expanses and border West Virginia, Tennessee, North Carolina and Kentucky.

Crime Prevention
Neighborhood watches, community walks, Internet safety classes, strong schools, addiction treatment, reentry programs, parks and recreation activities, scouting.   Numerous organizations, numerous activities are capable of deterring crime.  Realizing that we can never "arrest" our way out of Virginia's criminal justice challenges, our office's emphasis is on finding and supporting successful, evidence-based prevention programs undertaken throughout our District. We hope to stand hand-in-hand with leaders in your community to help keep kids in school and on the path to successful lives.
How can you be involved?
Federal, state and local resources are all available for crime prevention.
Contact your local police department to see how to join a neighborhood watch organization.

Grant Opportunities, see Funding
Reentry
Our office supports viable prisoner reentry programs as a means of promoting public safety.  We do this with direct participation in federal reentry courts and support for organizations providing reentry services.
Several United States District Judges in the Western District of Virginia have established reentry courts.  The participants in these courts are supervised releases and probationers.    At reentry court sessions, our judges monitor the adjustment of these ex-offenders back into their communities.  Successful completion of the monitoring program can result in a reduction in time under supervision.
In Abingdon, the court holds a monthly reentry court for probationers with addiction challenges who are trying to stay clean and become productive citizens.
In Roanoke, reentry court is held for probationers who are challenged in today's tough economy and are working to improve their marketable skills.
Roanoke also holds a pre-trial session of the court specifically to meet the needs of addicted veterans whose substance abuse has brought them in to the criminal justice system.
In addition to participating in reentry courts, our office supports ongoing reentry programs around the District by sharing and providing information and resources with reentry service providers,  the Commonwealth of Virginia's Secretary of Public Safety, U.S. Probation and Parole, and other entities.
Here are a few informational resources we are pleased to provide.
Youth Resources
Substance Abuse Resources
Commonwealth of Virginia
Your Community
Because our community outreach program is a three year, pilot project, we've been visiting cities and towns throughout the Western District to learn what challenges you face regarding crime.  Outreach never really ends – we can never learn all there is to know about every community we need to know it in, but we will continue to try and find the best practices in crime prevention and reentry we can, to tell you what resources we know of, and to put you in touch with other like minded neighborhoods.  Please contact us if you have information you think needs to be listed or linked to our webpage, or if you can't find the resources you're looking for to keep your community safe.
Have a crime problem, or a solution? Ideas for us to help? Need information?
Contact Us
United States Attorney's Office, Western District of Virginia
255 West Main Street
Charlottesville, VA 22902
434-293-4283
Updated June 25, 2018