Department of Justice
U.S. Attorney's Office
Western District of Washington
---
Canadian Caught With Nearly 60 Kilos of Cocaine Sentenced to 10 Years in Prison
Dual Citizen of France and Canada Sought since 2009 Seizure; Extradited in 2016
          After more than six years on the run from law enforcement, a 37-year-old dual citizen of Canada and France was sentenced today in U.S. District Court in Seattle to ten years in prison for conspiracy to distribute cocaine, announced U.S. Attorney Annette L. Hayes. MARTIN BRIAND was identified by border agents in U.S. and Canada in 2009 as a person extensively involved with smuggling cocaine into Canada. Following the seizure of more than 59 kilos of cocaine in December of 2009, a warrant was issued for BRIAND's arrest. He was ultimately arrested in December 2015, when he arrived at the Vancouver International Airport from France. At the sentencing hearing, U.S. District Judge Richard A. Jones noted that the large amount of cocaine trafficked by BRIAND impacted countless people, feeding their addiction and even leading to death.
          "In just six months in 2009, this defendant made 29 flights in chartered aircraft between Point Roberts, Washington and points south without ever legally entering the U.S.," said U.S. Attorney Annette L. Hayes. "These frequent illegal border crossings are a hallmark of drug smugglers. In his final trip, a Washington State Trooper caught him with nearly 60 kilos of cocaine. Anyone responsible for transporting these kinds of quantities of illegal drugs also is responsible for feeding countless drug addictions and the misery that comes with them, and thus deserves the lengthy sentence imposed in this case."
          "Homeland Security Investigations special agents disrupted a narcotics trafficking organization by identifying and targeting a lead conspirator circumventing our border security and customs protocols," said Brad Bench, special agent in charge of HSI Seattle. "Our partners, both foreign and domestic, combined efforts to take down one of ICE's Top 10 Most Wanted fugitives and present the solid evidence needed to obtain a successful prosecution."
          According to records filed in the case, BRIAND's activity came to the attention of border agents in October 2009, when two men tried to cross the border in a taxi. The men and their bags were screened and the bags showed a positive reading for cocaine residue. The men reported that they had entered the U.S. illegally by walking across the border into the U.S. at Point Roberts – a small peninsula of the U.S. that extends below the border with Canada. From Point Roberts the men flew to Seattle on a private charter and then to California where they met up with BRIAND. The men flew with BRIAND on a private plane back to Washington State, and BRIAND paid for all their travel expenses.
          U.S. Immigration and Customs Enforcement began an investigation into BRIAND and learned he had made 30 trips by private plane from Point Roberts to points south between April 9, 2009, and November 2, 2009. Over that same period of time, BRIAND had only one legal entrance into the U.S. On December 8, 2009, law enforcement learned BRIAND was making another charter trip from Point Roberts and began surveillance. On December 12, 2009, BRIAND and a co-defendant flew into the Skagit County Airport on a private plane and were observed struggling with heavy bags they loaded into a pick-up truck. The truck was stopped by law enforcement and a drug detection dog alerted to the presence of narcotics. The Washington State Trooper seized the bags for later search and BRIAND and his associate were allowed to leave. The men abandoned the truck and BRIAND fled to Canada. Despite contact from law enforcement he refused to return to the U.S. to face the charges. Following his arrest at the Vancouver International Airport, the Canadian Courts found he should be detained pending extradition. In March 2016, BRIAND agreed to be transferred to the U.S. to deal with the indictment.
          The case was investigated by U.S. Immigration and Customs Enforcement's Homeland Security Investigations (HSI), the Canada Border Services Agency, and the U.S. Border Patrol with assistance from the Washington State Patrol (WSP), HSI Vancouver, HSI Los Angeles and the Los Angeles Sheriff's Department Narcotics Bureau Violators Team.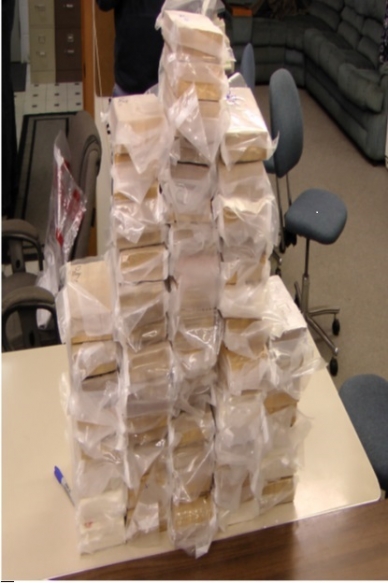 Updated January 20, 2017