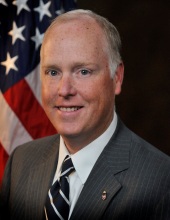 Sanford C. Coats was nominated by President Barack Obama to become United States Attorney for the Western District of Oklahoma on September 30, 2009. The nomination was confirmed by the United States Senate on December 24, 2009.
Coats has been a practicing attorney since 1999, after receiving a Juris Doctorate from the University of Oklahoma College of Law in 1998. Prior to law school, Coats attended Tulane University of Louisiana where he received a Bachelor of Arts degree in 1994.
Coats became an Assistant United States Attorney in the Western District of Oklahoma in 2004. He has worked in all areas of the Criminal Division where he has prosecuted a variety of cases, including child prostitution, child pornography, banking fraud, tax evasion, crimes in Indian Country, illegal immigration, complex drug conspiracies, firearm crimes and violence associated with illegal street gangs. His responsibilities include managing investigations, over a dozen jury trials and arguing appeals before the Tenth Circuit. Coats has served as Team Leader of the Major Crimes Team and office Project Safe Childhood Coordinator.
In 2007, Coats volunteered for short-term assignment to the U.S. Attorney's Office in New Orleans as part of a special initiative by the Department of Justice following the devastation of Hurricane Katrina to assist in the prosecution of violent, firearm and drug crime. Coats received a national Director's Award for Superior Performance as an Assistant United States Attorney for his work in the prosecution of multiple child prostitution cases.
Prior to joining the U.S. Attorney's Office, Coats was in private practice in Oklahoma City with the firm of Fellers, Snider, Blankenship, Bailey & Tippens representing corporations and individuals in litigation. Coats also served as a Legal Intern for United States District Judge Tim Leonard and as a Law Clerk for Oklahoma Supreme Court Justice Marian P. Opala.
In addition to his work as a federal prosecutor, Coats has served on the Board of Directors of the Oklahoma City Chapter of the Federal Bar Association from 2004-08, serving as President from 2006-07 and Co-Chairman of the Federal Bar Association Annual Meeting and Convention in Oklahoma City in 2009. Coats also served on the Board of Directors of the Harding Fine Arts Academy, a charter high school in Oklahoma City, from 2004-09 and the Oklahoma Bar Association Law School Committee from 2003-05.
From 2010-2011, Coats served on the Attorney General's Advisory Committee (AGAC), meeting regularly with Attorney General Eric Holder to address Department of Justice issues. Coats also currently serves on the Native American Issues Subcommittee of the AGAC, the Office of Management and Budget Subcommittee of the AGAC, and the Resource Allocation Working Group.
Updated September 18, 2015