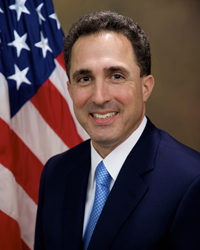 On December 23, 2009, President Obama nominated Richard S. Hartunian to become the 48th United States Attorney for the Northern District of New York. Mr. Hartunian took office on January 3, 2010, with interim status until his confirmation by the United States Senate on February 11, 2010. Mr. Hartunian was sworn in by United States District Judge Glenn T. Suddaby on February 19, 2010.
Mr. Hartunian is a 1983 cum laude graduate of the College of Arts and Sciences at Georgetown University and a 1986 graduate of the Albany Law School of Union University. He was engaged in the general private practice of law at the firm of Devine, Piedmont and Rutnik in Albany from 1987 to 1990. He served as an Assistant District Attorney in Albany County from 1990 to 1997, where his work on narcotics and violent crime cases led to his designation as a Special Assistant U.S. Attorney in 1994.
Mr. Hartunian became an Assistant United States Attorney in 1997. He served as the Northern District's Narcotics Chief and Organized Crime Drug Enforcement Task Force Coordinator from 2006 until his appointment as U. S. Attorney in 2010. During his tenure as an Assistant United States Attorney, Mr. Hartunian successfully prosecuted numerous large drug, gang, and violent crime cases. He has received many awards for his work, including the Federal Bureau of Prisons General Counsel's Exemplary Assistance Award, the Narcotics Enforcement Officers' Association U.S. Department of Justice Award, various Organized Crime Drug Enforcement Task Force Regional Awards, and several case-related commendations.
In May of 2010, Mr. Hartunian was honored by the Armenian Bar Association as the first Presidentially appointed United States Attorney of Armenian descent.
On April 29, 2013, Mr. Hartunian was appointed to serve a two-year term on the Attorney General's Advisory Committee (AGAC). On May 30, 2013, Mr. Hartunian was appointed to serve as the Co-Chair of the Border and Immigration Subcommittee of the AGAC, in which he leads the Northern Border Working Group of United States Attorneys, focusing on U.S. - Canadian law enforcement issues. He is also an active member of three other AGAC subcommittees: the Health Care Fraud Working Group, the Environmental Issues Working Group and the Native American Issues Subcommittee, the longest standing subcommittee of the United States Attorneys within the Department of Justice, focusing on improving public safety in tribal communities.
On January 20, 2015, Mr. Hartunian was appointed by Attorney General Eric H. Holder, Jr., to serve as Vice-Chair of the AGAC. With AGAC Chairman, John Walsh, from the District of Colorado, Mr. Hartunian leads this important committee of U.S. Attorneys who are responsible for advising the Attorney General on policy, management and operational issues impacting all 94 U.S. Attorney's offices nationwide.
As United States Attorney, Mr. Hartunian has placed strong emphasis on the Civil Division by adding resources and focusing on Affirmative Civil Enforcement cases in the areas of health care, defense procurement, environmental fraud and other government program fraud. Other priorities have included terrorism prevention, border security, and combating public corruption, violent gangs, child exploitation, and financial crimes. Initiatives spearheaded by the United States Attorney's Office during Mr. Hartunian's tenure have included: the LEADership Project, a youth violence reduction program designed to help 5th grade students steer clear of vandalism, drugs, gangs, and violence by developing positive goals for the future; the Youth Courts, which are student peer review courts established to address minor youth crimes; and a Summit on Prescription Drug Abuse, which brought together leaders and experts in public health, law enforcement, medicine, pharmaceuticals, education, and business to address the growing crisis of prescription drug abuse.
The United States Attorneys serve as the nation's principal litigators, under the direction of the Attorney General and the U.S. Department of Justice. There is one United States Attorney for each judicial district in the United States and its territories. The primary statutory responsibilities of the United States Attorneys are: the prosecution of federal criminal cases; the prosecution and defense of civil cases in which the United States is a party; and the collection of debts owed the federal government which are administratively uncollectible.
The Northern District of New York is comprised of thirty-two counties in upstate New York, covering an area of over 30,000 square miles that is home to about 3.4 million people. The District includes 300 miles of the U.S. border with Canada. The United States Attorney has offices in Syracuse, Albany, Binghamton, and Plattsburgh, New York.
Updated September 17, 2015