Civil Rights Enforcement for Veterans under the Uniformed Services Employment and Reemployment Rights Act (USERRA): Helping an unlikely vulnerable class of citizens receive justice
by Dwight C. Holton, Former U.S. Attorney for the District of Oregon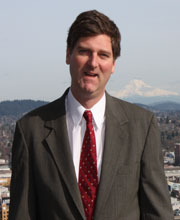 U.S. Attorneys can play a central role in bringing justice for veterans who have been deployed overseas in the armed services, only to return home to find their previous employers will not rehire them, or to find newly gained discrimination because of a physical or mental disability sustained as a result of their service. By participating in the Uniformed Services Employment and Reemployment Rights Act of 1994 (USERRA) enforcement program, which is led by the Department's Employment Litigation Section of the Civil Rights Division, U.S. Attorneys are making a difference for veterans and sending a strong message to employers that veterans will be protected in their communities.
USERRA, found at 38 U.S.C. § 4301 et seq., was passed in 1994, making it a relatively new civil rights law, but with deep roots in various other statutes since 1940. The law is broad sweeping, covering employers of any size. USERRA is also broad in the types of protection it offers veterans. There is an anti-discrimination section, which prohibits discrimination in hiring, promotion, retention, reemployment, and other employment benefits on the basis of a person's prior service, current obligations, or intent to join a uniformed service. There is a specific reemployment provision, which provides that a veteran, who is absent from employment due to military service, must be reemployed upon returning from military service. There is also a section, separate from the Americans with Disabilities Act, which protects veterans who have been disabled during the course of their service. And, there is a retaliation provision, which protects any person who has taken action to enforce USERRA.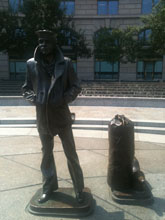 Of course there are a variety of requirements and standards that a veteran must meet to receive protection under USERRA, and there are defenses for employers provided by the law, but if a veteran is protected, there is a broad array of remedies available. Veterans can receive not only injunctive relief (such as re-employment at the same status as when they were deployed), but also back-pay (including benefits and interest) and moving expenses, if applicable, as well as liquidated damages against employers who intentionally discriminate.
The U.S. Attorney's Office for the District of Oregon has been active in this important area. In 2010, our district represented a plaintiff Korean War veteran and retiree of Portland General Electric (PGE) pursuant to the Veterans Reemployment Rights Act (the predecessor law to USERRA). PGE originally hired the plaintiff in July 1953, but shortly thereafter he was drafted by the Army. Rather than serve in the Army, the plaintiff decided to serve as a Marine and enlisted. He served through December 7, 1955, over the 38th parallel in Korea. After he was honorably discharged, the plaintiff returned to Portland and was quickly re-hired by PGE and continued to work for the company for 34 more years. When he retired, however, PGE refused to grant him credit to his pension for the six months he was employed prior to enlisting, or for the two years he spent in service. The plaintiff attempted to settle the matter with PGE on his own behalf after his retirement to no avail, and eventually sought the help of the United States Department of Labor Veterans' Employment and Training Service (VETS) and filed a formal complaint.
The U.S. Attorney's Office received the case after VETS conducted an investigation in which it determined that PGE had failed to properly credit the Plaintiff's pension, and the Department of Labor referred the matter to the Justice Department. The Civil Rights Division, Employment Litigation Section, coordinated with our office to personally represent the plaintiff. A settlement was reached in that case, pursuant to which the plaintiff received credit to his pension for the time he served in Korea and for the time he worked with PGE prior to his service, resulting in a payment of $20,000 in past damages, along with an upward adjustment to his monthly pension check for the additional time he was credited. Assistant U.S. Attorney Adrian Brown and Department attorney Jodi Danis represented the plaintiff.
Just recently, our district took on a USERRA case against Lowe's. Once we provided notice of our representation of the veteran, Lowe's offered to re-employ the veteran immediately. These types of results demonstrate the force of USERRA and the central role U.S. Attorney's can play in enforcement of this important civil rights statute.
Updated July 9, 2015