Building Bridges to Combat Human Trafficking in the Northern District of Georgia
by Sally Quillian Yates, Former U.S. Attorney for the Northern District of Georgia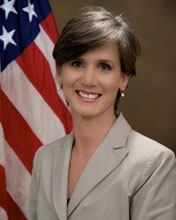 Human trafficking crimes painfully remind us that modern-day slavery is occurring in communities all across our country. Walking through shopping malls, community parks, or business centers, we see citizens and foreign residents enjoying the liberties and freedoms that our country has fought so arduously to preserve. Indeed, it is this background of continuous civil rights progress that makes the discovery of human trafficking networks so shocking and compelling. In our own neighborhoods, criminals traffic in human beings who are abducted or coerced to leave their homes abroad–or even their homes here in the United States–and quickly discover that their captors' plans are to force them into servitude through brute force and intimidation. These victims are often women and girls pressed into prostitution, but they also are men, women, and children who are ordered to work in restaurants, farms, and private homes for no pay. As we focus more attention on this issue, we uncover more of these disturbing episodes, and only now are we beginning to fully understand the magnitude of this problem.
Atlanta and its suburbs present a forceful illustration. According to statistics recently compiled by the FBI, the same ready access to commercial air and ground routes that draws businesses and travelers to Atlanta also entices criminals engaged in human trafficking. Atlanta is now a major transportation hub for trafficking young women from Mexico and one of 14 U.S. cities with the highest levels of sex trafficking of children. In response, the U.S. Attorney's Office for the Northern District of Georgia has been mobilizing a comprehensive strategy to identify and prosecute these criminals. We have quickly recognized, however that our cases alone cannot begin to reverse the tide of this problem. Fortunately, there are many community, charitable, and local government organizations that are committed to reaching out to and assisting victims of these crimes. Working together with these groups, we have combined to draw intensified media and community attention to the issue–not only so that victims know to whom they can turn for help to escape their physical and psychological captivity, but so that those who perpetrate these crimes will understand the severe penalties for exploiting such vulnerable victims.
Prosecutorial Response
Our initial response to the human trafficking problem was to prosecute more cases. Two Assistant U.S. Attorneys (AUSAs) in our office serve as human trafficking co-coordinators and have worked together with trial attorneys from the Department of Justice's Civil Rights Division on several significant human trafficking prosecutions. The FBI's most recent human trafficking threat assessment noted that, since the passage of the Trafficking Victims Protection Act, our district has ranked among the top six federal jurisdictions in terms of the number of prosecutions involving the commercial sexual exploitation of children. These cases provide haunting examples of the facts these cases present:
• In United States v. Cortes-Mesa, a group of six violent traffickers from Mexico were convicted for transporting 10 victims, including 4 minors, from Mexico to Atlanta, where they forced the victims through often severe physical abuse to engage in prostitution with countless men. The lead defendant in this case received a sentence of 40 years in prison;
• In United States v. Babb, a minister and his wife were convicted of enticing a victim from the Kingdom of Swaziland, Africa, to Atlanta, with false promises of introducing her to the catering industry, after which they stole her identification and travel papers and compelled her labor for more than 2 years with almost no pay;
• In United States v. Rugerio, two brothers were convicted of coercing five impoverished women, including one minor, to Atlanta, through false promises of marriage; upon their arrival, they forced the women into commercial prostitution with multiple men each night, seven days a week.
• In United States v. Bello, a Nigerian woman was convicted of bringing two different victims from Nigeria to Atlanta, after which she forced them to work for two years with no pay; and
• In several cases, including United States v. Ward and United States v. Pruitt, citizens of Georgia and Louisiana were convicted of transporting minor girls across state lines for the purpose of prostitution; these defendants placed advertisements for the girls' services on the Internet, and one of the girls was forced into 13 commercial sex acts in only two days.
Our work on these cases taught us the poignant challenges presented by human trafficking schemes. First and foremost, we recognize that the girls, women, and men who are forced into servitude by these criminals are victims, even though they may be present in the United States illegally and breaking the law in acts of prostitution or simply working without proper documentation. Our AUSAs arrange for non-governmental agencies to be on-hand during initial interviews with victims to offer housing, medical, and other services to stabilize victims who almost always have no other support systems available. This direct line of communication has proved invaluable as victims of human trafficking often feel isolated from and shamed by their own communities as a result of their victimization by the sex trade. In addition, we work closely with Immigration and Customs Enforcement (ICE) to ensure that the victims are not punished with expulsion from the United States; in fact, ICE agents work responsibly not only to procure the appropriate documentation for victims of these crimes, but even have arranged for temporary visits by victims who choose to return to their countries, as well as supportive family members, in order to ensure that the prosecutions continue smoothly.
Partnering with State, Local, and Community Groups
In prosecuting the criminals who commit these acts, we quickly learned that our limited prosecutorial resources cannot reach into all of the many shadows where these offenses occur. For example, our prosecutors worked closely with Mexican investigators, culminating in Mexico's first prosecution of targets under that country's own 2007 anti-trafficking law. We also recognize the critical need to establish close working relationships with state and local officials, community service providers, and the many experts who already are involved in anti-trafficking initiatives, all of whom share the same commitment to examining the causes of, and solutions to, this disturbing problem.
Human Trafficking Summit
We also are focusing these new partnerships particularly into enhanced public awareness and media strategies designed to reach out to victims, those who exploit the victims, and local police officers who have the highest potential to encounter these victims. On August 1, 2011, our office is joining with the Georgia Governor, several local district attorneys, and numerous federal and state law enforcement agencies to host a human trafficking summit to examine the causes of, and effective ways to eradicate, human trafficking in our district. This free event will bring together law enforcement agents, non-governmental organizations, and policymakers to present the compelling stories of survivors of human trafficking, share important information about federal and state human trafficking laws, explore grass-roots efforts underway to provide critical support to survivors of human trafficking, and invite participants to discuss programs that may be implemented to enhance our community's response to human trafficking. More than 400 participants are expected to attend, with strong media exposure by CNN and other national and local media outlets.
Click thumbnail for expanded map
Partnering with Law Enforcement Agencies
Our office's anti-trafficking strategy has been greatly enhanced by strong partnerships with FBI, ICE, and local law enforcement agencies who jointly investigate traffickers, when feasible, and routinely share evidence and intelligence. This interagency coordination has produced significant victories against human traffickers. Our district also has been selected as one of five districts in the country to create a pilot Anti-Trafficking Coordination Team (ACTeam), which is a Department of Justice nationwide initiative. The ACTeams are designed to enhance federal criminal investigations and prosecutions of human trafficking offenses by organizing a task force of federal prosecutors and federal law enforcement agencies, including the Department of Labor's Wage and Hour Division, to formulate, coordinate, and execute comprehensive anti-trafficking strategies aimed at dismantling human trafficking operations.
During our interactions with local churches and civic organizations in my district, we have discovered that members of our communities are anxious to unite with law enforcement partners to combat human trafficking, and are willing to contribute not only their time but also their financial resources to this important fight. We are inspired by their commitment to end the enslavement of children and other vulnerable victims. A coalition of law enforcement agencies working side by side with citizens likewise committed to ending the scourge of human trafficking is a winning formula in the fight against criminals intent on harming those who most need our protection. Together, this is a battle that we can and must win.                                                                                                                 
---
Achievements in Courtrooms Nationwide
Two Plead Guilty in Forced Labor Case
Central District of California

Defendants Maximino Morales, 45, and Melinda Morales, 48, of Paso Robles, pleaded guilty to conspiracy to harbor illegal aliens on May 6, 2011. The couple operated four elder care facilities and recruited Filipino nationals to come to the United States with promises of work as live-in caregivers. An associate of the defendants helped the aliens obtain fraudulent visas to enter the United States. Once they arrived, the aliens worked at the defendants' facilities alone in 24-hour shifts for less than minimum wage. The aliens also lived at the facilities, where some of them slept in a closet, on a sofa, and in a walled-off portion of an unheated, attached garage. The defendants claimed to credit the aliens' wages against the "debt" they purportedly owed for being smuggled into the country, and threatened to call the police or immigration authorities if the aliens attempted to leave. Both defendants will be sentenced on September 19, 2011.
Mexican Man Sentenced After Pleading Guilty to Sex Trafficking a Minor
Eastern District of New York

In May 2011, Domingo Salazar, a Mexican citizen, was sentenced to a 30-year prison term after pleading guilty to sex trafficking and other charges relating to the forced prostitution of a 17-year-old girl from Mexico with whom Salazar, a married man with three children, had a sexual relationship.  The case was uncovered by federal and local officers based on a tip that the victim's three-month-old child (by Salazar) was dead and buried in a block of cement in the apartment where the defendant was living with his wife and children and the victim. Salazar's wife, who also participated in the forced prostitution of the victim, was sentenced to five years imprisonment.
New York Man Convicted of Forced Labor and Sex Crimes Relating to Foreign Victims
Eastern District of New York

In June 2011, Joseph Yannai, author of The International Who's Who of Cooks (2004-2005), was convicted by a federal jury in Brooklyn, New York, of forced labor and attempted forced labor, enticing women to travel to the United States from abroad so that he could commit sex crimes against them, fraud in labor contracting, and immigration violations relating to his recruitment and employment of the women to work illegally in the United States.  Yannai, a resident of Pound Ridge, New York, lured young women from around the world via au pair websites to work at his home in Westchester, New York.  Although Yannai told the women that they would be assisting him in his writing and publishing, as well as doing household chores, he instead subjected the women to sexual abuse after they arrived.  When sentenced, Yannai faces a maximum penalty of 80 years incarceration.
Federal Jury Convicts Defendant on Sex Trafficking Charges
Southern District of California

On November 20, 2008, San Diego County Sheriff Deputies and ICE agents arrested the defendant Adrian Zitlalpopoca-Hernandez as he drove Florencia Calixto and Anabel De la Cruz away from Couser Canyon, a rural area known as a location for prostitution activities. Inside the vehicle were various items indicating that the women had just finished working in prostitution.

Florencia Calixto met the defendant while stranded at a bus station in Oaxaca, Mexico when she was 17 years-old and ten years younger than the defendant. After romancing Calixto that evening, the defendant drove her several hours away to Tlaxcala, Mexico, where he immediately introduced Calixto to his family as his "wife." Within a couple of weeks, the defendant began to pressure Calixto to work as a prostitute for him in order to help him pay off a debt and so they would have a nice house and car. Calixto relented after a couple of weeks. The defendant introduced Calixto to two friends who instructed her how to work in prostitution in Puebla, Mexico. Beginning in December, 2005, Calixto worked in prostitution every day in Tijuana and gave all proceeds to the defendant. In July, 2008, the defendant hired a smuggler to bring Calixto into the United States to work in prostitution. Calixto worked every night in different canyons and apartments until he was arrested in November, 2008.
Once, when she tried to keep some proceeds, the defendant threatened Calixto that he would leave her if she ever tried to keep any money. the defendant had also dragged her down stairs by the hair, punched her, kicked her, and thrown her onto a table that had nails sticking out. On another occasion, the defendant whipped Calixto with an iron chord because she said something he did not like.
Anabel De la Cruz met the defendant on March 5, 2006 in Veracruz, Mexico when she was an 18 year-old college student. the defendant romanced her and convinced her to leave town with him three months later. He moved De la Cruz to Tlaxcala, Mexico where he introduced her to his family as his "wife." The defendant confined her to a single bedroom while he would be gone for days at a time. After approximately one week, De la Cruz told the defendant she changed her mind and wanted to leave. The defendant told De la Cruz she could not leave because she was his "wife." Within three weeks, the defendant introduced the idea of De la Cruz working for him in prostitution. Although she cried and stated she was not interested, the defendant told De la Cruz that she would work for him if she loved him and wanted money and nice things. Soon thereafter, the defendant moved to Tijuana and said that she could join him only if she agreed to work in prostitution. De la Cruz relented after a couple of weeks. Associates of the defendant instructed De la Cruz how to work as a prostitute before she joined the defendant in Tijuana. De la Cruz performed acts of prostitution in Tijuana and Mexico City until April, 2008, and provided all proceeds to the defendant. In April, 2008, the defendant hired a smuggler to bring De la Cruz into the United States to work in prostitution at ranches, canyons and apartments. The defendant did not work.
The defendant threatened to leave De la Cruz if she ever tried to keep money. The defendant has also physically assaulted De la Cruz, either out of purported jealousy, because she tried to keep prostitution proceeds, or if she said she did not want to continue to work in prostitution. The defendant has grabbed De la Cruz by the hair, beat her, slapped her, and caused her lip to bleed. Inevitably, De la Cruz would beg the defendant for forgiveness after being made to believe that she was at fault. De la Cruz explained that she was compelled to continue working because she thought she was in love, she had no where else to go, and she didn't want to return home with the shame associated with not keeping a man forever. The defendant had also promised De la Cruz that one day they would marry.
On January 7, 2010, the defendant was convicted after a jury trial on ten counts, including two counts of Sex Trafficking by Force, Fraud of Coercion; two counts of Persuasion or Coercion to Travel to Engage in Prostitution; two counts of Harboring Aliens for Purposes of Prostitution; and two counts of Bringing Illegal Aliens into the United States for Financial Gain. On July 26, 2010, the defendant was sentenced to 292 months of custody and ordered to pay over $1.4 million restitution to the victims.
Updated November 2, 2015