Civil Rights Outreach in the District of Connecticut
Attorney General Eric Holder has called upon the nation's 93 United States Attorneys to use our "convening authority" to best serve the public in our respective jurisdictions.  "Federal prosecutors," he has said, "should see themselves as community problem solvers, not case processors."  Inspired by his expansive vision of a position he once proudly held, United States Attorneys across the country have responded by convening groups of interested stakeholders on a broad array of topics.
In the District of Connecticut, I have convened a team of Community Outreach Coordinators, drawing from a diverse group of attorneys and support personnel in the office, to better inform the public about our priorities, from national security to securities fraud, from violent crime to public corruption.  Perhaps no substantive area, though, has been the subject of more outreach by our office than civil rights, which I have made a top priority program.
Partnering with the Justice Department's Civil Rights Division, we have embarked on a significant civil rights enforcement initiative.  As a result, in the past year, we have tripled the number of civil rights cases under investigation in our office.  Also, I have appointed two Civil Rights Coordinators to oversee our expanding docket of civil rights matters: Assistant United States Attorney (AUSA) Krishna Patel serves as the Civil Rights Coordinator for the Criminal Division and AUSA Ndidi Moses serves as the Civil Rights Coordinator for the Civil Division.  We also created a Civil Rights Fellowship for college seniors and second and third year law students to work in the office on civil rights matters during the fall and spring semesters and over the summer months.
Krishna, Ndidi and I, along with many others in the office, are finding different ways to engage with the community on the subject of civil rights.  We have done presentations about federal civil rights laws, encouraged the timely and accurate reporting of potential civil rights violations, and renewed old and created new partnerships among local, state and federal government agencies and private not-for-profit organizations and service providers.
In February, we visited two New Haven schools in celebration and recognition of Black History Month.  Our presentations to students at Micro Society Magnet School and Hill Central Music Academy began with a discussion of prominent African Americans in recent history and important moments in the Civil Rights Movement of the 1950s and 1960s.  We then engaged the students in a discussion about hate crimes by using the example of a civil rights prosecution handled by this office, asking the students "What would you do?" and "How would you feel?" if you were a victim of or witness to the offensive conduct.  We finished with a vibrant discussion about bullying and its consequences.
In March, we hosted a visit by Thomas E. Perez, the Assistant Attorney General for the Civil Rights Division. Tom visited the office during our civil rights presentation to a third New Haven School, the Metropolitan Business Academy, where we screened for students and then discussed an anti-bullying video created by the Civil Rights Division as its contribution to the national "It Gets Better" project.  We also conducted an impromptu "Career Day" for the high school students.
On March 16, I convened the District's first-ever comprehensive Civil Rights Conference.  More than 200 members of federal, state and local law enforcement, government agencies, community organizations and others gathered at the conference, which was hosted by the Quinnipiac University School of Law in Hamden.  The conference featured powerful presentations by Tom Perez and Connecticut Governor Dannel P. Malloy, as well as a very personal and in-depth discussion of the Matthew Shepard Case.  In October 1998, 21-year-old Matthew Shepard was murdered in Wyoming because of his sexual orientation.  We were truly fortunate to have been joined by Dennis Shepard, who, along with his wife Judy, tirelessly and successfully advocated for expanded hate crimes legislation since their son's death.  We were also extremely grateful to hear from Sheriff David O'Malley, who was instrumental in bringing Matthew's killers to justice.
Following presentations by the featured speakers, conference attendees participated in breakout sessions on Human Trafficking and Child Exploitation, Rights of Persons with Disabilities in Institutions and the Community, Voting Rights, Fair Housing and Fair Credit, Bullying and Discrimination in Schools, Excessive Force and Police Misconduct, and Veterans' Rights.  Our participants and panelists had rich and diverse backgrounds, and we acknowledged and appreciated their cooperative and tireless efforts to promote a deeper understanding of the issues within our community and the civil rights of everyone.
The community response to the conference was wonderfully positive.  I was approached by several attendees who told me about the new connections they made with others in their field and how they were re-energized and re-inspired to continue their important work.  Our office received referrals of potentially viable and worthy civil rights cases from service providers who attended the conference and learned what might constitute a federal civil rights violation.  And perhaps most importantly, we made a clear and unequivocal statement to the community about our commitment in this area.
Our outreach continues.  In recent months, we have visited with the African American Affairs Commission, the Asian Pacific American Affairs Commission and the Latino and Puerto Rican Affairs Commission, all non-partisan commissions which were created by acts of the Connecticut General Assembly and the goals of which include helping to end discrimination in Connecticut.  We are engaged in an ongoing dialogue with Connecticut's Arab, Muslim and Sikh communities, listening and responding to concerns about, among other things, government policies and actions, workplace issues and religious accommodation.  We meet regularly with the Tribal Councils for Connecticut's two federally-recognized tribes.  We have organized cultural competency training at Connecticut's law enforcement training academy to increase law enforcement officers' sensitivity to cultural differences.
Nearly a half-century ago, the Civil Rights Act of 1964 made it illegal to discriminate against someone because of their race, color, religion, gender or nationality. Today, the Department of Justice continues to enforce the Act and our nation's other civil rights laws to ensure that all individuals have equal access to jobs, public places, housing, loans for housing, and quality education.  Fortunately, we are constantly reminded that a lot has changed since 1964.  But while discrimination is not as common as it once was, we, as a country, still have much work to do. The goal of civil rights will not be reached until we have eliminated all discrimination, and every person is treated equally.
The Northern District of Georgia Hosts Community Conference to Implement New Federal Hate Crimes Law
On May 18, 2010, our office joined with the FBI's Atlanta Division to host the nation's first community conference to discuss implementing and enforcing the Matthew Shepard and James Byrd, Jr. Hate Crimes Prevention Act. We recognized that members of the community, and particularly those citizens who the new law is primarily designed to protect, may not be knowledgeable about the changes in the law. Moreover, we believed that state and local officers, who are the first responders to incidents that might qualify as hate crimes, needed training not only on the changes to the statute, but also on enhancing their community outreach efforts so that victims are empowered to report violations. Consequently, we convened members of community groups along with hundreds of officers and agents from local, state and federal law enforcement organizations for a day-long event at Georgia State University in Atlanta. Through speakers and panel discussions, participants shared important information about investigating, prosecuting and preventing hate crimes, while also encouraging communications and building trust between law enforcement and these community groups.
The conference began with a keynote address by Dave O'Malley, former chief of the Laramie, Wyoming Police Department and now Albany County Sheriff. Sheriff O'Malley investigated the murder of Matthew Shepard, a student who was tortured and murdered in 1998 because he was gay. Sheriff O'Malley offered a heartfelt testimonial about how, when he first began investigating Mr. Shepard's murder, he harbored many of the same biases and stereotypical views toward gay individuals that contributed to the horrific murder. As Sheriff O'Malley grew closer to Mr. Shepard's parents and family and began to better understand Mr. Shepard himself, the case led to an epiphany for Sheriff O'Malley. Sheriff O'Malley is now an outspoken proponent of the federal hate crimes law, and in encouraging change in the public's views toward gays and lesbians. Following Sheriff O'Malley's remarks, Mr. Shepard's father, Dennis Shepard, also spoke and read from his victim impact statement submitted to the Wyoming court at the sentencing of one of his son's killers. It was a stirring and inspiring opening to the conference, and the presentation had a particularly powerful effect on the police officers who identified a great deal with the comments of a fellow officer.
The morning session included a legal overview of the Shepard-Byrd Hate Crimes Prevention Act presented by Barbara K. Bosserman, Senior Legal Counsel with the Criminal Section of the Civil Rights Division, and Assistant United States Attorney Brent Alan Gray, Criminal Civil Rights Coordinator for the Northern District of Georgia. Following the legal overview, a panel discussion focused on how to foster cooperation between non-governmental organizations and law enforcement. Panelists included Cheryl Courtney-Evans, founder and executive director of Transgender Individuals Living Their Truth; Reverend Paul Graetz, Senior Pastor of the First Metropolitan Community Church of Atlanta; Elaine Levine, Georgia Latino Alliance for Human Rights; Dr. Jenny Manders, Disabilities Studies Coordinator at the University of Georgia; Melinda Morgan, Operations Director of Georgia Equality, Inc.; Brenda Muhammad, Director of Atlanta Victim Assistance; Bill Nigut, Southeast Regional Director of the Anti-Defamation League; and Salim Shermohammed, Ismaili Council for the Southeastern United States.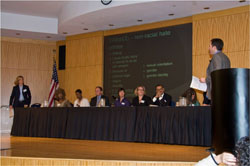 After a luncheon during which community group members were seated with police officers and agents, the panel discussion continued and members of the audience were invited to ask questions of the panelists. The panel was moderated by FBI Supervisory Special Agent Cynthia Deitle and Matt Nosanchuck, Senior Counselor to Assistant Attorney General Thomas E. Perez. The panel members shared highly personal stories of their own instances of experiencing discrimination or even being the victims of hate crimes, and in some cases their reluctance in approaching law enforcement to report the crimes. One panelist described in harrowing detail a race-based assault that occurred on a rural road where he was trapped with his family by an assailant with a weapon.
A recurring comment by all panelists was that they welcomed enhanced communications with local law enforcement agencies, including meetings to establish these relationships before a crime occurs. In a response that reinforced our confidence in our local law enforcement partners, officers thronged the panelists after the session ended with outstretched business cards and offers for meet-and-greets.
After the conference and media coverage of the event, our office has enjoyed regular and positive communications with the participating community groups as well as additional advocacy organizations that did not attend. We also believe that our local law enforcement is better prepared to respond to a potential hate crime report from our citizens. This community conference was the first step in our efforts to ensure that we zealously protect the rights of victims of violent crime in Georgia who are targeted because of bigotry.
District of Arizona's Civil Rights Efforts Key to Addressing Community Conflict
Since his appointment in 2009, one of U.S. Attorney Dennis K. Burke's top priorities for the District of Arizona has been to create a U.S. Attorney's Office that is open and accessible to the community and has a presence in the community. Two key steps in realizing this effort were to create a Civil Rights Unit and a Community Outreach component within his office. This strategy has been critical in creating an interactive climate with community and faith-based organizations all across Arizona's diverse landscape.
The mission of the Civil Rights Unit is to uphold the civil and constitutional rights of all individuals in the District of Arizona by enforcing federal statues designed to protect the civil rights of all individuals and prohibit discrimination on the basis of race, color, sex, gender identity, sexual orientation, disability, religion, and national origin. In addition, the Unit's charter is to educate community members about their civil rights and to provide training to local law enforcement in the areas of civil rights and hate crime statutes.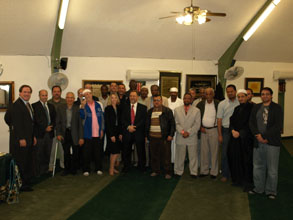 U.S. Attorney Burke's civil rights focus has been instrumental in addressing community conflict by recognizing that some communities, particularly those of color, race, gender, sexual orientation, and gender identity, are at higher risk of discrimination and the possible threat of violence. The office has held community civil rights forums to ensure that people are aware of their civil rights and know whom to contact if they or someone they know is a victim of a hate crime. U.S. Attorney's Office personnel have also reached out to local law enforcement and provided training on the Matthew Shepard/James Byrd Hate Crimes Prevention Act, forging partnerships that have facilitated better communication among state, local, and federal agencies.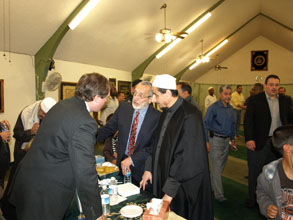 Through the efforts of its Civil Rights Unit and Community Outreach component, the U.S. Attorney's Office in Arizona has held community forums with Latino and African American communities to address issues of immigration and police misconduct. The office has also conducted community forums that target faith-based groups, including interfaith groups, boards of Rabbis, and outreach to Arizona's Islamic centers. The U.S. Attorney's Office in Arizona also regularly holds forums with sexuality and gender identity-based communities to build trusting relationships with law enforcement.
The U.S. Attorney's Office continually strives to be, and is, a vital resource for Arizona's community groups and members and for law enforcement and criminal justice agencies.
Outreach Efforts in the District of Oregon
Almost exactly 50 years ago – in May 1951 – Attorney General Robert F. Kennedy went to the University of Georgia to deliver the Law Day speech.  The Attorney General declared that when it comes to Civil Rights, "We will not stand by and be aloof -- we will move."
At the U.S. Attorney's Office in Oregon, we are fulfilling that commitment – and when it comes to civil rights, we are on the move.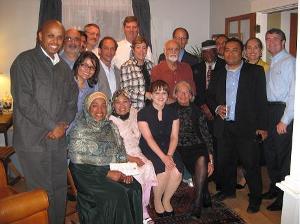 Working closely with the Civil Rights Division, the office has pursued  cases ranging from enforcing rights of armed services personnel to disability rights cases to criminal prosecutions:
In United States v. Walker, a former U.S. probation officer was sentenced to 10 years in prison for violating the victims' Constitutional rights to bodily integrity while acting under color of law, by engaging in sexual contact or aggravated sexual abuse with female offenders who were under his direct supervision as a federal probation officer from 2006 to 2009
In Frank Armstrong v. American Hospitality Inn, the office helped win an out of court settlement for a blind veteran who was denied service at a local motel because he could not produce a driver's license, which he could not obtain because he is legally blind.
In Joe Janssens v. Portland General Electric (PGE), the office obtained an out of court settlement under the Veterans Reemployment Rights Act when an employer denied a Korean War veteran credit to his pension for the time he worked for the employer prior to enlisting in the Marines, and for the two years he served as a Marine during the Korean War.
In United States v. Hadlock, the office obtained a consent decree from a Klamath Falls landlord to address allegations of her failure to rent to families with children under the age of 18.   The consent decree provided for significant monetary damages and an on-going compliance plan.
The office and Civil Rights Division are currently investigating an arson at an Islamic Center in Corvallis which came just a day after the arrest of a defendant charged with plotting an attack on the Tree Lighting Ceremony at Pioneer Square in Portland.
Last month, Associate Attorney General Tom Perez and U.S. Attorney Dwight C. Holton announced that they were launching an investigation into the practices of the Portland Police Bureau to determine whether there is a pattern or practice that results in use of excessive force by officers.
The U.S. Attorney's Office in Oregon is also committed to preventing civil rights violations. U.S. Attorney Holton has launched an Anti-Bullying Initiative that begins with a series of anti-bullying events at schools around the state.  The school events are three-pronged, including meetings with students, meetings with teachers, and meetings with parents to underscore the message:  bullying is dangerous, it is pushing young victims to the edge, and you can help stop it.  So far, events have been held at a number of public schools, and a joint event with the Department's Community Relations Service is planned in Indian Country for August 5 at the Confederated Tribes of the Umatilla Indian Reservation.
And finally, the U.S. Attorney's Office is working closely with partners in the Muslim community, on both civil rights work and in efforts to counter violent extremism.  Islamaphobia and racism are key topics in our anti-bullying work, and the U.S. Attorney is personally engaging community leaders to discuss how we can do our jobs better and how community leaders can help us prevent young people from going the path of violence.
Last month, the U.S. Attorney hosted a dinner for Assistant Attorney General Tom Perez and Muslim community leaders to discuss these issues.   The U.S. Attorney also joined the Somali American Council of Oregon in welcoming filmmaker Fathia Absyie to Portland for a showing of her documentary Broken Dreams, which shines light onto the tragedy of radicalization in the Somali community. In the fall, the office is planning a number of key events with Muslim community partners to ensure civil rights are vigilantly enforced and to advance efforts to counter violent extremism.
So when it comes to civil rights, we in Oregon are not standing by – we are on the move.
Our First Civil Rights Symposium: The District of Kansas
I launched my term as U.S. Attorney in Kansas by issuing a warning: enforcing federal laws against hate crimes would be a priority; violence or the threat of violence, masquerading as political activism, would not be tolerated.
I hadn't intended to start on a note like that. My plans changed when a candidate for the Kansas legislature came home one day to find a death threat on his door. The candidate was a West Point graduate, but in somebody's mind the fact he was gay and was daring to run for public office meant he ought to be dead. That's the kind of hatred that could lead to the conduct Congress had in mind when it passed the Shepard Byrd Hate Crimes Prevention Act
I was pleasantly surprised to find my message about enforcing the federal law against hate crimes was well received in Kansas. Kansas doesn't always get the kind of national media attention I'd like to see. Rev. Fred Phelps of Topeka has been on CNN staging his "God Hates Fags" demonstrations at funerals. The tragic assassination of Dr. George Tiller in Wichita by abortion opponent Scott Roeder was another national story with a Kansas dateline. Notwithstanding those incidents, most Kansans are levelheaded people who respect their fellow citizens. Unfortunately, I doubt that is going to make any headlines anytime soon.
Encouraged, I decided to organize our district's first ever Civil Rights Symposium. The goal was to bring together law enforcement agencies, civil rights advocates, as well as any interested party or citizen, from across Kansas to spend a day talking about how we can work together. I wanted to remind everyone of the historic role the Justice Department has played in protecting civil rights. I also wanted to spread the news I was hearing from Washington that the Justice Department's Civil Rights Division was being reinvigorated. I knew I was off to a good start when Assistant Attorney General Tom Perez, who heads the Division, agreed to be the keynote speaker for our symposium. It was Tom's first visit to our district and my first time hosting an assistant attorney general. Tom was an inspirational speaker and everyone who heard him came away refreshed and excited about building new partnerships for advancing civil rights.
Another early success in the planning came when Sheriff Dave O'Malley of Laramie, Wyoming, agreed to speak at our symposium. Dave tells a story we thought law enforcement officers would want to hear about how his own life was changed by the Matthew Shepard investigation. During the course of the investigation of that brutal hate crime, Dave came to recognize his own biases and to realize that it was time for him and his colleagues in law enforcement to cast aside old stereotypes. We felt that Dave would help us connect with officers whose support would be vital for success in expanding our civil rights enforcement.
We decided to take an expansive approach to the agenda for the symposium. Instead of limiting ourselves to hate crimes, we added topics including human trafficking and the Americans with Disabilities Act (ADA). That gave us room to reach out to a broad range of groups that have a civil rights mission. We started with the obvious choices -- the NAACP, the ACLU, the League of United Latin American Citizens, gay rights groups -- and expanded our invitation list from there. The disability community reacted with intense interest. They came early and sat through all the sessions, waiting for the ADA presentation that was scheduled for late in the afternoon.
The ADA presentation reminds me of another instance when Tom and his Division went out of their way to assist us. After we picked a hotel for the symposium, we wanted to confirm that it met all accessibility requirements. Because we didn't have an expert on the matter in our office, we turned to the Civil Rights Division, which dispatched an architect from Washington to help us ensure the hotel was accessible to persons with disabilities.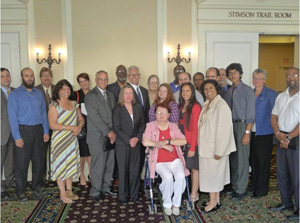 The symposium went off without a hitch. Tom gave a speech that made me remember how I felt as a young lawyer out to right the world's wrongs. We had great presentations by Kristy Parker, Deputy Chief in the Civil Rights Division, and Anne Raish, a trial attorney with the Civil Rights Division. The feedback was positive and, despite all the hard work getting ready for the symposium, I'm ready to do it again next year. As a matter of fact, after the event, I was informed that a number of civil rights groups that appeared have decided to work together as a collective so they can speak with one voice on a whole range of issues that related to civil rights. If nothing else, knowing that we motivated individuals to come together with the common goal of justice and fairness for everyone made the hard work even more satisfying.
Recent Conferences Sponsored by the Office of the U.S. Attorney for the Districts of Guam and the Northern Mariana Islands
Strategies for Justice: A Pacific Vision - Pacific Regional Conference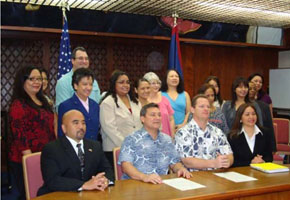 The U.S. Attorney's Office for the Districts of Guam and the Northern Mariana Islands, U.S. Department of Justice, in coordination with the National District Attorneys Association (NDAA), National Center for the Prosecution of Child Abuse, held the first Pacific Regional Conference entitled "Strategies for Justice: A Pacific Vision" on January 18 through 21, 2011, in Guam. U.S. Attorney General Eric H. Holder, Jr., and Ambassador-at-Large Luis C. de Baca, Office to Monitor and Combat Trafficking in Persons, of the U.S. Department of State, each delivered a special message to the Conference participants.
A critical component of the Conference included training sessions on Human Trafficking: Sex and Labor Trafficking; Domestic and International Trafficking; Medical Evidence in Abuse and Trafficking Cases; and Crisis Intervention and Treatment of Victims of Abuse and Trafficking. Breakout sessions on these topics were held for law enforcement, victim service providers and health professionals. In addition, representatives from the Pacific Region, including Guam, the Commonwealth of the Northern Mariana Islands, the Federated States of Micronesia, the Republic of Palau, the Republic of the Marshall Islands, the Philippines, American and Western Samoa, Fiji and other parts of the Pacific were invited to participate in regional panel discussions to share with and educate the audience about related issues impacting their respective communities, including the scope and magnitude of the problem identified, what strategies have been developed and implemented to address the problem, what are the resources available to the community, and statistical information. Collaboration and coordination efforts were also made with the U.S. Department of State to ensure that all federal and local counterparts throughout the Pacific Region were informed and invited to the Conference.
Key steps to effectively combat human trafficking include continued collaboration among critical local and federal stakeholders, including the FBI, U.S. Department of Homeland Security, U.S. Department of State, U.S. Department of Interior, Office of Insular Affairs, Federal Labor Ombudsman Office, and U.S. Department of Labor regarding human trafficking issues; implementing the victim centered approach to human trafficking; convening law enforcement sensitive human trafficking meetings to review, staff and vet investigations and prosecutions of human trafficking cases; and convening task force meetings to ensure the needs of victims are addressed. Given our unique location and small district sizes, we are fortunate to have already established close professional working relationships with critical local and federal stakeholders involved in human trafficking cases. These efforts include coordination with military counterparts as well, including the Naval Criminal Investigative Service, Air Force Office of Special Investigations, and U.S. Coast Guard.
Approximately 300 stakeholders attended the Conference, including law enforcement officers, social service providers, victim service providers, medical, mental and public health professionals, educators, faith based community members, non-profit organizations, and the individuals from the private sector.

Project Safe Neighborhoods and Gang Resistance Education And Training (GREAT)
Task Force Community Event and Conference
The U.S. Attorney's Office for the Districts of Guam and the Northern Mariana Islands held a "Transforming Relationships for a GREAT Community – Engaging our Youth and Family, Schools, Law Enforcement, Courts and Private Sector in Partnership" community event and conference sponsored by the Project Safe Neighborhoods (PSN) and Gang Resistance Education And Training (GREAT) Task Force. The community event and conference was held in Guam on April 7 and 8, 2011.
Assistant Attorney General Thomas E. Perez from the Civil Rights Division acknowledged the collaborative efforts of federal and local law enforcement, and governmental and non-governmental organizations, in Guam and the Northern Mariana Islands, to educate children, parents, family members, educators and other community stakeholders about the dangers of bullying, cyberbullying, on-line solicitation, drugs and guns; and about prevention and safety tips.
Approximately 400 participants attended the community event and conference, including students from public and private schools, parents, family members, educators, law enforcement, social service providers, faith-based community members and other stakeholders.

Human Trafficking Regional Training Conference
The U.S. Attorney's Office for the Districts of Guam and the Northern Mariana Islands, together with the Human Trafficking Intervention Coalition (HTIC) of the Commonwealth of the Northern Mariana Islands (CNMI), sponsored the first "Human Trafficking Regional Training Conference," held the week of May 2, 2011, in Saipan.
Ambassador-at-Large Luis C. de Baca, Office to Monitor and Combat Trafficking in Persons, U.S. Department of State, and Assistant Secretary Anthony Babauta, U.S. Department of Interior, Office of Insular Affairs, each delivered a special message to the conference participants. Ambassador de Baca shared his experience in prosecuting the first human trafficking case in Saipan, and the fear expressed by the victims who were taken to a cliff line and told by the defendant that if they did not do their bidding, the victims would be pushed over the cliff and no one would miss them. U.S. Attorney Alicia Limtiaco for the Districts of Guam and the Northern Mariana Islands, and CNMI Attorney General Edward Buckingham, also gave opening remarks.
The Conference sessions covered topics such as: Human Trafficking 101 & 201; Crime Stoppers Human Trafficking Project; FBI National Prospective on Human Trafficking; FBI Office for Victim Assistance; Diverse Communities Outreach Program; National Human Trafficking Resource Center; Understanding the Trauma Response; Promoting Healing in Survivors of Human Trafficking; Bridging the Gap: Four Key Components in Taking Children and Youth from Abuse and Slavery to Sustainable Freedom; Vicarious Trauma and Caring for First Responders; Enacting a Victim Centered Approach in Law Enforcement Investigations; the Victim's Paradox: Resolving Justice and Forgiveness; Online Child Exploitation; Conducting Successful Interviews with Victims of Human Trafficking; A Law Enforcement Prospective on Interviewing Victims and Suspects in Human Trafficking Investigations; and Coordinating a Task Force and Forging Collaborative Partnerships between Law Enforcement and Victim Service Providers.
Speakers included representatives of Project REACH, the Polaris Project, and the FBI. Over 150 participants attended the Conference, including law enforcement, non-governmental organizations, medical professionals, victim service providers, faith-based organizations, Consulates and other community stakeholders.
As a result of the CNMI Human Trafficking Intervention Coalition's efforts, the FBI, Immigration and Customs Enforcement, and CNMI Department of Public Safety are currently conducting a joint investigation of human trafficking in Saipan—which, according to the law enforcement agencies, is the first formally recognized joint investigation ever. The CNMI Human Trafficking Intervention Coalition has also introduced "law enforcement only" meetings to promote trust, information sharing, and action on behalf of law enforcement. The CNMI Human Trafficking Intervention Coalition also published posters and pamphlets last year to provide to potential victims in the community, informing them that human trafficking is a crime and that law enforcement can help them. These efforts have also resulted in several successful prosecutions by the U.S. Attorneys' offices for the Districts of Guam and the NMI, including two such cases in 2007, and the most recent conviction was in the "Blue House" case (U.S. v. Song Ja Cha) in Guam.

Commemoration Ceremony of 10th Anniversary of September 11
First Civil Rights Conference
The U.S. Attorneys' offices for the Districts of Guam and the Northern Mariana Islands will hold a Commemoration Ceremony on the 10th Anniversary of September 11. The families of the fallen soldiers from Micronesia who served during Operation Enduring Freedom will be invited to the ceremony. U.S. Attorney General Eric J. Holder, Jr., will give special remarks and acknowledge those who have served and continue to serve the country. Pictures of the fallen soldiers will be displayed during the Commemoration Ceremony and throughout the two-day conference.
The first Civil Rights Conference will immediately follow after the Commemoration Ceremony. Topics to be covered at the two-day Civil Rights Conference include:
Overview of Civil Rights Laws
Hate Crimes
Color of Law
Human Trafficking
Immigration Related Offenses
Highlights of Civil Rights Cases and Issues
Investigation and Prosecution of Civil Rights and Immigration Related Cases
Discovery and Ethical Issues
Trainers will be from the Civil Rights Division, U.S. Department of Justice, and U.S. Department of Homeland Security. The conference will be held in both Guam and Saipan.
Updated July 9, 2015