by Melinda Haag
U.S. Attorney for the Northern District of California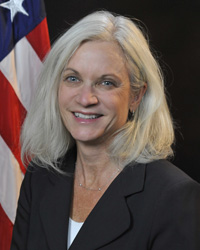 The first Computer Hacking/Intellectual Property (CHIP) Unit was founded in San Jose in the Northern District of California by then-U.S. Attorney Robert Mueller III (now FBI Director) in early 2000. The NDCA CHIP Unit was created in response to the pressing need for a core of highly-trained and experienced federal prosecutors dedicated to prosecuting cybercrime and to assisting federal agencies in their investigative efforts in Silicon Valley.
The concept behind the NDCA CHIP Unit immediately and has continually shown its worth: the first Economic Espionage indictments and convictions; the first Digital Millennium Copyright Act (DMCA) violations; the largest importer of counterfeit Microsoft software; the largest seizure of gray market goods; and the "Spam King;" to name but a few, all were prosecuted by the NDCA CHIP Unit.
The NDCA CHIP Unit also serves to assist federal agencies investigating counter-espionage matters, exemplified by the Unit's post-9/11, pre-Patriot Act response. At that time, every email search warrant had to be brought in the district of the provider and NDCA—having Yahoo, Hotmail, and Google—received more than the lion's share and was responsible for writing, reviewing, processing, and shepherding literally hundreds if not thousands of search warrants for federal investigative agencies around the nation in the months following the 9/11 attacks.
The Unit also has a large outreach mission, where it communicates with the 7,000 to 10,000 high-tech companies in the Silicon Valley through various seminars, task forces, and case interactions. The Unit regularly engages in dozens of speaking engagements per year in Silicon Valley alone, and its Assistant U.S. Attorneys are in demand as speakers and trainers in venues around the nation, as well as national media.
NDCA's CHIP Unit concept has been replicated in 18 federal districts and has replaced the former Computer and Telecommunications Coordinator posts at the rest of the U.S. Attorneys' offices nationwide, resulting in CHIP coordinators—Assistant U.S. Attorneys trained in CHIP matters—in all 94 federal districts.
click image for detailed information
Updated July 8, 2015