Prosecution of "Sextortionist" Luis Mijangos
by André Birotte, Jr.
Former U.S. Attorney for the Central District of California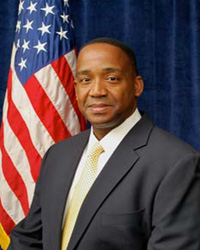 André Birotte, Jr., U.S. Attorney for the Central District of California
Luis Mijangos infected the computers of hundreds of victims with malicious software that gave him complete access to, and control over, their computers. He targeted teens and young women, reading their emails, watching them through their webcams, and listening to them through their computer microphones.
He often used the information he obtained to "sextort" his victims. Having searched victims' infected computers for sexually explicit photos, or having made his own by turning on their webcams without their knowledge, Mijangos would then engage in psychological games with his victims. He threatened to publish intimate photos of his victims on social media websites such as Facebook and MySpace for the world to see if they did not give into his demands to send him videos or photos of sex acts.
He was caught when one courageous victim, also a former victim of domestic violence, contacted the local police department that had previously helped her. After realizing that their target was a sophisticated computer hacker, the Glendale, California Police Department contacted the FBI. Warrants on Mijangos' email account and computers uncovered the massive scope of his crimes. Among his identified victims was a high school teen of whom the defendant had captured nearly 3,000 sexually-explicit images using her webcam, in addition to stealing all of her parents' computer-based financial information.
Mijangos pleaded guilty in federal court to computer hacking and wiretapping. He was sentenced to 72 months' imprisonment by a judge who described defendant as a "cyber terrorist". He has also been referred to Immigration and Customs Enforcement because of his immigration status.
These crimes serve as a reminder to all of us of the very real danger posed by online predators and of the importance of cybersecurity for all computer users no matter their age. Mijangos' capture, prosecution, and sentence sends a message to cyber predators that they will be prosecuted, and severely punished, when they seek to invade the sanctity of our personal digital worlds.
Updated July 9, 2015