Fighting Healthcare Fraud Ensures Patient Safety and Protects Taxpayer Dollars
by Carmen M. Ortiz
U.S. Attorney for the District of Massachusetts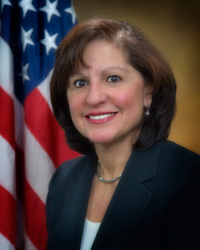 As Chair of the Attorney General's Advisory Committee's (AGAC) Healthcare Fraud Working Group, I have the privilege of seeing and hearing about the many effective strategies and tools used to combat healthcare fraud by U.S. Attorneys' offices across the nation.
As I meet my colleagues around the country and discuss healthcare fraud, I am continually reminded of the unique landscape of the District of Massachusetts. Home to 14 teaching hospitals, the Boston area is world-renowned for its excellence in healthcare, medical research institutions and private healthcare industries. We are proud of the unparalleled combination of industry, science and academia that have made Boston one of the nation's leading medical communities.
In addition to our impact on healthcare and healthcare reform, we have become one of the nation's leading districts with respect to healthcare fraud enforcement.
In the District of Massachusetts, we have recovered over $4 billion dollars in civil and criminal penalties - in the last two years alone. These are tremendous recoveries that aim to make up for the wrongdoing that occurs in the healthcare arena. With estimated healthcare spending on the rise, there is a significant likelihood that more healthcare dollars could be lost to fraud and abuse, and more patients could be at risk.
As we balance limited resources against increasing demands, we must ensure that patient safety and the protection of taxpayer dollars remain a priority. We must ensure that healthcare policies and practices protect the integrity of the patient/doctor relationship and our scarce federal resources.
Greed and malfeasance in the healthcare arena cause harm to our nation's most vulnerable citizens—the sick, the elderly and the poor, and robs precious resources from taxpayer funded healthcare programs. While it is important to recognize that pharmaceutical companies develop life enhancing—and in many cases, life saving—medications, the industry has an obligation to ensure that all rules, regulations and laws are complied with.
It is imperative that the American people, as both taxpayers and consumers, have a health care system free from fraud and corruption. To do less erodes public confidence, compromises the patient physician relationship and adds costs to important government programs. I remain optimistic that working together, we will achieve great results and promote good, ethical business practices.
Updated July 8, 2015