by Preet Bharara,
U.S. Attorney for the Southern District of New York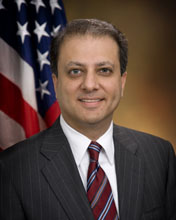 With offices within walking distance of Wall Street, the United States Attorney's Office for the Southern District of New York has always been on the front lines of the federal government's efforts to investigate and prosecute securities fraud. Our focus on financial fraud flows from a commitment to longstanding principles and goals: that our markets should be fair; that our playing fields should be level; and that our citizens' accounts should be secure. In service of these goals, we have aggressively pursued securities fraud whenever and wherever we have found it.
In recent times, for example, we have pursued significant investigations and prosecutions of insider trading. Insider trading saps market confidence, cheats average investors, and victimizes the companies whose secret information is so often stolen in the scheme. As Southern District of New York Judge Richard J. Sullivan said recently upon imposing a sentence on an insider trading defendant: "I think this is a crime that does damage to the national economy and does damage that is pretty considerable, and that is the reason why the penalties are pretty high for this crime."
Since October 2009, we have charged 56 individuals for insider trading, of which 51 have already been convicted. Prosecutions run out of our Office and other U.S. Attorney's Offices around the country have ensnared people not only at hedge funds, but also at technology companies, pharmaceutical companies, consulting firms, law firms, government agencies, and even a major stock exchange. However, the detection, investigation, and criminal prosecution of illegal insider trading has become increasingly difficult because, among other reasons, the sheer volume and complexity of modern stock trading heightens the difficulty of pinpointing specific illicit trades that were based on illegally acquired inside information. When an institution can jump in and out of positions at the speed of light and in enormous volumes, illicit trades become easier to mask, harder to find, and subject to plausible deniability. Moreover, pretextual trading designed to stymie enforcement becomes that much easier to accomplish. And so, on account of these two factors — because illegal insider trading appears so prevalent and because it is so difficult to prove — we remain committed to using every lawful investigative tool available to investigate and prosecute insider trading offenses, including court-authorized wiretaps, which have provided valuable evidence in insider trading cases where communication is an essential element of the crime.
Most recently, the Southern District of New York successfully prosecuted Raj Rajaratnam for insider trading. Rajaratnam was the managing member of the Galleon Management LLC, the general partner of Galleon Management LP, and a portfolio manager for Galleon Technology Offshore Ltd. and certain accounts of Galleon Diversified Fund Ltd. He was convicted in May 2011, of all 14 counts of conspiracy and securities fraud with which he was charged, following an eight-week jury trial. In October, Rajartnam was sentenced to 11 years in prison, the longest sentence ever imposed for insider trading offenses in history.
Beyond insider trading, we continue to investigate and prosecute a full range of securities fraud cases. For example, in July, Ross Mandell, a former chief executive officer of brokerage firm Sky Capital LLC and related Sky Capital companies, and Adam Harrington, a senior broker at Sky Capital, were convicted following a jury trial for their involvement in a scheme to defraud investors through two successive securities broker-dealers — the Thornwater Company L.P. and Sky Capital LLC. Mandell and Harrington were masters of deception who had no qualms about lying to investors, manipulating stock prices, and using dubious trading practices to enrich themselves at the expense of their victims.
We also continue to prosecute pernicious accounting fraud. Anthony Cuti, former chief executive officer, chairman of the board, and president of Duane Reade Inc. — a drug store chain in the metropolitan New York City area — and William Tennant, the former chief financial officer and senior vice president of Duane Reade, were convicted following a jury trial for perpetrating a scheme to falsely inflate the income and reduce the expenses that Duane Reade reported.
These are just two examples of the many securities fraud cases we have recently pursued. We currently have charges pending in cases involving Ponzi schemes, back-dated stock options, financial statement fraud, market manipulation, and other significant frauds — and there are even more securities fraud cases in the pipeline. To pursue these cases, we will need to continue to work closely with our colleagues in the domestic law enforcement and regulatory communities like the Securities and Exchange Commission, the Commodities Futures Trading Commission, the Special Inspector General of TARP, and others. Indeed, these groups have come together in connection with President Obama's Financial Fraud Enforcement Task Force.
This greater collaboration will continue to serve our shared goal of aggressively protecting the integrity of our markets, especially now, with the economy down, public frustration up, and epic frauds surfacing with increasing frequency. We do so, however, knowing that with our subpoena and grand jury power comes the power to injure individual lives and destroy corporate reputations. Therefore, we must always exercise our discretion with great care and an even hand. While there is nothing inherently wrong or bad about hedge funds or expert networking firms or aggressive market research, when an individual gallops over the line, repeatedly makes a mockery of market rules, and converts a legitimate enterprise into an illegal racket, then he or she will not get a pass. There are rules and laws, and they apply to everyone. No one is above the law, and like the rest of the Department of Justice, our Office is committed to that bedrock principle.
Updated July 8, 2015