by Brendan V. Johnson, Former U.S. Attorney for the District of South Dakota
and Former Chair of the Native American and Indian Subcommittee of the Attorney General's Advisory Committee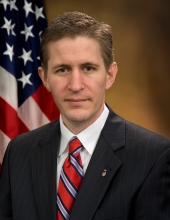 Almost two years ago, one of my first official acts as United States Attorney for the District of South Dakota was to visit the office of the Rosebud Sioux Tribe's Chief Prosecutor, Matt Rappold.  Matt sat behind an old wooden desk with several stacks of case files piled high in front of him.  He was the only law-licensed full-time prosecutor in Rosebud and the stress of managing both his office and over 3,000 criminal cases a year was apparent in his voice as he told me that something had to change.  He explained that justice for victims was too often not a reality in Rosebud, and that both he and the Rosebud Sioux Tribal Court system were near collapse.
Today, Rosebud has the third largest criminal prosecution office in South Dakota with seven law-licensed full-time prosecutors.  The growth has been made possible by grants from the Department of Justice, additional funding from the Bureau of Indian Affairs, and a profound commitment by the Rosebud Sioux Tribe. Additionally, I have designated Matt as a Special Assistant United States Attorney.  This historic agreement allows him to appear in federal court on behalf of the United States government and prosecute non-Indians who commit crimes on the Rosebud Reservation.
This is just one example of the enormous progress the Department of Justice has made in tribal communities over the past two years.  This process began when the Department of Justice and United States Attorneys held a series of meetings and consultations with tribes across the country.  Tribal members helped us identify four areas where the Department of Justice and tribal communities can work together to: (1) support tribal justice systems; (2) meet our federal law enforcement responsibility; (3) address violence against Native women; and (4) develop initiatives for American Indian and Alaska Native youth.  Through our combined efforts, we can make tribal communities safer.
Over the past two years, the Justice Department has made unprecedented investments in tribal justice systems.  The process for awarding tribal grants from the Department has been revamped based on input from tribal communities.  These changes and the  significant financial commitment made by the Department have allowed tribal communities to hire police officers and attorneys, build new police stations, and improve rehabilitation services for offenders.
The Department is also working closely with tribal communities to develop new strategies to reduce violence against Native women.  For example, in South Dakota, our next Tribal Listening Conference in September 2011 will be devoted exclusively to this topic.  We know that the best ideas for honoring and protecting Native women do not come from Washington, they come from tribal communities, and we intend to listen and act upon what we learn.
Finally, we all have a shared commitment to developing initiatives for Native American youth.  Later this month, the Department of Justice will co-sponsor a National Native American Youth Conference in New Mexico.  The Attorney General has also awarded grant funding to two different tribal communities to assist children who have been exposed to violence.  Native American youth often make the best teachers, not only for their communities, but also for the Justice Department as we seek to improve our performance in Indian Country.
We do not have the luxury of relaxing our efforts after two years of hard work.  There is still a great deal more that must be accomplished.  Attorney General Holder has informed all United States Attorneys that improving public safety in tribal communities will remain one of his top priorities.  The United States Attorneys remain equally committed to this cause and we look forward to continuing our efforts to provide tribal communities with the type of public safety systems they deserve.
Updated July 9, 2015