A Call to Action:  Get Involved to Stop Sexual Violence in Tribal Communities
by Timothy Q. Purdon, Former U.S. Attorney for the District of North Dakota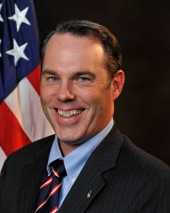 In 2009, the President of the United States declared April Sexual Assault Awareness Month.  This past April, the Department of Justice answered the President's call to be a partner in raising awareness about sexual violence in a variety of ways.  In North Dakota, we worked to focus attention on the issue of sexual violence in America's tribal communities.  Such a focus is natural for the Department of Justice, as lawyers in U.S. Attorneys' offices across the country prosecute many violent crimes, including crimes of sexual violence, that occur on the reservations.
Since I was sworn in as North Dakota's United States Attorney on August 24, 2010, I have traveled to the reservations in North Dakota to consult with the Spirit Lake Sioux Tribe, Turtle Mountain Band of Chippewa, Standing Rock Sioux Tribe, and the Three Affiliated Tribes of Fort Berthold.  Joined by others from the U.S. Attorney's Office, I consulted with tribal council members, tribal law enforcement, Bureau of Indian Affairs law enforcement, tribal social services, tribal court judges and staff, and tribal detention officials.  During all of these consultations it became apparent that sexual violence occurs far too often on the reservations.  There is one statistic that stands out for me above all others:
A Native American female baby has a one-in-three chance of being sexually assaulted in her lifetime.
A statistic like this is not a Native American problem; it is an American problem.  As terrible as this statistic is on its face, a deeper look reveals another critical concern:  sexual assault remains one of the most under-reported crimes in America.  In fact, the Justice Department's Bureau of Justice Statistics reports that in 2008, less than half of all rapes or sexual assaults against women were reported.  Many victims will never seek justice for a host of reasons, including fear of not being believed, having to relive a traumatic experience, or fear of retribution, to list just a few.  Finally, the effects on victims and society are profound.  Many sexual assault victims suffer severe long-term physical and emotional difficulties.  They experience higher rates of depression, anxiety, post-traumatic stress disorder, and even thoughts of suicide.  One sexual assault is one too many.  From a criminal justice perspective, we must create an environment where victims feel safe reporting crimes to law enforcement so that they can begin to seek the justice they deserve.
In discussing sexual violence in tribal comminutes with friends and neighbors who do not routinely visit the reservations, it is clear that many non-Native Americans are unaware of the levels of sexual violence on the reservations.  When I speak publicly about these issues, the response is often the same.  After my remarks, many members of the audience approach me individually and say, "I had no idea that this sort of thing was happening in our country.  What can I do to help?"  The answers to that question are as varied as the people who ask it, but the common theme is simple:  get involved.  Concerned individuals can volunteer at a local women's shelter, focus charitable-giving towards efforts to address this issue, talk to members of their houses of worship or civic groups about getting involved on the reservations, or simply insist that, in their presence, victims of sexual violence will not be blamed or shamed into silence.   Together, our actions can be powerful. If we take up the task of reducing sexual violence in our tribal communities, we can make a difference.  So let us challenge every community  to learn more about sexual violence, to better understand its impact, and to take a stand against it.  At the Department of Justice,  working for greater public safety is not only  our job, but  our moral imperative.  Our greatest hope is that more citizens will join us in our quest to meet the needs of victims, hold offenders accountable, and put an end to sexual violence here and around the world.
Now aware of the grim statistic confronting so many Native women, I find myself reflecting on the one-in-three chance of sexual assault when I go to a pow-wow and see three seven-year-old jingle dancers walk into the fading sunlight to begin their dance, or when I see an extended Native family of grandmother, mother, and daughter pumping gas at a convenience store.  Like many of you, I have a mother, a sister, and a wife.  The three women in my family are not faced with this horrific statistic.  The injustice of the fact that Native women do face this statistic is deeply offensive to me and should be to every American.  I am very fortunate that my current post as U.S. Attorney puts me in a position to try to do something about this injustice.  I am asking for your help in this fight.  Please get involved.
Achievements in Courtrooms Nationwide
Montana Man Sentenced After Pleading Guilty to Abusive Sexual Contact
District of Montana
Dennis Salois, 45, of Lame Deer, was sentenced to a prison term of 168 months after pleading guilty to sexually abusing a juvenile female. The girl disclosed to her school counselor that she had been repeatedly sexually abused by Salois. Another juvenile female also disclosed that she, too, had been sexually abuse by Salois.

North Dakota Man Receives 30 Year Sentence for Sexual Assault
District of North Dakota
Monty M. Mariner was convicted in June 2010 by a jury of Sexual Abuse, Assault Resulting in Serious Bodily Injury, and Assault with a Dangerous Weapon. In September 2010, Mariner was sentenced to 30 years imprisonment and a lifetime term of supervised release. The assault occurred on the Fort Berthold Indian Reservation where the victim suffered life-threatening injuries. The sentence imposed represented an upward variance from the advisory Guideline sentencing range of 188 to 235 months. The sentencing judge noted that the conduct involved was the worst case of sexual abuse he had seen since during his time on the court. He further noted that Mariner had a criminal history of previously abusing the victim.
Man Who Worked as Adult Monitor at Shelter Sentenced
District of North Dakota
John Walgett, 36, Belcourt, was sentenced on May 23, 2011, to 30 years in federal prison, to be followed by a lifetime of supervised release, and ordered to register as a sex offender. Walgett was convicted by a jury in February, 2011, for Aggravated Sexual Abuse of a Child. Additional evidence presented at trial indicated that Walgett also sexually abused other children while employed at a youth shelter facility in Belcourt.

Prior Felon Receives Two Life Sentences Plus 36 Months
District of South Dakota
Frederick One Feather, also known as Snow One Feather, 62, of McLaughlin, previously convicted of Rape and Being a Felon in Possession of a Firearm, was sentenced on June 27, 2011 to two life sentences to be served concurrently after serving 36 months for two counts of Sexual Abuse of a Minor by Fear and one count of Abusive Sexual Contact.
Updated July 9, 2015