The National Intertribal Youth Summit (NIYS) provides a rare opportunity for leadership experience for tribal youth and a venue for federal agency leaders to discuss issues impacting youth in Indian Country. The NIYS will be held July 24 – 28, 2011 in Santa Fe, New Mexico. Approximately 150 Native youth from tribal communities across the country will participate in this invitation only event.
2010 Tribal Youth Summit Logo
The Department of Justice launched the NIYS in 2010 to promote long-term improvement in public safety in tribal communities. Youth participants will share thoughts, concerns and recommendations on ways to address public safety and positively impact the lives of youth across Indian Country. For example, the youth will develop public service announcements to share with tribal leaders back home.
This year's Summit will feature administration officials from the Departments of Justice and Interior, leaders from the National Congress of American Indians, staff representatives from Members of Congress, and local tribal leaders. United States Attorneys Dennis Burke (District of Arizona), Mike Cotter (District of Montana), Ken Gonzales (District of New Mexico), Brendan Johnson (District of South Dakota), Tim Purdon (District of North Dakota), and Anne Tompkins (Western District of North Carolina) will be making presentations.
For information on last year's Summit, visit OJJDP's news on the 2010 Tribal Youth Summit.
District of New Mexico
On June 28, 2011, Kenneth J. Gonzales, U.S. Attorney for the District of New Mexico, gave opening remarks to 250 tribal youth and parents who attended the Isleta Pueblo Youth and Community Public Safety Seminar, which was held at the Isleta Pueblo Recreation Center in the Pueblo of Isleta. The seminar, which was sponsored by the U.S. Attorney's Office, the Pueblo of Isleta, the Pueblo of Isleta Police Department, the Drug Enforcement Administration, the New Mexico Department of Public Safety, and the Albuquerque Police Department, is one in a series of seminars that the U.S. Attorney's Office and its partners have been presenting at Pueblos and Tribal communities in New Mexico to deliver an anti-gang, anti-drug, and anti-violence message to tribal youth and their parents.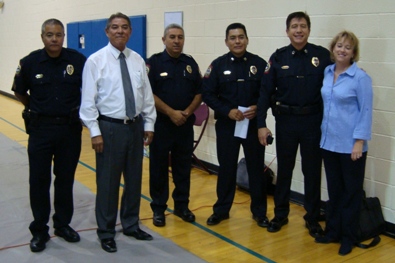 The seminar started at 8:00 a.m., with a welcome from Pueblo of Isleta Governor Frank Lujan and opening remarks by U.S. Attorney Gonzales, and ended at 7:30 p.m., following a community presentation on promoting gun safety, drug prevention and gang awareness by U.S. Attorney staff.  During the seminar, tribal youth between the ages of 5 and 18 participated in age appropriate programs relating to gun safety, drug and substance abuse prevention, gang awareness, bullying, physical fitness and making healthy choices. The cultural awareness component of the seminar was provided by Pueblo elders, who presented a historical slide show, and "Thunder Knife," the Isleta Youth Drum Group, who performed at the beginning fo the seminar and during dinner.
In his opening remarks, U.S. Attorney Gonzales delivered a self-empowerment message that emphasized the importance of making positive choices early in life. His address focused on how each youth possesses distinct and individual power – the power of choice. He discussed how young people, like adults, make countless decisions every day, some relating simply to meal choice, clothing, or how to spend free time after school. The U.S. Attorney noted that many decisions that young people frequently have to make, can have a long-lasting and significant impact on their lives and the lives of people around them, particularly as they grow from adolescence toward adulthood. For example, by middle school, young people typically have been exposed to many choices relating to smoking, drug and alcohol abuse, sex, and gang associations. By the same point, each young person has learned that these activities are harmful, dangerous and even deadly.
U.S. Attorney Gonzales emphasized that, no matter how effective and comprehensive the instruction, whether by parent, teacher, coach, or spiritual leader, the decision whether to engage in risky behavior rests with the individual. Using anecdotes taken from cases he has investigated and prosecuted over the years, U.S. Attorney Gonzales provided examples of the consequences of negative choices, such as involvement in gangs or abusing drugs, and then examples of the effect of positive choices each person can make such as staying in school, respecting the law, and avoiding trouble.
U.S. Attorney Gonzales has delivered a similar message to thousands of middle and high school students throughout New Mexico, including hundreds of tribal youth, since he was commissioned in May 2010. Recognizing that we cannot prosecute our way out of crime, U.S. Attorney Gonzales has prioritized outreach and prevention efforts, particularly those aimed at youth, including tribal youth.
Updated July 9, 2015