Domestic Violence Against Native American Women Is a Human Rights Issue
Deborah R. Gilg, U.S. Attorney for the District of Nebraska; Chair of the Attorney General's Task Force on Violence Against Native American Women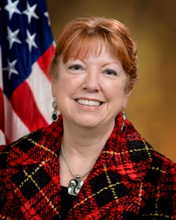 Domestic violence against Native American women  is a widespread crisis that is a priority for all of us in the United States Attorneys' offices. Native American women experience battering at a rate of 23.2 per 1,000—compared with 8 out of every 1,000 Caucasian women.  Statistics show that tribal communities face violent crime at per capita rates more than twice those of the United States resident population.  Indeed, some tribes face murder rates against Native American women more than ten times the national average.  Elsewhere on this page is an insightful article by my colleague, Tim Purdon, U.S. Attorney for the District of North Dakota.  He points out that a Native American female has a one-in-three chance of being sexually assaulted in her lifetime. These are shocking figures that are completely unacceptable.
Tribal communities face unique and often overwhelming law enforcement challenges. The officer-to-population ratio remains lower on tribal reservations than other jurisdictions across the country, and unlike municipal police agencies, many tribal law enforcement agencies lack basic technology. Tribal law enforcement agencies are tasked with patrolling large areas of sparsely populated land, which dramatically affects their ability of tribal law enforcement to respond quickly to a domestic violence incident.  Another set of challenges is presented by the unique dynamics of victims and perpetrators living on reservations with close proximity to one another. The familial relationships that often exist among victims, tribal law enforcement, and perpetrators can hinder reporting and investigations.
Domestic violence, which includes assault, manslaughter, and murder, is so pervasive, intrusive, demoralizing and destructive to the fabric of our Native American communities, that it is one of our most challenging human rights issues. It is the right of every Native American woman to be free of fear, to be free of violence and to be free of ever having to be a victim.
According to a survey by the Office of Juvenile Justice and Delinquency Prevention, one in four children are exposed to some form of family violence in their lifetimes.  When children witness or experience violence in the home, it affects how children feel, how they act, and how they learn.  Without intervention, children are at higher risk for school failure, substance abuse, repeat victimization and, perhaps most tragically, in perpetuating the cycle of violence in their own lives.
None of us can solve this crisis alone. We have to work together, use every tool at our disposal, and refuse to ever back down and to never give up.  As prosecutors, it is our responsibility to seek ways to successfully prosecute these cases and protect the victims as well as the generations of victims that will surely result if we do not intervene. The obstacles to successful prosecution of domestic violence in Indian Country can be reduced through ongoing training of our law enforcement partners, which include local tribal law enforcement, the Bureau of Indian Affairs, and the Federal Bureau of Investigation.  We must constantly encourage our law enforcement partners to completely investigate and not put these cases on the back burner.  We must create an environment where victims feel safe reporting crimes to law enforcement, knowing that they will be taken seriously and that prosecutors will seek the justice they deserve.
Achievements in Courtrooms Nationwide
Habitual Offender Sentenced for Domestic Assault
Eastern District of Michigan
David John Culhane, 29, of Mount Pleasant, Michigan, was sentenced to 46 months in custody followed by 2 years of supervised release, for Domestic Assault by an Habitual Offender. In September 2010, Culhane assaulted his girlfriend, who is a tribal member, on the Saginaw Chippewa Indian Reservation in Isabella County, Michigan. During the incident, Culhane punched and strangled the victim.
North Carolina Man Convicted of First Degree Murder
Western District of North Carolina
James Ernest Lespier, an enrolled member of the Eastern Band of Cherokee Indians, was convicted of first-degree murder and use of a firearm in connection with a crime of violence. Lespier shot and killed his girlfriend and mother of his child, Erien Amanda Smith, by shooting her in the back of the neck with a pistol. Lespier, who has been in local federal custody since his arrest on May 19, 2010, faces a mandatory statutory penalty of life in prison for the first-degree murder conviction and a consecutive sentence of up to life imprisonment for the firearm offense. A sentencing date has not been set yet.
Sentence Imposed for Assault at Standing Rock Reservation
District of North Dakota
Frank Marshall was charged with and convicted of Assault with a Dangerous Weapon for using shod feet to assault a woman. In August 2010, Marshall assaulted a Fort Yates woman, whom he was dating, by kicking her in the head and body with tennis shoes on his feet after knocking her to the ground. The woman suffered a left orbital blowout fracture that required surgery to repair. Two witnesses in the area contacted law enforcement, who responded and located the woman lying in the street with injuries to her head and face. The events occurred on the Standing Rock Indian Reservation. In March 2011, Marshall was sentenced to 35 months imprisonment and 3 years of supervised release.
Fort Apache Man Sentenced for Domestic Violence Assault
District of Arizona
Rayfael Hershall Truax, 24, of Hon Dah, was sentenced on June 13, 2011, to more than 51 months in prison following a guilty plea to two counts of Assault with a Dangerous Weapon. Truax assaulted the victim, his girlfriend at the time, by striking her in the back of the head with a piece of firewood, rendering her unconscious. The victim suffered permanent and life-threatening injuries as a result of the assault. Previously, Truax had assaulted that same girlfriend by hitting her in the head with a beer bottle and then beating her with a towel rack he pulled from the bathroom wall. The victim sustained serious injuries as a result of that assault as well. The investigation was conducted by the Bureau of Indian Affairs.
Updated July 8, 2015