On September 17, 2001, in the wake of the 9/11 terrorist attacks, the Anti-Terrorism Advisory Council (ATAC) Program (previously called the Anti-Terrorism Task Force) was initiated by then Attorney General John Ashcroft. Each United States Attorney's Office (USAO) designated at least one experienced Assistant United States Attorney (AUSA) as the district's ATAC Coordinator. Each USAO formed an ATAC which is comprised of federal, state, and local law enforcement agencies and often pertinent public health and safety officials and security officials from private industry.
The numerous responsibilities of the ATAC Coordinator include: convening the ATAC to coordinate counterterrorism efforts in their communities; coordinating specific anti-terrorism initiatives; supporting the investigative efforts of the FBI's Joint Terrorism Task Forces (JTTFs), which have operational responsibility over terrorism cases and matters; initiating training programs; and facilitating information sharing among the ATAC membership and between field and headquarters components of the Department of Justice. Membership of each ATAC varies from district to district, but all include a wide cross-section of federal, state, and local law enforcement, first responders, and private sector security personnel who have worked together since 9/11 to share information, train, discuss initiatives, and establish important relationships and contacts.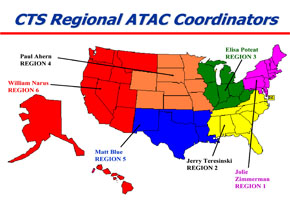 Through the National Security Division's Counterterrorism Section, a National ATAC Coordinator and six Regional Coordinators work individually and collectively to coordinate and communicate with ATAC Coordinators across the country to provide, receive, and exchange terrorism-related information in regard to threats, litigation, criminal enforcement, intelligence and training. The ATAC Coordinator is a key member of the counterterrorism investigation and prosecution team in each USAO. Indeed, in many districts, the ATAC Coordinator is the chief prosecutor of these complex cases, which involve matters of national significance, require international coordination, have precedent-setting implications, involve cross-jurisdictional investigations, and require substantial resources due to the magnitude and demands of the cases. To further address these needs, many USAOs across the country have stood up dedicated National Security Sections or Anti-Terrorism Units to develop a more cohesive group of personnel who focus on proactive counterterrorism initiatives and national security matters in addition to their counterterrorism prosecutions and ATAC program activities.
For almost ten years now, the United States Attorney-led ATACs have been providing effective information-sharing and training for law enforcement and private sector individuals with the goal of ensuring that every district remains vigilant and focused on the prevention, disruption, and prosecution of terrorist acts.
ATAC Training: FBI New Haven's Indoor Post-Blast School
District of Connecticut
FBI New Haven's Indoor Post-Blast School, an intensive, week long course taught by expert bomb technicians and federal prosecutors, has taken place in Connecticut twice a year for the past eight years and has hosted, each time, approximately 60 federal, state, and local law enforcement officials, bomb technicians, and other first responders who might respond to and investigate a bombing or other post-blast event. Until recently, Connecticut's post-blast school was the only indoor post-blast school in the country.
The first half of the week involves a classroom component that includes intensive instruction on explosive materials; improvised explosive devices; letter and package bombs; large vehicle bombs; suicide bombings; evidence collection; bombing investigations; weapons of mass destruction, chlorine, triacetone triperoxide (TATP) and hexamethylene triperoxide diamine (HMTD) devices; and investigative techniques/post-blast analysis. As part of the classroom training, two Assistant United States Attorneys (AUSAs) provide an overview on: (1) case studies highlighting the criminal charges that might be available in post-blast or bomb threat cases; (2) legal issues that may arise in post-blast investigations; and (3) investigative techniques available by working with a prosecutor's office to further a post-blast investigation.
The second half of the course involves a hands-on, practical component, which takes place, with the permission of state and local authorities, on the grounds of an abandoned state hospital in Norwich, Connecticut. The practical component first includes an outdoor "range demonstration" – a detailed briefing demonstrating various explosive materials. During the range demonstration, students witness actual detonations of explosive materials in a field at the former Norwich State Hospital. Post-demonstration, the students venture out onto the range to observe and analyze how different explosive materials work and to process the post-blast scenes.
Additionally, at each course, four different explosive devices are actually detonated in different locations inside abandoned buildings on the Norwich State Hospital grounds. Each detonation relates to a hypothetical factual scenario previously created by the instructors, who also worked on developing, creating, and detonating the device used in each scene. The detonations are video-taped. The students—who are divided into four teams—arrive at their particular scene and are gradually given details about what is believed to have happened, in an effort to make the training as close to what they would encounter if they were to respond to a real-world, post-blast scene. The student law enforcement officers must process the scene, collect evidence, and try to determine the source of the blast, the type of explosive materials used, and the design of the device. The AUSAs consult with the teams as they encounter hypothetical legal issues and as they make requests for hypothetical subpoenas, court orders, search warrants and arrest warrants.
At the end of the week long course, each team presents their findings to the class and the instructors. The instructors then offer critiques, confirm or correct each team's findings, and show a duplicate, inert version of the detonated devices. The students also watch a video of each indoor detonation.
Over the years, students have consisted of veteran law enforcement officials, bomb technicians, and other first responders not only from local, state, and federal law enforcement agencies and bomb squads nationwide, but also from abroad. Many of them have described the experience as the best training they have ever attended.
Maryland Coordination and Analysis Center (MCAC)
District of Maryland
One of the Attorney General's key mandates when he instituted the Anti-Terrorism Advisory Council (ATAC) program (then, the Anti-Terrorism Task Force program) was to ensure that information relating to terrorism was efficiently shared with all necessary entities, public and private. In furtherance of this mandate, the Maryland ATAC, through its Executive Committee, decided in April 2002 to create what has now come to be commonly referred to as a "Fusion Center." As there was no explicit funding for such an enterprise and there were no guidelines regarding how such an entity would be organized or operated, the Executive Committee formed subcommittees to determine, among other things: (1) what information sharing protocols would be acceptable to agencies providing information to the Center, (2) how the Center would efficiently disseminate such information, and (3) the minimum number of persons necessary to properly staff the Center, which would be operational 24 hours a day, 7 days a week.
After almost a year of planning, the Executive Committee unanimously approved operating protocols for the Center and empowered the ATAC Coordinator to develop a plan to solicit personnel from Maryland's law enforcement and first responder agencies to staff the Center. At the same time, efforts began to find a suitable location, at no cost, for the Center. Ultimately, these efforts were successful, with the FBI providing the physical space and 30 individuals being detailed to the MCAC, which began continuous operations on November 3, 2003. Today, 27 local, state, and federal agencies provide over 80 employees to the Center, which has been designated to the Secretary of Homeland Security as the state's fusion center by two successive Governors.
Updated July 8, 2015