by André Birotte, Jr.
Former U.S. Attorney for the Central District of California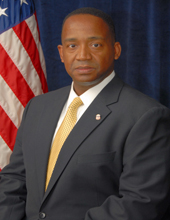 The Export and Anti-proliferation Global Law Enforcement (EAGLE) Task Force was formed in January 2008 as an initiative of the National Security Section of the United States Attorney's Office for the Central District of California. The goal was to bring together the different federal agencies focused on counter-proliferation work and allow them to share resources and knowledge in this complex area, as well as to increase the number of prosecutions in this area. Since its formation, over a dozen individuals have been prosecuted in ten indicted cases for violations of the nation's export control laws, including violations of the International Emergency Economic Powers Act (IEEPA), the Arms Export Control Act, the Export Administration Regulations, and the Iranian Transactions Regulations. The EAGLE Task Force now boasts a membership of over 80 individuals from17 federal agencies.
The export enforcement mission is critical to the United States Attorney's Office's national security efforts, and the need for the Task Force is great. The Central District of California contains one of the most diverse populations in the United States with approximately 18 million residents, the largest shipping port in the country, the largest number of military installations in the country, a significant number of defense contractors, and one of the busiest airports in the world. The EAGLE Task Force brings to bear a wide spectrum of law enforcement and intelligence capabilities in this challenging environment. Since first meeting in January 2008, the Task Force has grown to more than 80 members representing the following federal agencies:
United States Attorney's Office
FBI
Immigration and Customs Enforcement Homeland Security Investigations
Department of Commerce, Bureau of Industry, Office of Export Enforcement
U.S. Customs and Border Protection
Defense Criminal Investigative Service
Defense Security Service
Defense Intelligence Agency
FinCEN
U.S. Army Criminal Investigations Division
U.S. Army 902d Military Intelligence Group
U.S. Air Force Office of Special Investigations – Los Angeles Air Force Base
U.S. Air Force Office of Special Investigations – Edwards Air Force Base
U.S. Naval Criminal Investigative Service – Naval Base Ventura County
U.S. Naval Criminal Investigative Service – Seal Beach Weapons Station
U.S. Naval Criminal Investigative Service – China Lake Naval Weapons Station
NASA Office of the Inspector General – Jet Propulsion Laboratory
NASA Office of the Inspector General – Long Beach
Internal Revenue Service
U.S. Coast Guard Investigations
Successful Task Force prosecutions have covered a broad spectrum of restricted technology, from thermal imaging cameras being exported to China to vacuum pumps with potential nuclear applications being sent to Iran via the United Arab Emirates.
Several indicted cases arising out of the work of the Task Force have involved the export of thermal imaging technology to China. One such case resulted in a five year sentence of Zhi Yong Guo, convicted of IEEPA violations by a jury following a one-week trial. Guo and a co-conspirator were arrested at Los Angeles International Airport after authorities found ten export controlled thermal-imaging cameras hidden in their suitcases, stuffed in shoes and concealed in clothing. The evidence at trial showed that Guo, an engineer and a managing director of a technology development company in Beijing, directed his co-conspirator to obtain the cameras for his clients, the Chinese Special Police and the Special Armed Police. The cameras, manufactured by FLIR Systems, Inc., were controlled by the Department of Commerce for national security and regional stability reasons.
In a recent Task Force case involving the illegal export of vacuum pumps, Iranian-born Jirair Avanessian owned and operated XVAC, a company located in Southern California. Working with two persons in Iran, Amirhossein Sairafi and Farhad Masoumian, Avanessian arranged for the export of high-dollar vacuum pumps and pump-related equipment to Iran through the free trade zone in the United Arab Emirates (UAE). The vacuum pumps and related equipment that Avanessian exported have a number of applications, including in the enrichment of uranium. As part of the transhipment scheme, Avanessian purchased and arranged to ship the goods ordered by Masoumian to the UAE, making it appear as if that was the ultimate destination. Once the goods arrived in the UAE, Sairafi would then arrange for them to be sent to Iran. As part of the conspiracy, Masoumian, Avanessian, and Sairafi re-labeled and undervalued the contents of the shipments to mask the true contents and to avoid interception by U.S. customs officials. In most cases, Avanessian prepared air waybills indicating his shipments contained "spare parts" and that no shipper's export declaration was needed. Avanessian and Sairafi both pled guilty in connection with their roles in the illegal export scheme and were sentenced to prison. The investigation continues as Masoumian remains at large and is believed to be in Iran.
In addition to coordinating criminal investigations, the EAGLE Task Force meets regularly to share information, discuss and set investigative and outreach initiatives within the district, and to conduct training. Recent Task Force training topics have included developments in Ninth Circuit Court of Appeals case law regarding computer search warrants, a discussion of investigative tools available via the Treasury Department's Financial Crimes Enforcement Network, and the Department's criminal discovery training initiative.
Updated July 9, 2015