by Preet Bharara,
U.S. Attorney for the Southern District of New York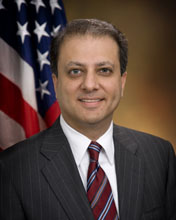 Preet Bharara, U.S. Attorney for the Southern District of New York
During the late afternoon of May 1, 2010, Faisal Shahzad drove his SUV from his residence in Connecticut to Times Square, in the heart of New York City.  Packed inside Shahzad's SUV was a bomb — a bomb that Shahzad had built based on training he had received in Pakistan from Tehrik-e-Taliban (TTP), a militant extremist group that has been designated a foreign terrorist organization by the U.S. Department of State.
Upon arriving in New York City, Shahzad parked on 45th Street near Seventh Avenue, a location often called the crossroads of the world — and a location that was packed with tourists and New York City residents.  After parking his SUV, Shahzad attempted to detonate his bomb.  Once he initiated this detonation process, Shahzad fled his SUV, armed with a semi-automatic rifle, and walked to Grand Central terminal.  (Shahzad had purchased the rifle to use in the event he was attacked or captured in connection with the bomb plot.)  While walking to Grand Central, Shahzad listened for the sound of the bomb exploding.  It never did — smoke poured from the SUV, but before the bomb went off, people in the area saw what was happening, and the New York Police Department bomb squad was hurriedly called to the scene.
About 53 hours after Shahzad left his bomb in the middle of Times Square, he was arrested at John F. Kennedy International Airport while trying to leave the United States on a commercial flight.  Following his arrest, Shahzad spoke with officers of the Joint Terrorism Task Force for almost two weeks.  During those weeks, Shahzad admitted that he had purchased all of the components of the bomb; built the bomb; and loaded it into his SUV.  Shahzad also said that he believed that his bomb would kill about 40 people — and that he had been prepared to conduct additional attacks until he was captured or killed.
As a result of this conduct, Shahzad was charged in the Southern District of New York in a ten count indictment with crimes including attempted use of a weapon of mass destruction, in violation of Title 18, United States Code, Section 2332.
On June 21, 2010, at his first court appearance after the filing of the indictment, Shahzad pled guilty to all ten charges against him.  When asked by the court why he was pleading guilty, Shahzad did not hide his unwavering commitment to attacking the United States:
I want to plead guilty and I'm going to plead guilty a hundred times forward because until the hour the U.S. pulls it [sic] forces from Iraq and Afghanistan and stops the drone strikes in Somalia and Yemen and in Pakistan . . . we will be attacking U.S., and I plead guilty to that.
At his guilty plea, Shahzad further explained that, shortly after becoming a naturalized United States citizen in the spring of 2009, he had left the United States for Pakistan because he wanted to join the Taliban in Afghanistan.  From December 2009 through January 2010, Shahzad explained that he had lived in Waziristan, Pakistan with members of the TTP, and made a "pact" with the TTP to conduct an attack inside the United States.  In furtherance of his planned attack in the United States, Shahzad explained that the TTP provided him with five days of instruction on bomb-making and bomb-detonation, as well as approximately $5,000 in cash.  Shahzad also described how, following his return to the United States, he finalized his plan for the attack — purchasing the necessary components for the bomb, and receiving additional funds from the TTP.  In the days leading up to May 1, 2010, Shahzad described how he built the bomb inside his residence and then loaded it into his SUV — and drove the SUV into Times Square, ignited the fuse on the bomb, and then simply walked away.   Finally, Shahzad explained that he attempted to ignite the bomb in the center of Times Square on a Saturday evening to maximize the number of people killed and injured.
Following his guilty plea, Shahzad was sentenced to life imprisonment.  Shahzad is now incarcerated at the Bureau of Prisons' Administrative Maximum facility in Florence, Colorado.  Shahzad has not filed a notice of appeal; he will remain imprisoned in the United States for the rest of his life.
Updated July 8, 2015