by Neil H. MacBride
Former U.S. Attorney for the Eastern District of Virginia and Chair of the Terrorism and National Security Subcommittee of the Attorney General's Advisory Committee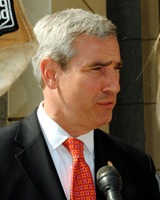 Neil H. MacBride, Former U.S. Attorney for the Eastern District of Virginia
Zacarias Moussaoui, an admitted member of al Qaeda, is serving a sentence of life imprisonment after being convicted of six conspiracy offenses pertaining to his role in the September 11 attacks. A native of France, Moussaoui trained in al Qaeda's camps in Afghanistan and operated a guesthouse in Kandahar, Afghanistan, for jihadists before joining the September 11 plot. While Moussaoui was in Afghanistan, Usama bin Laden personally selected him to fly a plane into the White House as part of the attacks.
Moussaoui entered the United States in February of 2001 to obtain flight training as part of his mission. He first obtained flight training on small planes in Oklahoma, but later sought jet training at the Pan Am Flight School in Eagan, Minnesota, even though he did not complete much of his training in Oklahoma. Moussaoui paid for the flight training at Pan Am Flight School with funds wired to him by Ramzi Bin al-Shibh, who served as the coordinator for the September 11 attacks. An attentive flight instructor at Pan Am Flight School became alarmed about Moussaoui when the instructor determined that Moussaoui lacked a foundational knowledge of flying, had paid for the training in cash and had no airline affiliation — all of which were highly unusual. The instructor notified the FBI, who quickly determined that Moussaoui had ties to other jihadists.
The FBI also learned that Moussaoui was illegally in the United States, because he had overstayed his visa. Agents from the FBI, working with the INS, initially arrested Moussaoui on immigration offenses on August 16, 2001, as he left his hotel in Minnesota. A search of Moussaoui's belongings resulted in the recovery of two short-blade knives — one from Moussaoui's pocket and the other from his vehicle. These knives were similar to those used by the hijackers three weeks later to hijack the four planes that were crashed on September 11, 2001.
The FBI interviewed Moussaoui for two days after his arrest. Moussaoui denied any affiliation to a terrorist organization, saying instead that he was a tourist who had always dreamed of learning to fly "a big airplane." Moussaoui further explained that, after his flight training ended, he intended to engage in sightseeing in New York, visiting the Statue of Liberty and the Empire State Building, and then the White House in Washington, D.C. When confronted by the FBI that they believed he was a terrorist, Moussaoui denied the accusation and refused to speak with the agents any further.
After the September 11 attacks, Moussaoui was charged with six counts of conspiracy related to the attacks. Moussaoui pled guilty to all of the charges and was ultimately sentenced to life imprisonment by a jury. During his guilty plea, Moussaoui admitted that he swore "bayat" (loyalty) to Usama Bin Laden and al Qaeda; was personally selected by Bin Laden to participate in a terrorist operation where commercial airliners would be hijacked and flown into prominent buildings in the United States; came to America to carry out his part in the operation, which was to attack the White House; and admitted to lying to the FBI agents at the time of his arrest so the September 11 plot could move forward.
Find more information on this case at the U.S. District Court for the Eastern District of Virginia.
Updated July 9, 2015