In accordance with The White House Office of National Drug Control Policy (ONDCP) 2010 National Drug Control Strategy (Strategy), the Department of Justice was called upon to lead an interagency task force on drug endangered children. Drug endangered children face a variety of health and safety risks as a consequence of their exposure to illegal drugs and those who use legal drugs for illicit purposes.
These children are often neglected and abused, and may be in extreme physical danger when present during drug production and manufacturing, or when caregivers consume drugs in their presence. Stemming in part from the methamphetamine crisis, this movement was initiated within the last decade in response to the growing phenomenon of finding children in meth labs located in homes and other areas where children were living or playing. In an effort to respond to this crisis, local Drug Endangered Children (DEC) programs were created all over the country, and in 2003 efforts were made to establish a national DEC program. As a result of the DEC response, thousands of children have been rescued from drug environments. The children found in these situations were often severely harmed or neglected, and in many instances tested positive for drugs.
The Federal Interagency Task Force on Drug Endangered Children (Task Force) is chaired by Deputy Attorney General James Cole, and includes participants from components within the Departments of Justice, Health and Human Services, Education, Transportation, Homeland Security, Interior, and Labor; the Small Business Administration; and the Office of National Drug Control Policy.
The goals of the Task Force include the following: establishing infrastructure to support coordinated efforts to address the issue of drug endangered children at the federal, state, local, and tribal levels; identification of the drug endangered children population, model protocols and promising practices for providing assistance to this population; and the development of a national training program to help better serve drug endangered children. To accomplish these goals, several subcommittees were established to focus on specific tasks. The subcommittees include: Tribal; Outreach; Federal, State and Local Partnerships; Federal Program Inventory; Research; and Legislative/Policy.
The Task Force established a website for information and resources on drug endangered children, including a Promising Practices document and model protocols to address the issue of Drug Endangered Children. In addition, the Task Force created an informational brochure and CD to be distributed at conferences and within communities; a "tool kit" to assist law enforcement in identifying drug endangered children; and training programs on a variety of topics related to addressing the issue of drug endangered children, such as developing multi-disciplinary teams.
The Task Force is dedicated to gathering and producing educational resources that will aid law enforcement, health and education professionals, children's advocates, and child welfare workers nationwide in protecting our nation's most vulnerable populations and responding to their needs and the needs of their caregivers.
Efforts for Drug Endangered Children in Wisconsin
by John Vaudreuil
U.S. Attorney for the Western District of Wisconsin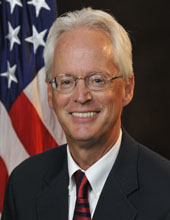 The U.S. Attorney's Office for the Western District of Wisconsin received a grant from the Department of Justice's Office for Victims of Crime (OVC) in 2007 to raise awareness and address the effects of methamphetamine on the citizens of Wisconsin. We eventually expanded our project to include an emphasis on Drug Endangered Children and other drugs affecting our communities. In 2010 this office received another grant to focus on DEC in Indian Country.
Currently, our office is providing Drug Endangered Children (DEC) training and advancing public awareness of the effects of methamphetamine, prescription pills, marijuana, heroin, crack cocaine and all other illegal substances.
Through our DEC program we have focused on collaborative efforts among federal, state, local, tribal, and nonprofit entities, as well as the general public to continue Wisconsin's Drug Endangered Children efforts. We provide comprehensive DEC training to law enforcement, child protection service providers, prosecutors, victim service providers, educators, and public health and medical professionals to educate them about recognizing the signs of children living in dangerous drug environments. Additionally, we have developed training materials, protocols, and best practices pertaining to DEC programs that can be used by communities to establish their own DEC programs.
In an effort to raise awareness about drug endangered children, the U.S. Attorney's Office is committed to establishing additional DEC programs across the state. We continue to foster relationships between counties and tribes that have existing programs and counties and tribes that are looking for direction and facilitation in starting a DEC program in their communities. To further this effort, we have continued to use community-based protocols in the establishment of our DEC programs and have recently given priority to developing local DEC programs in urban areas and larger cities in Wisconsin. Each year more counties and tribes are establishing DEC programs; currently 23 out of 72 counties and 5 out of 11 tribes within Wisconsin have established DEC programs.
Each summer the Wisconsin Alliance for Drug Endangered Children hosts an Annual Statewide Conference, drawing approximately 200 attendees representing multiple disciplines from various Wisconsin communities. The conference brings together community and tribal leaders, law enforcement, social workers, medical professionals, emergency responders, and other experts in an effort to raise awareness and enhance the response to children who are exposed to dangerous drug environments.
We believe that we are on the right path to sustaining DEC programs not only in our state, but also in collaboration with the national effort. We remain committed to continuing to raise awareness and provide resources to assist drug endangered children.
Updated July 8, 2015