Forward to the Guidelines,
by U.S. Attorney General Eric H. Holder, Jr.
Our core mission is to pursue justice for criminal acts, and that pursuit includes justice for the victims of and witnesses to crime. Every day, Department personnel encounter individuals harmed by crime or who witnessed others being harmed by crime. How we treat those individuals has a huge impact on their confidence in the criminal justice system and their ability to heal and recover from crime. When the Department is successful in identifying and convicting offenders, our victim assistance efforts help victims navigate an unfamiliar system, foster accountability, and find affirmation for their suffering. In situations where the Department is unable to identify a perpetrator or bring a perpetrator to justice, our outreach and assistance can help victims access the services they need to recover and help them understand the criminal justice response.

For several decades, crime victims' laws have mandated that Department personnel provide victims with services and make our best efforts to see that victims are accorded their rights. To satisfy our statutory responsibilities, it is essential that Department personnel understand the legal mandates regarding victims and receive clear guidance about how to carry out those responsibilities. This updated edition of the Attorney General Guidelines for Victim and Witness Assistance reflects current statutory provisions, recognizes the technological and legal changes that have taken place since the previous Guidelines were promulgated, and incorporates best practices that will benefit victims and enhance investigations and prosecutions. It is my hope that this tool will enhance our ability to vindicate victims' rights and to provide victims with the services that they deserve.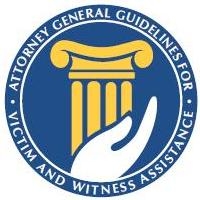 The 2011 Attorney General Guidelines for Victim and Witness Assistance went into effect on October 1, 2011. The Guidelines are an essential manual for Department personnel, providing them with the guidance and skills to ensure that the Department continues to provide victims and witnesses with the very highest level of service. Creating this most recent version of the Guidelines required more than six months of lengthy discussion and drafting by experts in victim and witness assistance from across the Department.
The Guidelines are being rolled out to the Department in a series of mandatory trainings for all those whose work affects victims and witnesses, including criminal prosecutors, law enforcement agents, and victim assistance personnel. Trainings were held in late September in Norman, Oklahoma, for approximately 500 victim assistance professionals and attorneys from the Federal Bureau of Investigation and the United States Attorneys' offices. There will also be trainings across the country and available online. The Guidelines are a key part of the Department's commitment to guaranteeing that every victim has a voice.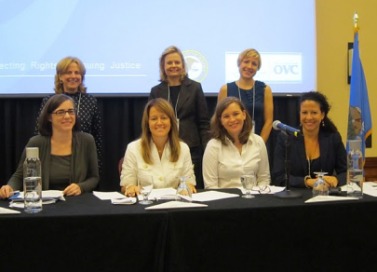 Presenters from the September 2011 Training in Norman, Oklahoma,
on the New Attorney General Guidelines for Victim and Witness Assistance
Updated July 8, 2015