How Do You Start an International Victims Service Program from Scratch?
That is one question facing government leaders, judges, prosecutors, and victims in the newly-minted Republic of Kosovo. After emerging from decades of Communist rule as part of the former Yugoslavia, and after enduring years of ethnic warfare, Kosovo, the world's newest democracy, is striving to develop a criminal justice system based upon the Rule of Law and which includes a systemic respect for the rights and needs of victims of crime.
Since March 2009, just one month after declaring full independence, Kosovo and the United States Embassy there have been partnering closely with the Department of Justice's Office of Overseas Prosecutorial Development Assistance and Training (OPDAT) and the United States Attorney's Office for the Eastern District of North Carolina in a program focusing on criminal investigative techniques, case development, plea bargaining, advocacy, courtroom skills and victims rights and services. Through classroom training, close mentoring, and the development of long-term personal relationships, prosecutors and staff in the United States Attorney's Office have been working with their Kosovo counterparts to improve the developing criminal justice system in each of these areas.
The criminal justice system in Kosovo is responding. Faced with an extraordinary number of backlogged cases and thousands of victims of offenses ranging from war crimes to the daily criminal activity seen the world over, Kosovars have openly welcomed their American colleagues, have sought their advice, and have begun to aggressively implement best practices learned in this program. And many of these techniques have been geared towards crime victims.Over the last year we have focused our training efforts on plea bargaining as a technique to resolve large numbers of cases. At first blush this seems to be only a case management tool. However, Kosovar prosecutors, victim advocates, and victims are learning what their American counterparts have known for some time – that prompt, transparent and efficient resolution of cases most often works to the advantage of those victimized by crime. By focusing on victim needs, demanding that criminal defendants compensate their victims for the loss incurred, avoiding unnecessary testimony by victims, and providing regular opportunities for victims to express their opinions and concerns, Kosovar prosecutors and judges are learning that plea bargaining is in many ways a victims rights issue.
One of the first efforts undertaken as part of the initiative with the Eastern District of North Carolina was a comprehensive needs assessment regarding crime victims services and rights. This assessment revealed the need for more aggressive intervention by victim advocates in the court system, serious inadequacies in the level of immediate victims services available to individuals in times of need, victim fear of the criminal justice system, and a lack of coordination within the victims services community. But, the assessment also found wonderful, committed people anxious to develop a victims service system responsive to the needs of victims. Following this assessment, specific proposals were made to the United States Embassy and to the Kosovo Ministry of Justice, and changes are underway.
Victim issues have been made a part of training for judges, prosecutors, and law enforcement officers throughout the country. Victim advocates have been invited out of their offices and into the courtroom and have begun to actively involve themselves in specific cases in order to protect victim interests. Victim issue working groups have been set up throughout the country involving government personnel, non-governmental victim services providers, and law enforcement officials. Issues related to victim services are being discussed and solutions are being developed. And the United States Embassy has hired an employee whose job is to work with Kosovo officials developing the victim services infrastructure.
The plight of crime victims is being highlighted in very public ways. During the week of October 18-22, 2010, the government of Kosovo hosted its First Annual Crime Victims Rights Week ceremonies and training around the country. That effort, modeled on similar observances in the United States, effectively raised public awareness nationwide. During the week of October 17- 21, 2011, Kosovars will again pause to reflect on the plight of crime victims and will rededicate themselves to supporting and helping these victims to reclaim their dignity and their lives. Members of the United States Attorney's Office for the Eastern District of North Carolina will be there as part of this amazing and successful partnership.
Protect Our Children Conference
The Protect Our Children Conference was conceptualized in 2003, in the midst of a budget crunch and two years before Project Safe Childhood was launched. The first conference was held in Wichita, Kansas, in September 2004, and has been held annually ever since. This conference has endured because of the hard work and vision of dedicated Victim Witness and Law Enforcement Coordinators (LECs) in the U.S. Attorneys' offices. The U.S. Attorney's Office for the District of Kansas recently hosted the eighth annual Protect Our Children Conference in Wichita that was attended by over 500 persons, and featured John Walsh, host of America's Most Wanted, as the keynote speaker. The conference was hosted by Barry R. Grissom, the United States Attorney for the District of Kansas, and was attended by several other United States Attorneys who co-sponsored this event. The Protect Our Children Conference was founded by a group of LECs from the Midwest and has expanded to include Victim Witness Coordinators and LECS from ten different districts. The conference is hosted by a different district in the Midwest each year. We are looking forward to next year's conference, which will be Omaha, Nebraska.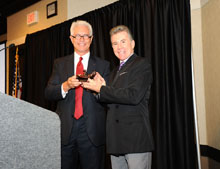 The founding principle of the Protect Our Children Conference is centered on the need for victim service providers, law enforcement officers, prosecutors, and health care professionals to work collaboratively to serve the child victims of sexual exploitation. Although the multi-disciplinary approach to problem solving was not a new concept in 2004, the Protect Our Children Conference goes beyond merely touting the value of working together or raising awareness, and focuses on educating each of the different professional disciplines to the needs and demands of the different professions to create a respect and knowledge of each other's role in Protecting Our Children. Victim providers learn about the rules of evidence that guide prosecutors, and the law enforcement officer's obligation to the court as officers interact with child victims during the investigation phase. Law enforcement officers and prosecutors learn about the needs and limitations of service providers and the documentation they require to effectively provide for the immediate care of the child victim and temporary placement. All disciplines learn how important both immediate and long term medical care and counseling intervention is to the minimization of lasting psychological damage caused by sexual exploitation.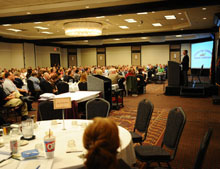 The conference encourages participants to abandon territorial thinking, and seek out the assistance of other professionals as they go about their duties. To maximize the free exchange of ideas, the Protect Our Children Conference always incorporates a networking session where attendees can socialize and learn more about one another. Another key component of the Protect Our Children Conference lies in the organizational training format used at the conference. Although profession-specific topics are offered at the conference in separate tracks, everyone is encouraged to cross over to any track they deem beneficial. As a result, it is not unusual to have breakout sessions attended by all professions represented at the conference. Some of the subject matter is offered in a plenary session, and the Protect Our Children Conference is careful to offer a balanced plenary schedule that features professional speakers from all disciplines so that attendees hear presentations from outside their area of expertise. The Protect Our Children Conference always includes recovering victims as speakers to demonstrate why it is important to put the victim first, and understand the trauma victims endure and live with daily.
The Protect Our Children Conference provides a unique opportunity for Victim Witness Coordinators and LECs to work in partnership. Over the years, the conference has been funded with a combination of the Department's Office for Victims of Crime funds, district funds, and the LEC Dedicated Training Funds. Good relationships between LECs and Victim Witness Coordinators have been strengthened and has led to other training partnerships among these groups. Prosecutors who participate in the training as participants or speakers develop a new awareness of the outreach role Victim Witness Coordinators and LECs provide.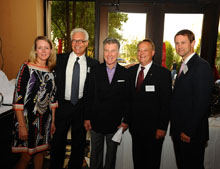 As we in the Department of Justice face another period of austerity and budget reduction, the District of Kansas, the Western District of Missouri, the Eastern District of Missouri, the District of Nebraska, the Southern District of Illinois, the Central District of Illinois, the Northern District of Illinois, the Southern District of Iowa, the Northern District of Iowa, and the Southern District of Indiana, remain hopeful that this conference will survive and prosper, because it is vitally important that we in justice work together to Protect Our Children.
Crime Victims' Rights Week
Each year in April, the country observes National Crime Victims' Right Week (NCVRW) by honoring crime victims, promoting their rights, and recognizing those who advocate on their behalf.  In 1981, President Reagan first proclaimed the observance of NCVRW in April of every year. President Reagan's initiative was the beginning of a broad effort to change how we think of crime victims and how they are treated.  This year's theme—Reshaping the Future, Honoring the Past—paid tribute to the millions of crime victims over the decades who have summoned the strength to rebuild their shattered lives, families, and communities, one step at a time. Similarly, it honored the victim service community whose members have walked alongside these victims, responding to their courage with unwavering commitment and skillful guidance.
In April of this year, many U.S. Attorneys' offices commemorated NCVRW by hosting grand ceremonies and candlelight vigils, providing office training on victim issues, and displaying theme posters within their offices.  Others coordinated annual awards banquets, hosted tree and flower planting events, and hosted community members and students at various fairs and receptions.  Victims, law enforcement, and office senior management in the U.S. Attorneys' offices spoke about victimization and awards were presented to service providers demonstrating exemplary assistance to victims.  United States Attorneys' offices personnel have also been recognized by the Attorney General for their efforts in providing federal victim services at the Department of Justice's NCVRW Awards Ceremony.  Below are those honorees over the last five years.
Financial Litigation Unit, U.S. Attorney's Office, Eastern District North Carolina. The FLU in the Eastern District of North Carolina has helped to restore property lost to federal criminal defendants to the rightful ownership of victims. In two cases, with restitution in excess of $1 million, fraudulent conveyances were filed on various parcels of real estate and personal property. The FLU utilized a real estate auctioneer to sell a defendant's waterfront home and several rental properties, maximizing the amount collected for the victim. In another case, collaboration with other case agents helped to discover the defendant had inheritance interest in property. The property was sold to heirs and the proceeds applied to restitution for the victim. The FLU uses both pre- and post judgment sections of the Federal Debt Procedures Collection Act for collecting restitution.


Marcia L. Rinker, U.S. Attorney's Office, District of Columbia. Marcia Rinker has worked on behalf of crime victims for 28 years. As a victim witness advocate for the past 12 years in the United States Attorney's Office for the District of Columbia, Ms. Rinker has worked tirelessly to ensure that victims are aware of their rights and that they receive the services they need. On a daily basis, Ms. Rinker provides comfort and assistance to victims of horrific crimes, and exhibits care, concern, and devotion to every victim and survivor she meets. Ms. Rinker's contributions are consistently viewed as extraordinary by prosecutors, law enforcement officers, fellow advocates, and community members.
 
Donna R. Duplantier, U.S. Attorney's Office, Eastern District of Louisiana. Since 1990, Donna Duplantier has worked tirelessly to ensure that victims of federal crime know their rights and are treated with dignity and respect. As a Victim-Witness Coordinator, she supports more than 50 Assistant United States Attorneys on federal cases involving murder, robbery, sexual assault, public corruption, immigration, and child pornography. Ms. Duplantier's talent and dedication were especially evident in the aftermath of Hurricane Katrina, when she was instrumental in reestablishing victim assistance in New Orleans and surrounding areas. When her office was temporarily relocated to Baton Rouge, Louisiana, and even when she was temporarily living out-of-state, Ms. Duplantier flew to New Orleans to assist federal victims and witnesses who had been threatened. Upon her official return to New Orleans in January 2006, she continued to meet her obligations to federal crime victims in spite of Katrina-related obstacles. For example, it was often difficult to locate victims to notify them of their rights. On several occasions, she hand-delivered notification letters and met with victims at their homes.
 
Jennifer A. Youngs, U.S. Attorney's Office, Western District of North Carolina.  Jennifer Youngs is an Assistant United States Attorney in the Western District of North Carolina. She has been a tireless advocate for the right of crime victims to recover restitution from federal criminal defendants. She initiated a campaign in her district to educate attorneys, judges, and probation officers on the requirements of the Mandatory Victim Restitution Act. To further those efforts, she attended numerous hearings to protect victims under the statute, held training classes, and provided instructional memoranda to the bench.
 
Karen Marie Spinks, U.S. Attorney's Office, Eastern District of Virginia.  For almost two decades, Karen Marie Spinks has served federal crime victims as the Victim Witness Coordinator for the Eastern District of Virginia. Ms. Spinks has trained prosecutors, law enforcement personnel, and administrative staff on the rights and needs of crime victims.  Ms. Spinks' outstanding service to crime victims can be exemplified in her work with victims of the 9/11 attacks. She became the face of the Department of Justice for the family members of those murdered or injured that day. Driven by a commitment to treat each of the victims as if the case involved a single victim, Ms. Spinks set about to identify every victim and their family members to ensure they were fully involved in the prosecution of Zacarias Moussaoui.  With Ms. Spinks' leadership, the Department of Justice was able to undertake the most exhaustive and thorough victim outreach in the history of our country. During Moussaoui's trial, she provided comfort to approximately 40 victims/family members who testified on behalf of the United States about the impact of the attacks on their lives. As a result of Spinks's unwavering resolve to support the families of the 2,972 killed and the many more who were injured, the bar for federal crime victim services has forever been raised.
 
Financial Litigation Unit, U.S. Attorney's Office, Southern District of Indiana . For the past two years, the FLU in the Southern District of Indiana has increased criminal collections through aggressive collections practices, particularly in the area of garnishments.  Michelle Frydell and Sue Ross are actively involved in criminal debt collection and, during the past two years, have taken several steps to focus attention on and increase criminal collections through innovative garnishments such as garnishing pensions, stocks, investment portfolios, and life insurance plans. In 2004, Ms. Frydell participated in a training session for probation officers during which she emphasized the importance of identifying criminal defendants' assets early and the benefits of a defendant consenting to the garnishment of wages in order to comply with restitution obligations. In early 2005, Ms. Frydell and MS. Ross met with the chief probation officer to discuss changes to the Pre-Sentence Investigation Reports to better identify specific assets available to satisfy outstanding criminal debts. As a result of this meeting, changes were implemented to the Pre-Sentence Investigation Report to include more specific financial accounting and property information. This change resulted in the FLU's ability to more quickly identify and garnish assets.
 
Financial Litigation Unit, U.S. Attorney's Office, Eastern District of Texas. The Financial Litigation Unit (FLU) of the United States Attorney's Office for the Eastern District of Texas has taken strides to collaborate with its prosecutors, the district's aggressive asset forfeiture unit, and the United States Probation Office to maximize restitution payments to victims of crime and fine collections on behalf of the Crime Victims Fund. 
 
For information about all National Crime Victims' Rights Week Honorees, visit the Office for Victims of Crime.
Updated July 8, 2015