Empowering Native American Women and Youth: Outreach Events at the Wind River Indian Reservation and Wyoming Indian High School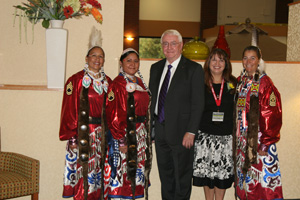 The U.S. Attorney's Office for the District of Wyoming held its Indian Country conference on September 7, 2011, dedicated solely to preventing violence against Native American Women. The theme, "Knowledge is Power," provided valuable information on how to identify an abusive situation, how to recognize domestic violence and sexual assault, safety issues, where to turn for services, and when to report.
Nichole Witt, Director of the White Buffalo Calf Woman's Society on the Rosebud Sioux Reservation, provided a domestic violence workshop and Kerry Jacobson, Assistant U.S. Attorney (AUSA) and Tribal Liaison, presented a workshop on sexual assault. The 160 women in attendance were also empowered with motivational and healing presentations by internationally known speaker and wellness facilitator, Maria Trevizo. Some of the women shared their own personal stories of violence perpetrated on them, and their strength to survive.
The conference began with the Native American Women Warriors posting the flags. The color guard, all senior, non-commissioned officers of the U.S. Army, appeared in jingle dresses designed to show their dedication to both their Native culture and to their military service to their country, with the colors red, white, blue, and Indian pink. Their message: not all warriors are men.
"I was encouraged to see service providers, educators, social workers, counselors, and others bring clients, mothers, grandmothers, and daughters to this powerful event. Many women on the reservation are caregivers for grandchildren, disabled relatives, and the elderly. The conference provided a safe venue where the women attending could share experiences, and I believe we accomplished our goal to reach out to as many women in Indian Country as we could. From the comments I received from attendees and the evaluations, this conference was a huge success," said United States Attorney Christopher Crofts.
One attendee's evaluation comments put the success into perspective: "It made me feel good about myself. I never realized how beautiful I really am. This was a great conference! It showed me that I'm more than a victim, I am a survivor and that I'm strong. That's how every woman should feel and that's beautiful."
On September 8, 2011, AUSA Kerry Jacobson, with the assistance of international speaker Maria Trevizo, Special Agent Ted Thayer, Bureau of Indian Affairs, and Laurie Nathan, Manager of National Outreach and Partnerships for NetSmartz, National Center for Missing and Exploited Children, provided four assemblies at Wyoming Indian High School for 600 local middle school and high school students. The theme, "Strong Enough to Say No," highlighted personal choices, dating violence, sexting, and cyberbullying.
The Northern Arapaho and Eastern Shoshone Business Councils, Bureau of Indian Affairs, Fremont School Districts Nos. 14 and 38, the Wyoming Coalition Against Domestic Violence and Sexual Assault, and the Department of Justice's Office for Victims of Crime provided funding. Local committee members worked with the U.S. Attorney's Victim Witness Coordinator and staff to make these two vitally important conferences a success.
United States Attorney's Office for the District of South Dakota Hosts Tribal Youth Listening Conference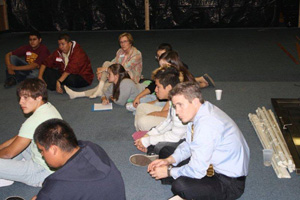 In February of 2010, the South Dakota United States Attorney's Office became the first office in the nation to hold a district-wide Tribal Listening Conference. Among the concerns expressed by tribal leaders was the need to help tribal youth confront the many challenges they face and also prepare them to become the next generation of tribal leaders.
In response, the United States Attorney's Office sponsored four tribal youth listening conferences. The meetings were held at four locations across South Dakota to allow participation by young people from all nine of the district's tribes.
The youth conferences were a big success. More than 400 students participated as staff members from the Volunteers of America facilitated group discussions designed to address four key areas: gang violence, violence against women, suicide, and drugs. Initially, the students were kept as a group while they participated in several exercises aimed at facilitating discussion on important issues such as their home life, future plans, dreams, and goals. The students were then separated into four groups based on the four key topic areas.
In the smaller, topical groups, students shared their personal experiences, fears, and ideas for improvement. The comments from the students were stark and included statements like "having too many strangers in my home makes me feel scared, like I'm in a haunted house" and "in a perfect world, I would make it to school every day because I wouldn't have to watch the kids because everyone was drunk or passed out."
Informal surveys indicated that 50 percent or more of the students reported they either knew someone who was the victim of a sexual assault or were afraid they would someday become a victim of sexual assault. Additionally, a majority of the students reported they were or knew someone who was involved in a gang.
The students also heard from Javier Sanchez who shared his life story of growing up involved in gang activity. Using humor and laughter, he engaged the students and delivered a poignant message about making wise, but often difficult, choices at a young age.
United States Attorney Brendan Johnson and/or First Assistant United States Attorney Randy Seiler attended each of the four youth conferences and met individually with some of the students. They listened and gained a first-hand, invaluable perspective about how the United States Attorney's Office can address issues affecting young people growing up in Indian country.
The United States Attorney's Office for the District of South Dakota continues to seek new and innovative avenues for addressing violent crime in Indian country, particularly involving Native American youth. One example is the Tribal Youth Pre-trial Diversion Program. This program has been implemented on a trial basis on the Rosebud Indian Reservation and allows qualifying youth to be sentenced in tribal court instead of federal court. If the juvenile successfully completes the tribal program ordered by the tribal judge, he or she will not be prosecuted in federal court. Hopefully, with success and sufficient resources, it can be used on other reservations.
Eastern District of Wisconsin
U.S. v. Clifton Kaquatosh
Clifton Kaquatosh was indicted on charges of assault with a dangerous weapon, assault resulting in serious bodily injury, and robbery. The charges stem from a domestic violence incident that occurred on April 21, 2011, on the Menominee Indian Reservation. Kaquatosh and the victim, C.J., shared a child together but were no longer in a dating relationship. Kaquatosh is alleged to have beaten and strangled C.J., who also reported that he held a knife to her throat before taking her purse and fleeing in her vehicle after the police were called.
Immediately after the incident, the victim witness advocates from both the U.S. Attorney's Office for the Eastern District of Wisconsin, Green Bay Office, and the Menominee Tribal Police contacted and met with C.J. She relayed to the advocates her fear of Kaquatosh and provided a history of domestic troubles with him. C.J. did not have any understanding of how the criminal justice system worked and was fearful that Kaquatosh would be released. She assumed he would be released on bond after an initial appearance and would receive little, if any, time in jail. The U.S. Attorney's Office victim advocate assured C.J. that because of the severity of the crime, there was a presumption of detention in the federal court case. The advocates thoroughly and candidly explained the federal procedure from charging to sentencing. C.J. was very appreciative of the time spent by the advocates and continues to stay in regular contact with them as the prosecution prepares for trial. It is imperative for advocates to immediately gain the trust of victims – especially domestic violence victims – to ensure an effective prosecution. In this case, where there is also alleged to be a long history of domestic violence, it is critical that C.J. have the support necessary to find safety, emotional support, and counseling for the long-term.
U.S. v. Darrell Schneider
Darrell Schneider was indicted on two charges of sexual assault of his fifteen-year-old daughter, M.S. The daughter initially disclosed the assaults to a cousin, who in turn reported the matter to law enforcement. During a later forensic interview, M.S. disclosed two instances of sexual abuse but denied any other assaultive conduct. Initially, M.S. was having behavioral problems at school and at home. She was frequently truant and was a runaway. M.S. was not interested in victim services and did not want to meet with investigators to discuss the case. The case was further complicated by reports that M.S. had disclosed the sexual abuse several years earlier but had immediately recanted.
Early in the prosecution, the U.S. Attorney's Office victim advocate, along with the FBI victim services specialist, met with M.S., who was not very forthcoming about the sexual assaults and was reluctant to cooperate. Fortunately, the U.S. Attorney's Office participates in a multi-disciplinary team for sexual assault cases. In staffing the case with other service providers, the U.S. Attorney's Office advocate facilitated a connection between M.S. and a Menominee County Social Service worker. M.S. obtained some much needed individual and family counseling. She also met with law enforcement and disclosed a long history of sexual abuse, beginning when she was eight or nine years old. M.S. appears to have turned the corner on some of her behavioral issues that obviously stemmed from years of abuse. M.S. has articulated future goals including finishing high school and pursuing further educational opportunities. Schneider recently pled guilty to one count of sexual assault and will be sentenced on December 19, 2011.
Coordination of Victim Services is Key to Successful Prosecution
in District of North Dakota
On May 23, 2011, John F. Wallette, 36, of Belcourt, North Dakota, was sentenced by United States District Court Judge Daniel L. Hovland to 30 years in federal prison, to be followed by a lifetime of supervised release. Wallette was found guilty by a federal jury on February 3, 2011, on a single charge of aggravated sexual abuse of a child. The case originated on the Turtle Mountain Indian Reservation in July 2008, when a seven-year-old child disclosed numerous accounts of sexual abuse between her and her biological father, John Wallette. The child had resided with her father since she was approximately four months of age, at which time her biological mother had abandoned her and joined a traveling carnival. Wallette was previously employed as an adult attendant at a youth shelter on the reservation. After further investigation, additional sexual abuse victims were identified from the youth shelter.
The real story here, though, is the coordination of victim services that made this case successful. Not only a successful prosecution with a lengthy prison term for the defendant, but also successful for the victim, who was able to testify. When the FBI was notified of this case in 2008, the FBI victim specialist set up a forensic interview and medical exam with the Northern Plains Children's Advocacy Center. With the assistance of county social services, the child was placed in a therapeutic foster care home and began therapy at the human services office. The victim continued therapy through the time of trial and continued therapy thereafter. While the case was indicted in July 2009, the trial did not begin until February 2011. During that time, the prosecutor and the victim witness specialist made numerous trips to the reservation and to other cities to prepare the victim and the other witnesses for court.
At the time of trial, the tribal victim advocate was of particular assistance in transporting witnesses from the reservation to court and providing them with emotional support before and after they testified. In addition, several of the witnesses were financially unable to cover even the basic cost of subsistence, requiring victim services to secure advances of witness fees so that the witnesses could testify without that additional stress. When sentencing was held in May 2011, the victim was looking at reunification with her mother and returning home.
Updated July 8, 2015