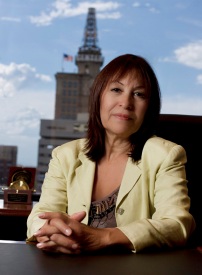 by Cecelia Swainston
Victim-Witness Coordinator
U.S. Attorney's Office, District of Utah
A young girl was kidnapped from her bedroom in June 2002 by Brian David Mitchell, with the assistance of Wanda Barzee, and held against her will for nine months. The victim endured mental and physical suffering during those many months at the hands of the defendants. Both defendants were convicted for their roles in the kidnapping –Barzee upon her plea of guilty, and Brian Mitchell after a 30-day jury trial, at which the victim testified. The trial team was successful in obtaining a life sentence for Mitchell and 15 years for Barzee.
During the years leading up to the trial, victim-witness assistance was a critical component of the prosecution team. But it was never more important than during the high-profile trial that ensued. Approximately 70 witnesses were under my responsibility as the Victim-Witness Coordinator. In the days and weeks during trial, several witnesses experienced complex emotions and reactions to testifying. Just being in the courtroom was a fear in itself that many witnesses experienced. Side effects of having to testify brought up some past emotional trauma from one witness that required medical care and special handling during the trial. Emotions ran high and the media frenzy made it seem like the paparazzi were in town.
While the trial attorneys had to focus on the legal aspects of the case, it was my job to focus on the unusual circumstances that would happen on a daily basis, i.e. making sure witnesses, the victim and victim's extended family received the respect to privacy as much as possible, making sure their rights in every phase of the case were acknowledged and their emotional needs were attended to. The victim faced difficult days testifying and recounting, in detail, the most traumatic assault she experienced, knowing all was to be revealed to the nation. She also faced extreme difficulty having to sit and listen as defense experts testified that they knew all about the defendant in just a few hours of observation, dismissing the fact that the victim spent nine months with the defendant and knew him extremely well.
Furthermore, one witness who testified for the government started exhibiting signs of hyperventilation. As the Victim-Witness Coordinator, I was called upon to calm the witness so that she could continue her testimony. Working with victims and witnesses presents unique difficulties and challenges. Intervention strategies and steps to engage to solve these challenges are done behind the scenes and without disruption. The assistance of a Victim-Witness Coordinator is crucial as part of the trial team and the assistance that is provided is immeasurable.
Updated July 8, 2015