What is restitution?
Restitution in the simplest terms is compensation for a loss that is paid by a criminal to the victim of the crime. It is not awarded in civil cases, but ordered as part of a criminal sentence. It is only available for an actual monetary loss that a victim sustained as a result of the defendant's criminal conduct. For example, your best friend asks you to invest in his new business, and because he is your best friend, you invest $1,000. Your friend, however, also asked ten other people to invest as well and has received amounts varying from $1,000 up to $100,000 for a total of $200,000. Unfortunately, your friend does not have a new business, but has used the "investments" to go on a luxury vacation. If he is convicted for his fraud, all of his victim investors are entitled to restitution for their losses. Your loss for restitution purposes is $1,000, not more or less than what you actually invested. The purpose of restitution is to put you in the same position financially that you were in before the crime was committed.

What is a Financial Litigation Unit (FLU)?
The U.S. Attorneys' offices are responsible for enforcing and collecting all civil and criminal debt owed to the United States and criminal debt (i.e., restitution) owed to crime victims. Within each U.S. Attorney's Office there is a separate division referred to as the FLU, which carries out this responsibility. On a daily basis, the FLU reviews restitution awards entered by the court, investigates the availability of assets, and files enforcement actions when assets are available. The FLU's mission is to aggressively collect as much as possible for the benefit of victims, as quickly as possible, in accordance with the laws of the United States. For Fiscal Year 2010, the FLUs in the United States Attorneys' offices collected over $2.8 billion as a result of criminal debt collection efforts and $3.8 billion as a result of civil debt collections efforts.
Asset Forfeiture: A Critical Tool for Returning Assets to Victims
Returning assets to the victims of financial crimes is a priority for the Department of Justice's Asset Forfeiture Program. Forfeiture is a critical tool in assisting victims because it allows the government to seize or restrain tainted assets prior to trial. Statistics bear this out: during Fiscal Years (FY) 2006-2009, approximately $970 million was returned to victims through the forfeiture process; in FY 2010, over $238 million; and through the third quarter of FY 2011, over $286 million.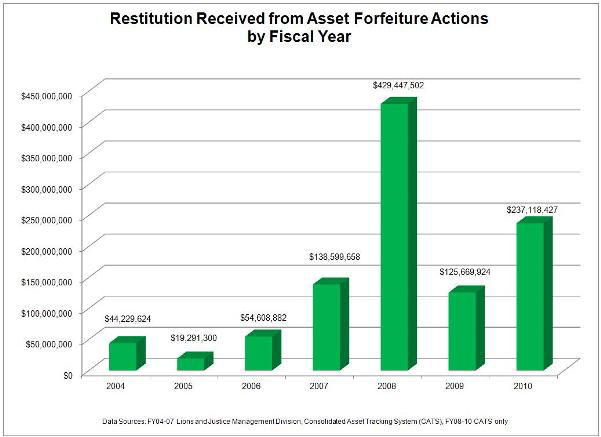 To maximize the effectiveness of this tool, it is critical that federal agents, criminal prosecutors, and personnel in the Asset Forfeiture Units, Financial Litigation Units, Victim-Witness Units, and Affirmative Civil Enforcement sections of the U.S. Attorneys' offices communicate early in the case and coordinate actions throughout the investigation and case proceedings, starting with the identification of potential victims.
After cash or other property is forfeited either administratively, civilly, or criminally, the property is returned to the victims through the remission or restoration processes.
Remission
In administrative forfeitures, the seizing agency receives and adjudicates the remission petition. In judicial forfeitures, the petition is submitted to the Attorney General through the U.S. Attorney of the district litigating the forfeiture. The petition is investigated by the seizing agency and the U.S. Attorney recommends to the Department's Asset Forfeiture and Money Laundering Section (AFMLS) how the petition should be decided. The Chief of AFMLS makes the final decision, which is not subject to judicial review.
Restoration
In the restoration process, the U.S. Attorney requests AFMLS to turn the forfeiture proceeds over to the district clerk towards fulfilling a defendant's restitution obligation. This option is available if the victim meets the regulatory criteria for remission and the defendant has no other assets available to pay restitution. Restoration eliminates the need for each victim to file individual petitions for remission. In appropriate cases where the victim does not meet the regulatory criteria for remission, the U.S. Attorney's Office may see a stipulation or plea agreement in which the forfeiture is dismissed and the seized assets are turned directly over to the victim towards fulfillment of restitution.
In cases involving large numbers of victims, the U.S. Attorney's Office, after consultation with AFMLS, may retain a claims administrator or trustee to help notify victims, process petitions, and make recommendations on the merits.
Asset Forfeiture Achievements in U.S. Attorneys' Offices Nationwide
Central District of California
Assets seized by the FBI
In the Best Diamond Funding case, which involved a nationwide Ponzi scheme that resulted in $30 million in losses, the victims are receiving about 40% of their losses. A special master has been appointed by the court and is being paid out of the seized assets.
Eastern District of California
Assets seized by the IRS
In the Tri West Investment Club case, which involved a "high-yield" investment scam, more than $8 million was returned through the remission process to approximately 4,200 victims.
District of Columbia
Assets seized by the Secret Service
The remission process and a claims administrator were used in the Ad Surf Daily case, an Internet-based Ponzi scheme, to notify victims and process their petitions for the return of $55 million in civilly forfeited funds to approximately 8,500 victims.
Middle District of Florida
Assets seized by the FBI and the Department of Health and Human Services Office of Inspector General
Wellcare, charged with conspiracy to commit a federal health care offense, consented to the forfeiture of $20.2 million, which was then remitted to each of the victim agencies defrauded: Florida Healthy Kids Corporation, $4.5 million; Florida Attorney General on behalf of Agency for Health Care Administration, $2.2 million; and DHS Centers for Medicare and Medicaid Services, $3.2 million.
Southern District of Florida
Assets seized by the FBI
In the criminal securities fraud case against Kelly Chance, $146,725 was returned to four victims through the remission process; a fifth petitioner will receive $9,067.
Eastern District of Michigan
Assets seized by ICE
Approximately $1.7 million that was civilly forfeited was returned through the remission process to five victims of a $7 million investment fraud scheme run by Paul Merklinger through his company, Encore Associated Leasing, LLC.
Eastern District of New York
Assets seized by the FBI
Through the remission process, Converse Technology received over $50 million traceable to a stock option backdating scheme that had been civilly forfeited.
Southern District of New York
Assets seized by the U.S. Postal Inspection Service
To date, approximately $643 million forfeited in the criminal corporate fraud case against Phillip Bennett and related civil forfeiture cases has been returned to thousands of victims through the remission process.
Western District of North Carolina
Assets seized by the U.S. Postal Inspection Service
After its repatriation, $476,614 was turned over to the district clerk through the restoration process to pay 17 victims world-wide of a Nigerian fraudster, Kent Okojie, who was extradited and convicted.
Southern District of Ohio
Assets seized by the FBI
Almost $2.6 million forfeited civilly from a deceased co-conspirator will be restored to more than 90 victims of the investment fraud Ponzi scheme perpetrated by David Colwell, deceased, and his partner James Powell after Powell was convicted and ordered to pay restitution.
Western District of Tennessee
Assets seized by the FBI
Restoration of $2.7 million embezzled by Thorn Williams will be returned to his employer, Memphis-based Verso Paper Company.
Eastern District of Texas
Assets seized by the Department of Health and Human Services
In this health care fraud case, the defendant doctor, Alexander Orlov, found a buyer for his clinic that was subject to forfeiture. The forfeiture was dismissed, and the doctor's equity of $270,127 was turned over to the two victims towards satisfaction of his restitution. He then paid the entire amount remaining on his $309,454 obligation.
Northern District of Texas
Assets seized by the FBI
$2.9 million in laundered funds were restored to Medicare and applied to restitution ordered against members of the Hames family and a co-conspirator. The funds were civilly forfeited from the trust fund that had been established in Guernsey by the trust the Hames had set up in the Cook Islands.
Eastern District of Virginia
Assets seized by the U.S. Postal Inspection Service
In U.S. v. Siegler, the $1.3 million forfeited was used to pay 4,611 victims of an investment fraud scheme their total losses through restoration.
Unabomber Auction Yields Restitution for Victims
Eastern District of California
In 1998, Theodore Kacynski, also known as the "Unabomber," was convicted for transporting explosive devices with the intent to kill or maim. Items that had been seized from his cabin were sold at public auction to partially satisfy a restitution order in the amount of $15 million. The auction consisted of 58 lots, which included personal documents, such as driver's licenses, birth certificates, deeds, checks, academic transcripts, photos, and handwritten codes; typewriters; tools; clothing; watches; several hundred books; and more than 20,000 pages of written documents. The most expensive lot, which sold for $40,676 and had 21 bidders, consisted of approximately 20 personal journals, which describe in diary-fashion Kaczynski's thoughts and feelings about himself, society, and living in the wilderness. They also include admissions to specific bombings and other crimes. Other sale prices were $22,003 for the typewriter on which Kaczynski typed his manifesto, $20,053 for the handwritten copy of his manifesto, $20,025 for the hooded sweatshirt and sunglasses that were depicted in the infamous FBI "wanted" sketch, and $17,780 for his handwritten autobiography. In total, the auction yielded $225,735.56.
On August 4, 2011, by order of Judge Garland E. Burrell, Jr., in the United States District Court for the Eastern District of California, checks were mailed to four named victims who were due restitution in the Unabomber case. These four victims, represented by pro bono counsel, agreed with the government's plan to distribute the auction proceeds. The funds were distributed as follows:
Victim #1, the widow of an advertising executive who was killed by a mail bomb at his home in 1994 received $185,177.23;
Victim #2, the widow of a Sacramento forester who was killed by a bomb in his office in 1995, received $33,648.05;
Victim #3, a computer store worker who was injured by a bomb in 1987, received $3,545.47; and
Victim #4, the widow of a doctor who was severely injured by a mail bomb in 1993, received $3,364.81.
For more information, read the announcement of the auction and its results.
Updated July 8, 2015