Recognizing that violent crime in Indian Country is at unacceptable levels and has a devastating impact on the basic quality of life in tribal communities, the Department of Justice has made public safety in Indian Country one of its top priorities. The Department is especially mindful of the fact that high incidences of violence against women and children, which includes sexual assault and domestic violence, have been reported on reservations. The Department has a responsibility to build a successful and sustainable response to the violent crime problem on reservations. Accordingly, in January 2010, the Deputy Attorney General launched the Department's Indian Country Law Enforcement Initiative.
Forty-four federal judicial districts have federally recognized tribes within their boundaries. The United States Attorneys who serve in these districts actively coordinate with federal, state, local, and tribal law enforcement to create and implement operational plans that will address the public safety challenges unique to each district and each tribe. Moreover, tribes share the federal government's goal of increasing public safety and improving the fair administration of justice through innovative leadership and programs designed to both bring criminal perpetrators to justice and prevent criminal activity from taking place. Examples of national, regional and local prevention, education and capacity building programs include Project Safe Neighborhoods, Drug Endangered Children, and Defending Childhood. Working in partnership with tribes, the United States Attorneys' offices are committed to making tribal communities in their districts safer, and to turn back the unacceptable tide of violent crime.
Here's what some of our districts are doing.
On April 26th, 2011, United States Attorneys Dennis K. Burke of Arizona, Kenneth J. Gonzales of New Mexico, and Carlie Christensen of Utah, as well as officials with the Federal Bureau of Investigation for each of those federal districts, met with Navajo Nation Department of Justice and Division of Public Safety officials in Window Rock, Arizona, the seat of government for the Navajo Nation.
The group discussed matters including drugs and gang activity, asset forfeiture, arrest procedures and extradition, and efforts to address domestic violence.  These meetings demonstrate the federal officials' commitment to respect the sovereignty of the Navajo Nation by working with the Nation's officials collaboratively to address public safety priorities and to protect the people they are all sworn to serve.
The photo was taken in front of Window Rock and next to the Navajo Code Talker Monument.  The likeness for the Monument was the father of Navajo Nation Public Safety Director John Billison who served as a Code Talker during World War II in the South Pacific.
In photo from left to right:  Steven Yarbrough, First Assistant U.S. Attorney, District of New Mexico; John Wright, FBI, Provo, Utah; Trina Higgins, Tribal Liaison, District of Utah; U.S. Attorney Kenneth Gonzales, District of New Mexico; John Billison, Executive Director, Navajo Division of Public Safety; Alvernon Tsosie, Criminal Investigator, Navajo Division of Public Safety; U.S. Attorney Carlie Christensen, District of Utah; and U.S. Attorney Dennis K. Burke, District of Arizona.
District of North Dakota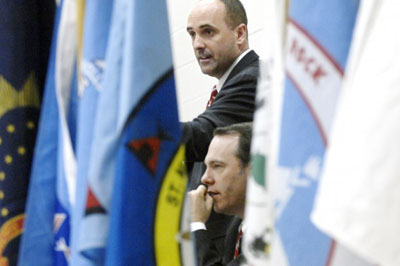 The North Dakota U.S. Attorney's Office sponsored a day-long tribal listening session at United Tribes Technical College in Bismark, North Dakota, in March 2011. Former U.S. Attorney Tim Purdon hosted tribal and law enforcement officials from across the state to discuss how the U.S. Attorney's Office can work with them to improve public safety in tribal communities.
Purdon Pledges More Communication With North Dakota Tribes At Listening Session
(ND) State's largest minority has a huge impact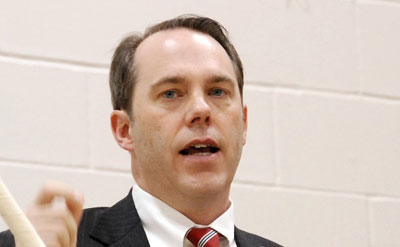 Former U.S. Attorney Tim Purdon discusses the Listening Conferences his office hosted in March 2010 and the Department's multi-pronged aim to improve tribal justice.
U.S. Attorney Tim Purdon: Fighting for Tribal Justice
District of South Dakota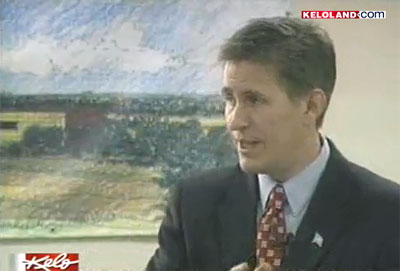 United States Attorney Brendan V. Johnson held a town hall meeting November 9, 2010, at the Wakpa Sica Reconciliation Place to discuss law enforcement issues in tribal communities with the public and tribal leaders. This town hall meeting followed the discussions from the February 2010 Listening Conference and is part of the Community Prosecution Strategy published by the U.S. Attorney's Office in August 2010.
On May 25, 2010, U.S. Attorney Brendan Johnson toured the Women's Circle shelter located in Agency Village, South Dakota, on the Sisseton Wahpeton Sioux Tribe reservation.  In addition to touring the shelter, U.S. Attorney Johnson met with staff to discuss domestic violence issues, the services they provide, and their current needs.  Pictured from left to right with U.S. Attorney Johnson are shelter employees Catherine Thompson, Julie Watts and Delight Heminger.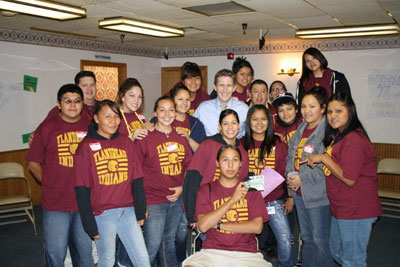 In the fall of 2010, the U.S. Attorney's Office for the District of South Dakota hosted four Tribal Youth Listening and Leadership Forums around the state to address topics including gangs, violence against women, suicide, and drugs and alcohol.  Approximately 400 Native American students participated in the four meetings, and pictured with U.S. Attorney Brendan Johnson are students and a teacher from Flandreau Indian School in Flandreau, South Dakota.
District of Kansas
In September 2010, two Kansas Indian tribes received more than $790,000 in grants from the Department of Justice, U.S. Attorney Barry Grissom announced.
"We want to partner with the federally recognized Indian tribes in Kansas to promote public safety in tribal communities," Grissom said.
The Prairie Band Potawatomi Nation in Mayetta, Kansas, received $316,585 from the Justice Department's Community Oriented Policing Services (COPS) - Tribal Resource Grant Program, and another $300,000 from the Office of Juvenile Justice and Delinquency Prevention. The Kickapoo Tribe of Kansas in Horton, Kansas, will receive $174,493 from the COPS - Tribal Resource Grant Program.
Nationally, the Justice Department is granting almost $127 million to American Indian communities, Associate Attorney General Tom Perrelli announced in September during a ceremony at the National Museum of the American Indian in Washington, D.C.
"These grant funds will help us to bring the federal justice system closer to Indian Country and to work together on problems national tribal leaders have identified such as violence against women," Grissom said.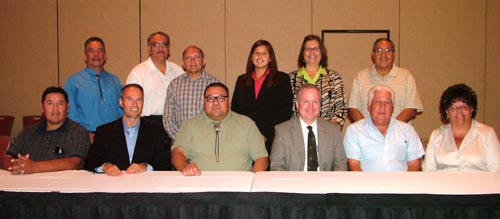 In Kansas in August 2010, Assistant U.S. Attorney Alan Metzger met with members of the Prairie Band Potawatomi and the Kickapoo Tribe, as well as representatives of the state's two other recognized Indian tribes, the Iowa Tribe of Kansas and the Sac and Fox Nation.
From left to right, front row, are: Arlen Whitebird (Kickapoo), Steve Six, Kansas Attorney General, Steve Ortiz (Prairie Band Potawatomi Nation), Alan Metzger, Assistant U.S. Attorney, Russ Bradley (Kickapoo) and Twen Barton (Sac & Fox Nation of Missouri). Back row, left to right, Junior Wahweotten (Prairie Band Potawatomi Nation), Jim Potter (Prairie Band Potawatomi Nation), Alan Kelley (Ioway), Carey Wahwahsuck (Sac and Fox Nation of Missouri), Joyce Guerrero (Prairie Band Potawatomi Nation) and Edmore Green (Sac and Fox Nation of Missouri).
District of Montana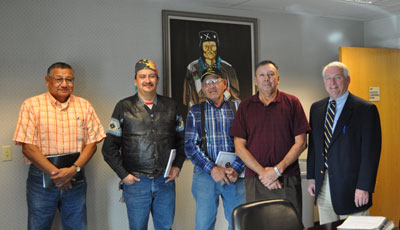 United States Attorney Michael Cotter and members of his Indian Country Crime Unit, along with the FBI, take periodic and frequent trips to every reservation in the State of Montana to engage in government-to-government conversations with tribal governments. The U.S. Attorney is photographed here with leaders of the Northern Cheyenne Executive and Legislative branches at the conclusion of a recent meeting.
From left to right are: Councilman George Scalpane, Councilman Jule Spang, Sr., Councilman Yulberton Alec Sandcrane, President Leroy Spang, U.S. Attorney Michael Cotter
Updated July 9, 2015