National Drug Intelligence Center
Illinois Drug Threat Assessment
January 2001
---
Cocaine
The availability, distribution, and abuse of powdered and crack cocaine constitute the primary drug threat in the Northern and Central Districts of Illinois and in the urban areas of the Southern District. (See Appendix for responses to the NDIC National Drug Threat Survey 2000.) Crack cocaine is the drug most often associated with violent crime throughout the state. Mexican DTOs are the primary transporters of powdered cocaine into the state of Illinois. These DTOs transport large shipments of powdered cocaine from the Southwest Border intermixed with legitimate goods in tractor-trailers. Mexican criminal groups are the primary wholesale distributors of powdered cocaine. African-American and Hispanic street gangs control the street-level distribution of crack cocaine throughout Illinois.
Crack cocaine abuse is the most serious drug problem in Illinois, particularly in Chicago and other urban areas. In 1995, Cook County alone was estimated to have more than 266,000 hardcore cocaine abusers. Law enforcement authorities report that crack cocaine is the principal drug of abuse in northern Illinois and in urban areas such as Springfield, Peoria, and Champaign in the central part of the state. The Community Epidemiology Work Group (CEWG) indicates that the extent of crack abuse in Chicago appears to have stabilized at a high level. However, abuse by Hispanics, females, and youth is increasing, according to the ONDCP. Treatment admissions for cocaine abuse more than doubled in Illinois since 1990, according to the Illinois OASA. The percentage of eighth- to twelfth-grade students in Illinois using powdered or crack cocaine in the past year increased between 1995 and 1997, then decreased slightly in 1998. More than 5 percent of high school seniors in Illinois used cocaine in the past year.
DAWN ED mentions and other health care measurements also support the contention that cocaine abuse is a significant problem in Illinois. According to DAWN statistics, Chicago experienced a steady growth in the number of cocaine-related ED mentions over the past decade, more than doubling between 1991 and 1998. Cocaine was mentioned in nearly half of all 1997 drug-related ED mentions in Chicago, compared to 30 percent nationwide. In addition, 57 percent of infants born in Illinois with a positive toxicity for controlled substances tested positive for cocaine in 1998. The average hospital cost for the delivery and care of a cocaine-exposed infant is over $13,000, more than 10 times the cost for a drug-free infant of similar socioeconomic status. The long-term cost to society is much higher and includes providing child protective services, child welfare services, police services, out-of-home care, medical expenses, and special education.
Deaths attributed to cocaine abuse also bear out the magnitude of the problem. Over 58 percent of the 803 drug-related deaths in Chicago during 1998 (most recent data available) were cocaine-related, a 20 percent increase over 1997 numbers.2 (See Chart 2.)
Chart 2. Chicago DAWN Drug Abuse Deaths
Total
Cocaine
Source: DAWN Annual Medical Examiner Data, 1998.
Increased drug arrests are another measure of the enormity of the cocaine problem in Illinois. Arrests under the Illinois Controlled Substances Act, most of which were for cocaine offenses, increased by more than 450 percent from 1984 to 1999. Statistics from the National Institute of Justice Arrestee Drug Abuse Monitoring (ADAM) Program reveal that over 50 percent of males and 70 percent of females arrested in Chicago in 1998 tested positive for cocaine.
Powdered and crack cocaine are increasingly available throughout Illinois. The total amount of cocaine seized by law enforcement in the Chicago area increased 68 percent from 1997 to 1998. The Federal-wide Drug Seizure System (FDSS) indicates that the amount of cocaine seized in Illinois in FY1998 was equal to that of the 3 previous years combined.3 In 1998, over 9,000 kilograms of cocaine were seized in the Chicago area, and the amount of cocaine seized by the Chicago Police Department nearly doubled in 1999. The Chicago Police Department seized 757 kilograms of cocaine (street value $94 million) from a van on the Northwest Side in February 2000. The largest drug seizure in Chicago history took place in February 1999 when the Chicago Police Department confiscated over 1,100 kilograms of cocaine (street value $143 million) in the suburb of Crestwood.
Low prices and high purity levels also suggest that there is an abundant supply of cocaine throughout the state. Cocaine prices statewide averaged between $95 and $100 per gram for the past decade. Cocaine prices declined slightly in Chicago in 1998 while purity remained stable at 60 to 70 percent over the past decade in Chicago and statewide. See Table 3 for current prices in Chicago.
Table 3. Cocaine Prices, Chicago, 2000
| | | |
| --- | --- | --- |
| Amount | Crack Cocaine | Powdered Cocaine |
| Rock | $10 | |
| Gram | | $75-$100 |
| Ounce | $500–$800 | $900–$1,100 |
| Kilogram | | $18,000–$25,000 |
Source: DEA Chicago Field Division, Trends in the Traffic 2d Quarter FY2000.
Crack cocaine is the drug most often associated with violent crime throughout the state. Most federal, state, and local law enforcement agencies in Illinois cite the violent crime associated with gang-related drug trafficking as the most serious criminal threat to the state. Crack is the drug of choice in lower income and high crime areas, such as public housing projects, and is becoming more popular in suburban and rural areas of the state. Property and violent crime rates are fueled by the nearly one-third of the estimated 266,000 crack users in the Chicago area who are daily users and often commit crimes to support their habit. In a survey of cocaine and heroin users in six major cities, Chicago drug users had the highest rate of participation (24 percent) in illegal activities to provide income for their drug purchases.

Cocaine Addict Charged With Series of Stickups
A cocaine addict suspected of nearly 30 armed robberies on Chicago's Northwest Side was arrested on July 23, 2000. According to a police department spokesman, the 39-year-old suspect stole an estimated $20,000 to support his cocaine habit.
Source: Chicago Sun Times, 26 July 2000.
Gang migration from Chicago to other Illinois cities and to suburban and rural areas has increased the availability of crack and associated violent criminal activity in these areas.
Violence associated with gang-controlled crack sales is the primary threat in northern Illinois. According to the Chicago HIDTA, the Cook County Sheriff's Office estimated that 70-80 percent of all property crime is drug-related, while approximately 50 percent of all violent crime is drug-related. Gangs move to other cities to avoid law enforcement pressure in their home areas and to take advantage of the higher profits that drug sales generate outside Chicago. For example, a small faction of the Gangster Disciples from Chicago moved into the Springfield area in the early 1990s and easily made up to $15,000 per day selling between 2 and 10 kilograms of cocaine and approximately 8 kilograms of marijuana per week. The Chicago-based Gangster Disciples taxed the local drug dealing gang members, a situation that resulted in frequent armed confrontations. In a show of force, the Chicago faction once brought more than two dozen Gangster Disciples members to Springfield in the back of a rental truck. Between October 1998 and June 1999, nearly 25 members of the Gangster Disciples were arrested in Springfield through Operation JAGUAR, a local multiagency crackdown on gangs and gang-related drug activity, breaking up the drug operation. Gang migration to other cities within the state and region often follows this same pattern, inevitably bringing violence with it. Cities like Decatur, Peoria, and East St. Louis have experienced similar "turf wars" between local gangs and those relocated from Chicago or St. Louis.
There has been a decrease in gang violence related to drug distribution in the Chicago area. Gang activity in some parts of Chicago has shifted emphasis from protecting the gang and its turf to operating criminal enterprises. Rival gangs are putting aside long-held hostilities for economic benefit and have been observed dealing drugs on the same corner without incident. In 1999, the Gangster Disciples established an alliance with the Vice Lords to distribute drugs in the Chicago area. Members of both gangs now travel freely between their territories without fear of retaliation. Established turfs that existed for years are gone. Profits from drug sales overshadow gang affiliations. Rival gang members keep the peace as long as each gang is making money, believing that big money is more important than gang banging. However, gang violence, including drive-by shootings, remains high in areas outside of Chicago.



Gang Increase Concerns Police
An influx of Gangster Disciples from Chicago, not seen since the mid-1990s, has law enforcement officials in Bloomington and Normal, Illinois, concerned about an escalation of street violence. According to a spokesman for the Bloomington Police Department, "Basically we have a large gang presence here for the purpose of trafficking crack cocaine."
The reason for the gang increase is twofold. Gangs from large urban areas move into new drug markets to take advantage of higher prices, and the Chicago Police Department and other suburban law enforcement agencies have increased their efforts against gangs causing them to seek out new areas of operation. These two factors have led to an increase in gang presence and subsequent violent crime in cities like Bloomington and Normal.
Bloomington Pantagraph, 2 July 2000.
Sentences resulting from federal convictions are lengthier for possessing crack than powdered cocaine, so retail distributors produce crack in the areas where it is to be distributed. Crack is usually produced at stash houses and gang members' homes. The conversion process involves adding baking soda and water to powdered cocaine and then heating the mixture, converting the powder into crack, a crystal-like substance. African-American and Hispanic street gangs convert powdered cocaine into crack.
Chicago is a distribution center for both powdered and crack cocaine destined for areas throughout Illinois and elsewhere in the Great Lakes Region and the Midwest. Most jurisdictions throughout the region report that cocaine is transported into their areas from Chicago.
Mexican DTOs transport powdered cocaine for themselves or on behalf of Colombian DTOs. These Colombian DTOs often provide the Mexican groups with portions of the bulk cocaine shipments as payment for transportation and distribution services. Once the cocaine is in the United States it is further distributed to Colombian or Mexican criminal groups in the United States. In 1999, at least 30 Organized Crime Drug Enforcement Task Force (OCDETF) investigations involving large-scale cocaine shipments to Chicago from the Southwest Border were initiated nationwide. Mexican DTOs employ brokers based in Arizona, southern California, and south Texas to transport cocaine from the Southwest Border area to Chicago. These Mexican brokers usually transport bulk cocaine by tractor-trailer from the Southwest Border to the Chicago area, concealing the cocaine in shipments of legitimate goods. Cocaine shipments are typically made in ton quantities and delivered to warehouses in the Chicago area or to farms outside Chicago. The cocaine is broken down into smaller shipments that are stashed in rented houses in the cities and suburbs. The brokers frequently communicate with the leaders of the DTOs and often travel to Chicago to oversee delivery of a shipment. The individuals entrusted to transport the cocaine are usually known to the drug traffickers in Mexico or Colombia, and the money from the transaction in Chicago is returned to Mexico either by the broker or by a designated courier. Compartmentalizing the operation lessens the chance of any one individual having extensive knowledge of the operation. "Shotgunning," sending smaller quantities of cocaine across the Southwest Border in multiple shipments concealed in passenger cars, is popular because it lessens the risk of losing large amounts of cocaine at one time.
The major north-south highways, Interstates 55 and 57, are the primary routes for cocaine shipments from the Southwest Border area into Chicago. Interstate 80 is the primary east-west route along with east-west state highways that are used as supply routes to other areas of the state and region. Large concealed shipments of cocaine are also transported into the Chicago area by overland carriers such as commercial buses, private vehicles, and railcars. Most of these shipments can be traced back to Mexican traffickers in south Texas. With the advent of the North American Free Trade Agreement and the increase in rail traffic associated with it, most railcars entering the United States are not inspected.

On May 24, 2000, Illinois State Police seized 14 kilograms of cocaine from a male traveling north on I-57 in Effingham County en route to Chicago, Illinois, from Pharr, Texas. The cocaine was discovered in a compartment in the wall of the sleeper compartment of a 1994 Freightliner tractor.
On April 5, 2000, the Nebraska State Police seized approximately 82 kilograms of cocaine from a couple traveling eastbound on I-80 in Hall County. The driver and passenger, both residents of Tucson, Arizona, were en route to Chicago, Illinois, from Tucson in a rented 1999 Ford van bearing Nevada plates. After a drug-detection canine alert, a consensual search of the vehicle led to the discovery of the cocaine inside the seats and quarter panels.
Source: EPIC, Daily Summaries.
Although most cocaine in Chicago is shipped by land, some cocaine is shipped by commercial air carrier. Chicago's O'Hare International Airport and Midway Airport are entry points for cocaine. Several recent USCS seizures from air passengers and cargo in Miami revealed that some of that cocaine was destined for Chicago. On January 1, 2000, USCS inspectors at Miami International Airport seized 1.4 kilograms of cocaine from a Chicago resident arriving on a flight from Jamaica. The 48-year-old male had concealed two packages of cocaine around his abdomen. On January 12, 2000, USCS inspectors at Miami International Airport seized 9.1 kilograms of cocaine from a cargo shipment sent from Ecuador and addressed to Cicero, Illinois. The cocaine was hidden around the edges of a tabletop.
Chicago is a distribution center for cocaine destined for areas throughout Illinois and elsewhere in the Great Lakes Region and the Midwest. Most jurisdictions throughout the region report that cocaine shipped into their areas transits through Chicago. The primary means used to transport cocaine throughout the region are private and rental vehicles on the interstate and state highway systems.
Wholesale
Mexican DTOs transport powdered cocaine into the Chicago area from the Southwest Border and transfer the cocaine to Mexican and Colombian criminal groups, the largest wholesale distributors of cocaine in Illinois. Associates of the organization formerly controlled by Amado Carrillo-Fuentes, the Miguel Caro-Quintero organization, and others operating along the Southwest Border are the primary suppliers; Chicago-based Mexican criminal groups are the wholesalers of cocaine in Illinois.
The working relationship between midlevel wholesale suppliers and street gangs is growing more sophisticated as illicit drug supplies increase. Hispanic street gangs such as the Latin Kings and Latin Disciples are closely linked to Mexican DTOs such as the Chicago-based Herrera Family. These street gangs provide a major distribution outlet for the Herreras and other Mexican DTOs.

Herrera Drug Trafficking Organization
The Herrera Family is a Mexican DTO based in Durango, Mexico. It has been operating since the mid-1950s as a heroin distribution organization; since the 1980s, it has trafficked in cocaine, marijuana, and methamphetamine. It works closely with Colombian DTOs to import cocaine into the United States. Chicago is the primary destination for drugs trafficked by the Herrera organization. Law enforcement authorities estimate that the Herrera organization still has at least 12 cells operating in the Chicago area. According to DEA, heroin seizures in Durango, Mexico, in 1999 reveal that the Herrera organization is still involved in heroin trafficking.
Source: NDIC, The Herrera Organization: Chicago Operations, December 1996.

Typical Drug Movement in the Chicago Area
A Mexican national flies into the Chicago area with family and rents a modest house in a quiet working-class neighborhood in the city or the suburbs. (The family normally leaves and does not return.)


Over the next several months, a small group of criminals from Mexico arrives at the house.


Mexican DTOs ship drugs from the Southwest Border to Chicago; the drugs are delivered to the house in batches.


Those in the house receive distribution instructions--for example, how much of the drug to distribute, which drug to put in what vehicle, and when and where to park the vehicle. (Certain aspects of the operation are handled remotely from safe locations in Mexico. Sales negotiated in Mexico often are conducted in shopping center parking lots in the Chicago area; price, quantity, and destination are determined in Mexico.)


The drugs are delivered to wholesalers, mostly Mexican, often a step or two removed from the street gangs involved in retail sales. (Operations are fast, flexible, and highly compartmentalized.)


The criminal group returns to Mexico or moves on to a new location. (Similar groups are set up at other locations to accomplish the same operations or to handle the proceeds. Most of the proceeds are packaged and shipped back to Mexico the same way in which the drugs are shipped.)
Source: Chicago HIDTA, Threat Assessment FY2000.
Law enforcement agencies across the state report that gangs dominate the retail drug trade. Gangs survive financially through the distribution and sale of drugs. African-American and Hispanic street gangs control the street-level distribution of crack, their main source of income. There are as many as 125 gangs with approximately 125,000 members located in the greater Chicago area. The five largest street gangs account for 84 percent of gang membership. The Gangster Disciples, Vice Lords, Black Disciples, Traveling Vice Lords, and Four Corner Hustlers are the dominant Chicago gangs involved in drug distribution.

Chicago Police Department Gang Investigations
During 1999, the Chicago Police Department, in cooperation with several federal agencies, shut down four drug dealing operations of the Gangster Disciples, Latin Kings, Four Corner Hustlers, and Vice Lords. The gangs were netting over $100 million per year through these retail drug operations.
Source: Chicago Police Department.
Public housing projects and gang-controlled communities on the South and West Sides of the city are the main locations for retail sales of crack by gang members. A Public Safety Analysis done for the Chicago Housing Authority (CHA) by a private firm hired by the U.S. Department of Housing and Urban Development estimated that 10,000 CHA tenants have gang affiliations. According to a National Institute of Justice survey of crack users, retail crack purchases in Chicago typically take place outdoors (86.5 percent) and in the drug abuser's own neighborhood (68.5 percent).
Crack sales on the South and West Sides of Chicago take place in a vast open-air drug market dominated by African-American street gangs such as the Gangster Disciples and the Vice Lords. These gangs are highly structured and control all aspects of the drug market. High-level gang members typically purchase kilogram quantities of powdered cocaine from Mexican and Colombian wholesalers or midlevel suppliers. Gang members then oversee the conversion, packaging, and retail distribution of the crack. The crack is converted in an apartment or house near the retail sales location and packaged in plastic bags containing 100-milligram rocks.
Figure 1. Chicago and Surrounding Areas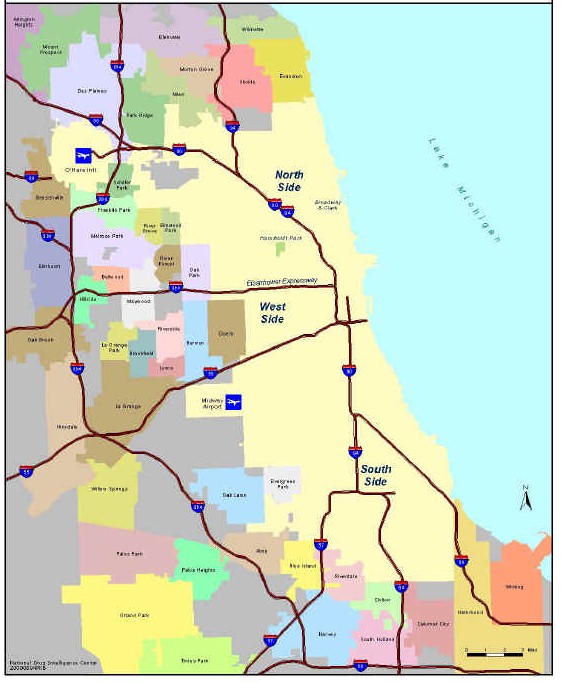 Crack cocaine sales on the West Side are conducted openly on street corners. The typical crack seller, a low-level African-American gang member aged 15 to 20, is easily replaced if arrested. Younger gang members work as runners, either on bicycle or on foot, supplying the sellers from a nearby house or apartment. The main supply of crack and the collected money are usually kept in separate locations. Gangs employ lookouts to warn sellers of law enforcement presence. Lookouts work in shifts and are paid approximately $50 per day. Street-corner sellers usually deal only in crack. Other gang members are available to sell heroin or other drugs in the same block. Although African-American street gangs dominate retail distribution, other ethnic criminal groups also are involved. For example, in June 2000, federal authorities charged nine men and two women, mostly Vietnamese, with conspiring to distribute cocaine in the Asian community on the city's North Side.
Organized gangs have spread into the Central and Southern Districts of Illinois to establish control of the retail drug trade in downstate cities. They use violence and intimidation to compete for control of drug territories, customers, and supplies. The distribution of drugs by organized gangs is now entrenched in Peoria, Moline, Rock Island, Decatur, and other cities. In Rockford, the second largest city in Illinois, factions of the Gangster Disciples and Vice Lords control drug distribution, and street gangs dominate the retail distribution of drugs in the public housing projects. Retail drug sales in these cities occur at open-air drug markets and at indoor locations such as houses.
The major population center in the Southern District of Illinois is the Metro-East, which is composed of approximately 45 contiguous cities surrounding East St. Louis. The Metro-East is the second largest metropolitan area in Illinois with a population of 600,000. Gang members with connections to St. Louis, Missouri, control drug distribution and sales in the Metro-East area. Street gangs from Chicago and St. Louis dominate crack cocaine sales in Alexander, Jackson, Jefferson, Madison and St. Clair Counties in the Southern District of Illinois. Most of violent crime in the Southern District of Illinois is related to crack cocaine distribution and sales.
---
End Notes
2. A cocaine-related death is one in which the Medical Examiner has concluded that cocaine use contributed to the death, but was not its sole cause.
3. The Federal-wide Drug Seizure System (FDSS) reports seizures made within the jurisdiction of the United States by DEA, FBI, U.S. Customs, U.S. Border Patrol, and maritime seizures by the U.S. Coast Guard. Only seizures that exceed certain threshold weights are included in these statistics. (Heroin - 100 grams; Cocaine - 500 grams; Marijuana - 25 kilograms)
---
To Top To Contents To Previous Page To Next Page