National Drug Intelligence Center
New Hampshire Drug Threat Assessment
April 2001
---
Overview
With a population of 1.2 million, New Hampshire is the forty-first largest state in the nation. Much of the drug activity that occurs in New Hampshire is the result of drug users and independent dealers crossing the border into Massachusetts to obtain drugs. These individuals transport the drugs into New Hampshire and use them or distribute them to friends and associates. Within the state, Manchester, the state's largest city, is the hub of drug activity. Drug trafficking trends in Manchester significantly affect trends in the surrounding urban and suburban areas of New Hampshire.
New Hampshire
Population (2000)
1,235,786
U.S. ranking
41st
Median income (1998)
$38,017
Unemployment rate (2000)
1.8%
Land area
9,351 square miles
Shoreline
13 miles
Capital
Concord
Other principal cities
Manchester and Nashua
Number of counties
10
Principal industries
Agriculture, tourism, and manufacturing
In 1999, drug arrests, which serve as an indicator of drug availability, increased in New Hampshire. Drug violations rose 10.9 percent from 863 in 1998 to 957 in 1999. Also in 1999, the New Hampshire Drug Task Force conducted 193 drug-related investigations and made 49 drug-related arrests Hillsborough County (the Manchester metropolitan area) and made another 49 drug-related arrests in Rockingham County. (See Figure 1.)
Figure 1. New Hampshire drug-related arrests by county, 1999.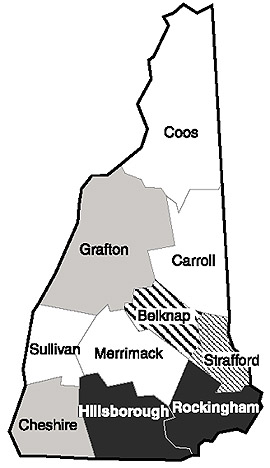 d-link
Drug-related Arrests




Source: New Hampshire Drug Task Force Seizure Statistics for 1999.
In 1999, New Hampshire experienced an increase in the availability of cocaine and heroin. Authorities attribute this increase to the state's proximity to distribution centers in Massachusetts, specifically, the cities of Lawrence and Lowell. Dominican criminal groups transport cocaine into the state and dominate its wholesale distribution. These Massachusetts-based criminal groups also control the wholesale distribution of heroin and periodically transport the drug to New Hampshire. In addition, users and independent dealers make frequent trips to Lawrence and Lowell to obtain cocaine and heroin directly from Dominican criminal groups.
Drug trafficking groups primarily use private vehicles to transport drugs into New Hampshire along three main north/south highway networks. Drug transporters typically travel Interstate 95, which runs along the southeastern corner of the state and connects Massachusetts to Maine, and Interstate 93, which passes through central New Hampshire, running south from Vermont through Massachusetts to Boston. To a lesser extent, transporters travel Route 3, which runs through New Hampshire from Massachusetts to the Canadian Border.
Pittsburg is the only port of entry (POE) on New Hampshire's 41-mile border with Canada. Only a small volume of legitimate traffic passes through it on a daily basis. The U.S. Customs Service (USCS) has seized only a small amount of drugs and currency at this location.
Manchester Municipal Airport's major airline carriers provide direct service to drug transportation hubs such as Chicago, Illinois; New York, New York; Newark, New Jersey; Philadelphia, Pennsylvania; Washington, D.C.; and Miami, Florida. Parcel and air cargo carriers servicing the New England area often load and unload cargo at the Manchester Municipal Airport prior to final delivery. Drug transporters may exploit this activity by concealing drugs in legitimate cargo and loading it onto airplanes. Other New Hampshire airports are Pease International Airport, Concord Municipal Airport, and Nashua Municipal Airport. In addition, hundreds of unmonitored private airstrips offer easy access and smuggling opportunities for traffickers. According to the New Hampshire State Police, radar coverage for these airstrips is nearly nonexistent.
Figure 2. New Hampshire transportation infrastructure.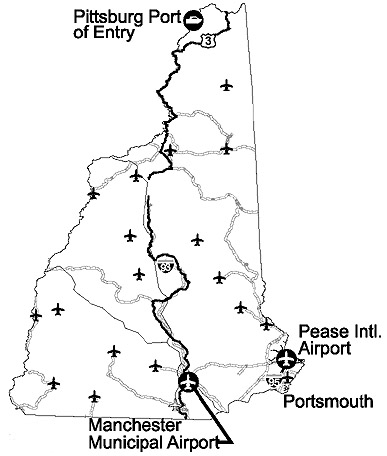 d-link
= Airstrips
Source: Geographic Information Systems, ESRI date 3.0
New Hampshire's 13-mile coastline presents limited opportunities for major maritime drug smuggling. Portsmouth, located on the Piscataqua River, is the only port in the state that receives commercial shipments. Exclusively dedicated to bulk cargo shipments, the port receives significant imports of coal from Venezuela and Colombia, heating oil from Venezuela and Canada, and minerals from Peru and the Bahamas. There have not been any seizures or intelligence reports indicating a threat of drug smuggling in conjunction with these shipments, although this may be due to limited law enforcement resources at the port.
Portsmouth and the Piscataqua River are also popular destinations for pleasure craft, especially in the summer. While there is no hard evidence to indicate that smugglers use yachts and sailing vessels to move drugs into the state, the popularity of seasonal cruises between the coast of New Hampshire and the islands of the Caribbean presents a potential opportunity for smuggling.
Outlaw Motorcycle Gangs are New Hampshire's most threatening organized gang problem. In March 2000, the Hells Angels established a chapter in Manchester. Members came from existing Hells Angels chapters in Maine and Massachusetts to establish it. Law enforcement authorities report that members live in Derry, Hudson, Franklin, and Meredith.
According to a 1999 national truce, the Hells Angels must allow the rival Outlaws to establish a chapter in the state without retaliation. In establishing its New Hampshire chapter, the Outlaws is converting members of the New Hampshire chapter of the Devils Disciples OMG into Outlaws. The rivalry that exists between the Hells Angels and the Outlaws has caused recent violent flare-ups throughout the state. This violence threatens to end the truce between the Hells Angels and the Outlaws, who often compete for control over lucrative drug markets. The Devils Disciples OMG operates from Manchester but has no reported involvement in drug sales.
Although street gang activity is relatively limited in New Hampshire, law enforcement sources assert that it is increasing due to a migration of gang members from Massachusetts. In their responses to the National Drug Intelligence Center (NDIC) National Gang Survey 2000, the Manchester and Portsmouth police departments reported gang activity. The East Side Crew operates from Portsmouth and is involved in the local distribution of cocaine and marijuana, but to a very limited extent.
---
To Top To Contents To Next Page