National Drug Intelligence Center
Louisiana Drug Threat Assessment
May 2001
---
Cocaine
The availability, distribution, and abuse of powdered and crack cocaine represent the greatest drug threat to the state. Crack cocaine is the drug most often associated with violent crime throughout the state. Cocaine distribution groups, both midlevel wholesalers and street gangs, take advantage of Louisiana's proximity to Houston, a major cocaine distribution center, to obtain supplies. Louisiana's portions of highways 10 and 20 are important cogs in an interstate system that drug distributors use to transport cocaine from the Southwest Border area to lucrative markets in the south, northeast and, to a lesser extent, midwest.
Definitions of Lifetime vs. Current Drug Use
Lifetime Use: Ever tried the drug in life.
Current Use: Used the drug one or more times in the last 30 days before survey.
Although there is evidence that powdered and crack cocaine use has leveled off or even decreased slightly, it is still a major health concern. According to year-end 1999 DAWN ED data, cocaine mentions in New Orleans decreased 11 percent (from 2,396 to 2,140) after remaining relatively stable from 1996 to 1998. DAWN Medical Examiner (ME) data show a decrease from more than 44 percent in 1995 to slightly less than 41 percent in 1998. More than 40 percent of the 191 drug-related deaths in New Orleans during 1998 (most recent data available) were cocaine-related. Nationwide, cocaine accounted for more than 45 percent of drug-related deaths.
The number of primary cocaine treatment admissions, normally a lagging indicator of a substance abuse problem, increased modestly in 1998 but remained well below the numbers reported 4 to 5 years ago. According to Treatment Episode Data Set (TEDS) figures, 5,754 people were admitted to Louisiana treatment centers with cocaine as the primary drug of abuse in 1998. This was significantly lower than the 8,363 reported in 1993, but higher than the 5,024 in 1996. Eight out of 11 parishes participating in the 1999 Louisiana SEWG study indicated cocaine is the illicit drug most often associated with substance abuse treatment center admissions and it ranked second in the remaining 3 parishes. SEWG data indicate that while cocaine/crack admissions to Louisiana treatment centers was higher in 1998 than 1988 in all but one participating parish, the number of admissions peaked several years ago in most parishes. Between 1988 and 1998, the percentage of primary cocaine/ crack abusers increased in all except Orleans Parish, where New Orleans is located. (See Table 3.)
Table 3. Cocaine/Crack Treatment Admissions in Louisiana, 1988, 1998, and Peak Year
Percent of All Drugs Admissions
Parish
1988
1998
Peak
Peak Year
Bossier
17.7
27.6
37.8
1989
Caddo
33.5
50.1
55.0
1989
Calcasieu
19.9
32.1
43.3
1991
E. Baton Rouge
41.2
48.1
53.7
1993
Jefferson
23.0
36.9
40.9
1997
Lafayette
15.7
44.1
49.3
1997
Orleans
40.9
38.1
57.6
1991
Ouachita
10.6
33.4
49.8
1992
Rapides
20.6
27.1
47.7
1991
St. Tammany
13.3
27.0
35.4
1994
Terrebone
8.2
26.6
40.0
1992
Source: Louisiana Department of Health and Hospitals, Office for Addictive Disorders.
Powdered and crack cocaine abuse is not confined solely to large cities, but represents the primary drug threat in many rural areas of the state as well. According to the DEA Resident Office in Shreveport, crack cocaine is the greatest threat in the rural areas in northwest Louisiana. Law enforcement authorities report that crack cocaine is the principal drug of abuse in Calcasieu, East Baton Rouge, and Red River Parishes, all of which are predominantly rural or suburban parishes. All but one of the eight law enforcement agencies responding to the NDIC National Drug Threat Survey 2000 cite crack cocaine as the greatest drug threat to their communities.
Statistics from the National Institute of Justice Arrestee Drug Abuse Monitoring (ADAM) Program reveal that almost half of all male arrestees tested for drugs in New Orleans between 1996 and 1999 had cocaine in their systems: 46 percent in 1996, 1997, and 1998 and 44 percent in 1999. The percentage of female arrestees testing positive for cocaine increased from 26 percent in 1996 to 41 percent in 1999. Cocaine was the drug most frequently found in the systems of people tested between 1996 and 1999 in the ADAM program. Statewide, arrests for cocaine possession declined in 1999 to their lowest levels in at least 5 years. (See Chart 2.) The Louisiana Office of Addictive Disorders (OAD) indicates most Louisiana cocaine abusers in 1998 were male (almost 70%) and over the age of 30.
Chart 2. Cocaine Arrests in Louisiana, 1995-1999

d-link

Possession

Sales
Source: Louisiana Commission on Law Enforcement Drug and Violent Crime Arrests, 1995-1999.
Note: Sales include possession with intent to distribute.
Cocaine is widely available throughout Louisiana. According to the DEA, both crack and powdered cocaine continue to saturate the New Orleans metropolitan area as well as the rest of the state. Prices have stabilized over the last 5 years at the wholesale level at roughly $20,000 for a kilogram of powdered cocaine while a kilogram of crack cocaine wholesales for slightly more at roughly $22,000. At the retail level, a gram of powdered cocaine sells for about $120 while a rock of crack cocaine sells for between $5 to $25, depending on size. Law enforcement reporting indicates that distributors have increased their supply to expand their market and prevent a significant price variation. Statewide, arrests for the sale of cocaine declined from 1997 to 1999 after reaching a peak in 1997. Chart 2 also illustrates that with the exception of 1996, more arrests were made for the sale of cocaine than arrests for cocaine possession between 1995 and 1999.
According to the DEA, purity levels for powdered cocaine in Baton Rouge range from as low as 17 percent at the retail level to 90 percent at the wholesale level. Crack dosage units have purity levels that range from 50 to 90 percent. In Shreveport, purity levels range from 77 to 85 percent for powdered cocaine and 80 to 90 percent for crack. Several forensic chemists in Louisiana report they are receiving more samples of powdered and crack cocaine that have been "cut" with caffeine, lidocaine, and percaine.
Cocaine is the drug most often associated with violent crime throughout the state. Most federal, state, and local law enforcement agencies in Louisiana cite the violent crime associated with drug trafficking as the most serious criminal threat to the state. Crack cocaine is the drug of choice in lower income and high crime areas such as public housing projects and is becoming more popular in suburban and rural areas. Crime statistics indicate crack cocaine use and distribution are responsible for most of the violent crime in large cities throughout Louisiana. Cocaine users commit property and violent crimes to obtain money to satisfy costly and highly addictive habits. Many murders occur when crack dealers target rival dealers who threaten their distribution territory.
Street gangs have spread to central and northern Louisiana to establish control of the cocaine drug trade in upstate cities. Police in Shreveport report that members of the Bottom Boys who were incarcerated as the result of a federal-led effort to eradicate gangs and drugs in 1994 are being released from prison and becoming involved in cocaine distribution and associated violence again. The Bottom Boys is a highly organized and ruthless gang of midlevel wholesale dealers. Gang members use violence and intimidation to control drug territories, customers, and supplies. Police in Alexandria report that while overall crime related to cocaine distribution appears to have leveled off, criminals are adopting techniques that enable them to be much more efficient killers. Instead of performing drive-by shootings to settle disputes or eliminate rivals, dealers lure victims close to a vehicle by using attractive women wearing the "colors" of the rival gang. The shooter then emerges from a hidden position in the back seat to shoot at point blank range.
Violence in Small Towns
Operation Blood Drive, the code name given to an 8-month investigation into criminal activity that involved crack cocaine distribution in the Bossier Parish town of Plain Dealing, led to the arrest of more than 10 people--including members of the 59 Bloods gang. Local law enforcement agencies say evidence shows drug activity in Northwest Louisiana is seeping into the piney woods and quaint communities outside Shreveport and Bossier City.
Source: Shreveport Times, September 2000.
Sentences for possessing crack cocaine are lengthier than those for powdered cocaine, so retail distributors generally convert crack in the areas where it is to be distributed. Law enforcement authorities in southern Louisiana point to a trend in which crack cocaine is increasingly being trafficked into the state from Houston.
Distribution Levels
Upper-level wholesale: The level of distribution at which drugs are purchased directly from a source of supply or importer and sold, normally, to midlevel distributors in pound, kilogram, or multi-unit quantities. In the case of Louisiana, these upper-level wholesalers are generally located in South Texas, most often in Houston. These wholesale suppliers are very reluctant to sell drugs to anyone they do not know personally.
Midlevel wholesale: The level of distribution at which drugs are purchased directly from wholesale distributors in pound, kilogram, or multiunit quantities, then sold in smaller quantities to other midlevel distributors or to retail distributors. In Louisiana, many midlevel distributors wield power in the world of drug distribution as a result of their reputed ability to procure any amount of drugs, at any time.
Retail: The level of distribution at which drugs are sold directly to users. In Louisiana, retail distributors are frequently street gangs.
Mexican criminal groups transport powdered cocaine for themselves or on behalf of Colombian DTOs. Most of the cocaine transported into and through Louisiana is generally not destined for sale inside the state but in markets in the south and northeast. More than 90 percent of cocaine seizure events made by the Louisiana State Police were from eastbound vehicles. The cocaine is destined mainly for southern states such as Georgia, Alabama, Mississippi, and Tennessee, although substantial amounts are destined for states in the northeast such as New York, Massachusetts, Virginia, and New Jersey. Individuals working on behalf of Mexican criminal groups are responsible for a large portion of the cocaine seized on eastbound Louisiana highways. Cocaine seizures on Louisiana highways increased from 168 pounds in 1998 to 1,045 pounds in 2000.
Operations Pipeline and Convoy
Operation Pipeline, created in 1984, is the name given to a nationwide highway interdiction program that focuses on private vehicles.
Operation Convoy was created 6 years later to target drug transportation organizations that use commercial vehicles to traffic drugs. Both programs were designed to coordinate training, real-time communication, and analytic support between federal, state, and local law enforcement agencies.
Street gangs are the most common groups that transport cocaine into Louisiana although other midlevel distribution groups, usually sharing family or ethnic ties, are also involved. Street gangs generally transport between one-half to 2 kilograms while midlevel distribution groups may transport 15 kilograms or more. Most cocaine destined for Louisiana originates in South Texas, primarily Houston. Operation Pipeline seizure data, compiled by the DEA, show that approximately 90 percent of the cocaine seized on Louisiana's interstate highways originated in South Texas.
DTOs and midlevel distribution groups transport cocaine into and through the state using passenger, recreational, and commercial vehicles. Transporters often use diverse, sophisticated techniques. Cocaine has been discovered in airbags, trunks, spare tires, seats, and fenders. When cocaine is transported in commercial vehicles, traffickers conceal the drug in various parts of the vehicle as well as in the cargo. Cocaine is often concealed in hidden compartments fitted into the walls, floors, and ceilings of cargo trailers and within legitimate loads such as produce and frozen foods. Truck drivers also transport cocaine in the cab of the truck hidden in the sleeper compartment. Nationwide, the most common types of commercial vehicles used to smuggle cocaine are tractor-trailers and straight-body rental trucks.
Agents Intercept Cocaine Hidden in Airbag
Narcotics agents intercepted two New Orleans drug wholesalers who were delivering a kilogram of cocaine to dealers in St. Tammany Parish. Authorities found a half-kilogram of powdered cocaine and a half-kilogram of crack cocaine stashed in the passenger-side airbag compartment.
Source: St. Tammany Parish Sheriff's Office, press release, Two Arrested in Joint Federal-Local Narcotics Probe, 5 January 2001.
Louisiana's three major east-west interstate highways, I-10, I-12, and I-20, provide a pipeline for cocaine transported to Louisiana and east to population centers in the southern and northeastern United States. Shreveport is an important transshipment point for powdered and crack cocaine as I-20 and I-49, which pass through Shreveport, provide transporters a corridor between northern Louisiana and source cities in the west, particularly Los Angeles and Dallas.
Distribution groups in Louisiana, both street gangs and midlevel distributors, send representatives accompanied by couriers to major cocaine distribution centers such as Houston, Dallas, and Los Angeles. Couriers are usually paid on a per shipment basis, which law enforcement estimates at between $1,000 and $2,000. The couriers are frequently low-level operatives within the midlevel distribution group or street gangs, crack users, or people with outstanding debts. Females are increasingly being used as couriers since distributors feel they are less likely to be stopped and searched. In an effort to maintain an exclusive relationship with the source, the distributor often leaves the courier at a restaurant or hotel while the actual transaction occurs. After the transaction is complete, the courier is phoned and told where to pick up the cocaine. The purchase and transportation of cocaine from Texas-based wholesalers also occurs at highway rest stops or service areas approximately halfway between Houston and the distributor's hometown. The transaction takes place at a predetermined location, normally the parking lot of a fast food restaurant or hotel. Police in Louisiana report the area surrounding the I-610 Houston beltway is a primary source of cocaine purchased by midlevel distributors and street gangs from Louisiana.
Although most cocaine is transported into Louisiana by land, distributors are increasingly using mail or commercial parcel delivery services. One method involves distributors traveling to Houston, purchasing cocaine, and shipping it back to Louisiana packaged in airtight plastic bags. The packages are occasionally sent to the distributors, but frequently are sent to abandoned houses near their homes, where they wait for the delivery truck to arrive and present identification to retrieve the package. Distributors also will send packages to elderly people, relatives, or people who owe them a debt.
Cocaine Found on Oil Tanker
In June 2000, investigators found more than 100 pounds of cocaine on an oil tanker docked at a plant on the Calcasieu Ship Channel near Lake Charles. The cocaine, with an estimated street value of about $6 million, was shipped directly from Colombia. It is believed the shipment was originally to be delivered to Texas City, but due to tight security at the port it was delivered to Lake Charles.
Source: Associated Press, "Cops Seize 100 Pounds of Cocaine," 6 June 2000.
Maritime cocaine smuggling, through commercial shipping, the fishing industry, sport and pleasure boating, and cruise ships, poses a significant threat to Louisiana because of its location on the Gulf of Mexico. Colombian DTOs use cargo vessels to smuggle cocaine into Louisiana, concealing the cocaine within legitimate cargo or in secret compartments. Unscrupulous crew members on commercial cargo ships often act as couriers, hiding the drugs in public areas throughout the ship while awaiting arrival in port. The USCS estimates it is able to inspect only a small percentage of cargo arriving at Louisiana ports. The high volume of marine traffic resulting from the offshore oil industry also provides smugglers anonymity. Smugglers are believed to be returning to tactics that include using small commercial vessels, mainly fishing and shrimping boats, to pick up cocaine from freighters throughout the Gulf of Mexico and Caribbean. Cruise ships sail weekly to destinations throughout the Caribbean including countries used as transshipment points by international cocaine trafficking organizations. Distribution organizations in the United States hire couriers to pick up cocaine for a fee of approximately $2,000 plus the cost of the cruise. Most of the couriers smuggling cocaine aboard cruise ships do not reside in Louisiana but are from the East Coast, frequently the Philadelphia metropolitan area, New Jersey, and New York. According to the USCS Seaport Analysis Team (SEAPAT), distribution organizations use these couriers to pick up kilogram quantities of cocaine from contacts in source country ports of call and bodycarry it on board, where it is transferred to a crew member. The crew member hides the cocaine on the ship until reaching New Orleans, then waits until the passengers have disembarked to transport it off the ship and turn it over to a representative of the trafficking organization. Cocaine is also smuggled into the country concealed inside luggage fitted with secret compartments, specially constructed shoes, and souvenirs such as statues.
Cruise Ship Smuggling
In September 2000, the U.S. Customs Service arrested two people as they disembarked from a cruise ship in New Orleans after seizing four straw shopping bags laced with cocaine. The inspectors found a white substance in plastic tubes woven into the fabric. The substance was tested and found to be 6.8 kilograms of powdered cocaine.
Source: The New Orleans Times-Picayune, 28 September 2000.
DTOs use commercial and charter flights at the New Orleans International Airport to smuggle cocaine from Central America and Mexico. In one instance, a distribution organization in the United States paid couriers to travel to Cancun, Mexico, where they were fitted with specially made shoes filled with cocaine. Other common smuggling techniques include the use of specially manufactured cocaine-filled statues and specially designed luggage that contains secret compartments.
Criminal groups of varying sizes and levels of organization and street gangs with ties to wholesale distributors in Houston dominate the midlevel distribution of cocaine in Louisiana. Louisiana's midlevel distribution groups are closely linked to Mexican wholesalers in Houston and South Texas. According to law enforcement officials throughout Louisiana, midlevel distribution groups and street gangs rely on close businesslike relationships with Mexican wholesalers in the Houston metropolitan area. Individuals who possess these close relationships with Mexican wholesalers are in an enviable position within the group and attempt to retain the exclusivity of the relationship by limiting the contact others within the group have with the supplier.
While most cocaine distributed in Louisiana originates in Houston, law enforcement authorities in Louisiana report that street gangs also receive wholesale shipments from Los Angeles or Miami. The 19 Boys, 5/9 Bloods and the Rolling 60 Crips, all active in Shreveport and the surrounding communities, have strong ties to Los Angeles through family or gang associates. The gangs obtain cocaine from their Los Angeles counterparts, who have established relationships with Mexican wholesalers. Los Angeles gangs use gangs in Louisiana to expand their markets. In New Orleans, the Latin Kings, a predominantly Hispanic gang with a nationwide affiliation, is the primary gang linked to upper level wholesale groups in Miami. Police report that while the Latin Kings is a relatively minor player in the midlevel wholesale cocaine business in Louisiana, its dominance of the trade in other areas such as Chicago means the potential exists for the gang to broadly expand its role.
Police report that midlevel cocaine distribution groups use safe houses in the small communities surrounding larger metropolitan areas such as New Orleans, Shreveport, Lafayette, Lake Charles, and Monroe. Safe houses are generally maintained in remote locations so as not to draw attention from law enforcement or rival criminal organizations. Once the cocaine is brought into Louisiana from Houston, in quantities ranging generally from 1 to 15 kilograms, it is brought to safe houses where it is divided into smaller wholesale quantities ranging from 100 to 500 grams. At that point, arrangements are made for retail-level distribution groups, normally representatives from street gangs, to pick up the cocaine. The cocaine is usually sold in its powdered form although police report an increase in the distribution of wholesale quantities of crack cocaine, converted in bulk at safe houses.
Midlevel cocaine distributors have invested in legitimate businesses to facilitate and expand wholesale drug operations. A variety of businesses including trucking companies, automotive repair shops, record production companies, convenience stores, and used car lots have been used as fronts for distributing cocaine and laundering drug proceeds. These businesses promise young people glamorous positions but use them as couriers to pick up cocaine in cities such as Houston and Dallas. Police also report that concerts, put on by local artists, are sometimes used by larger midlevel distribution groups to bring smaller midlevel distribution groups together in one place to broker the sales of wholesale amounts of cocaine.
Independent distributors continue to dominate in rural areas, although police are concerned that street gangs are making inroads. Officials from the Louisiana State Police report street gangs involved in wholesale distribution and retail sales are moving their operations into rural areas. Saturated drug markets, low prices, violent competition, and effective police pressure in large metropolitan areas have caused many dealers to seek new markets in rural areas. After identifying and penetrating markets within small communities, distributors often feel that they can operate with relative impunity. Police throughout Louisiana report distributors are limiting sales to those they have known for a long time to lessen the chance of selling drugs to undercover police or police informants.
Many law enforcement officials in Southern Louisiana report that Lafayette has emerged as a distribution city for powdered and crack cocaine in the southern part of the state during the last year. The Lafayette Metro Narcotics Squad reported a significant increase in crack seizures, from 1.4 kilograms in 1996 to 4.2 kilograms in 1998, resulting from street-level investigations. While that number fell to approximately 2.7 kilograms in 1999, police still assert the city functions as a regional distribution city. DEA and local law enforcement investigations reveal that Houston is the primary source for cocaine in the Lafayette area.
Law enforcement agencies across the state report that African American street gangs dominate the retail distribution of crack. Caucasian and, to a lesser extent, Hispanic and Asian gangs are also involved in retail sales of crack. In September 2000, federal authorities charged 10 men, all Vietnamese gang members, with conspiring to distribute cocaine in New Orleans' Southside Asian community. The New Orleans metropolitan area has few nationally affiliated gangs; the only one of note active at this time is the Latin Kings, which has strong ties to gang members in Miami. Of greater concern in New Orleans are the "posses" or "crews" that are identified by neighborhood or public housing project. The Mosley Gang, Perry Francois Gang, Dillon Gang, and Got It Boys are the larger, more active neighborhood street gangs. According to the latest estimates, there are approximately 16 gangs with 400 members in New Orleans.
Federal Agents Raid Vietnamese Neighborhood in Drug Sting
On September 26, 2000, federal agents raided a subdivision in a largely Vietnamese neighborhood in suburban New Orleans. The suspects were described as midlevel distributors between the ages of 19 and 24 who received multiple kilograms of powdered and crack cocaine each month from Texas and distributed it to street level dealers in their area. While authorities did not specify the amount of drugs involved in the case, convictions for each suspect could carry sentences of up to life in prison and fines of up to $4 million. They are also accused of distributing marijuana and ecstasy. The arrests mark the first major sting against organized drug trafficking in the area's Vietnamese community, but not likely to be the last, agents said. The Vietnamese are one of New Orleans' more visible ethnic groups, with a population estimated at 17,000.
Source: Associated Press, 26 September 2000.
The First, Second, Sixth, and Eighth Police Districts, located in southwest New Orleans, are the most common locations for retail crack sales. (See Figure 1.) Law enforcement authorities report most crack cocaine transactions in New Orleans take place outdoors in hand-to-hand exchanges or car drive-up exchanges. Generally, young "runners" (under 18 years old) are used to facilitate the actual transaction, insulating higher-ranking individuals in the organization from law enforcement pressure.
Figure 1. New Orleans Police Districts.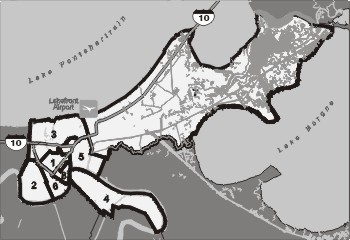 Midlevel distributors and street gangs have spread into central and northern Louisiana to establish control of the cocaine drug trade in upstate cities. They use violence and intimidation to compete for control of drug territories, customers, and supplies. The distribution of drugs is now entrenched in Lafayette, Alexandria, Shreveport, Monroe, and other cities. In Shreveport, factions of the Bloods and Crips dominate retail cocaine distribution. Traditionally, powdered and crack cocaine was sold on street corners in open-air drug markets. Police report dealers are increasingly moving indoors to avoid an increased police street presence. The deals are then arranged through pay and cell phones and pagers.
Retail distributors package crack cocaine in a variety of ways in an attempt to avoid arrest and prosecution. Street level distributors have moved away from packaging crack cocaine in glass vials, preferring instead to use small, self-closing glassine bags or the corners of plastic sandwich bags, which they then tie off or seal. Police in larger cities such as New Orleans report that street dealers often hide cocaine in abandoned houses or under shrubs or other objects to lower the amount they have on their person if arrested.
Street dealers are becoming more careful about where they hide crack while they conduct their business. Police report dealers are hiding crack cocaine in internal body cavities and taping prepackaged quantities of crack on or near genitals to prevent its discovery during police pat-downs.
---
To Top To Contents To Previous Page To Next Page