National Drug Intelligence Center
Pennsylvania Drug Threat Assessment
June 2001
---
Marijuana
Marijuana is the most widely available and commonly abused drug in Pennsylvania. Treatment data indicate that abuse has been high for many years, including among the state's youth. Despite large seizures, the drug continues to be readily available throughout the commonwealth. Most marijuana sold and used in Pennsylvania is transported from outside the state, although in-state cultivation operations, both indoor and outdoor, are quite widespread. Jamaican and Mexican criminal groups are the predominant transporters, wholesalers, and midlevel retailers, but a variety of other criminal groups are involved in marijuana transportation and distribution as well.
Abuse of marijuana is common in Pennsylvania. NHSDA data for 1999 indicate that 32.3 percent of individuals in Pennsylvania aged 12 or older have used marijuana in their lifetimes. Past-year use was reported by 7.6 percent of individuals surveyed, and 4.7 percent reported past-month use. In 2000, state treatment admissions with marijuana as the primary drug of abuse accounted for one quarter of all nonalcohol drug admissions; this figure has remained stable since 1996. While admissions for cocaine (35%) and heroin (31%) were higher than for marijuana (25%), many clients in treatment for other drugs reported that they also abuse marijuana. According to TEDS data, admissions to publicly funded treatment centers for marijuana abuse in Pennsylvania increased from 1993 through 1996, then gradually declined in 1997 and 1998. However, there has been a steady increase in marijuana and hashish DAWN ED mentions in Philadelphia since 1993; there were 1,955 mentions in 1993, 3,436 in 1996, and 5,465 in 1999.
Males accounted for 78 percent of marijuana admissions to state drug treatment programs in 2000, and females accounted for 22 percent. Of the males being treated for marijuana abuse, 69 percent were white, 21 percent were black, and 8 percent were Hispanic. By comparison, of the females being treated for marijuana abuse, 69 percent were white, 20 percent were black, and 8 percent were Hispanic. The 1999 ADAM data for Philadelphia indicate that 41.2 percent of male arrestees tested for drug use tested positive for marijuana, more than for any other drug. Also, 43.1 percent of African American male arrestees, 41.8 percent of Hispanic male arrestees, and 38.4 percent of Caucasian male arrestees tested for drug use tested positive for marijuana.
Marijuana use by high school students is a concern. In 2000, 70 percent of marijuana and hashish treatment admissions in the state were under the age of 25. According to the 1999 Youth Risk Behavior Study, 39.8 percent of Philadelphia high school students reported using marijuana during their lifetimes, and 21.4 percent reported using marijuana within 30 days of the survey. These numbers, although high, were lower than national figures (47.2 percent reporting use in their lifetimes, and 26.7 percent reporting use in the past 30 days). Marijuana use is also a major problem in high schools in other parts of the state. According to law enforcement sources and other health professionals, marijuana use by young people frequently serves as a gateway to the use of more dangerous substances, such as cocaine and heroin. Columbia University's Center on Addiction and Substance Abuse found that 12- to 17-year-olds who smoke marijuana are 85 times more prone to eventual cocaine use.
Marijuana is readily available throughout Pennsylvania. Federal, state, and local law enforcement agencies across the state indicate that marijuana is the most available drug in Pennsylvania, and law enforcement officials and treatment providers throughout the commonwealth consistently report that marijuana users can obtain the drug at any time.
The Pennsylvania State Police seized 3,867 kilograms of processed marijuana and eradicated 9,387 plants in 1999. The estimated revenue that would have been generated from the distribution of the seized marijuana was $22,289,455. In 1999, DEA eradicated 378 outdoor plots, 6,843 cultivated plants, and 55 indoor grows in the state. Law enforcement estimates that roughly 10 percent or less of available cannabis is eradicated. FDSS data indicate that 1,639 kilograms of marijuana were seized in Pennsylvania in 1999. (See Chart 1.) The Philadelphia Police Department reports seizing 1,466 kilograms of marijuana in 1999. Despite the large number of seizures made by law enforcement, the per-pound price of marijuana remains low. (See Table 4.)
Chart 1. Marijuana Seizures, Pennsylvania, 1995-1999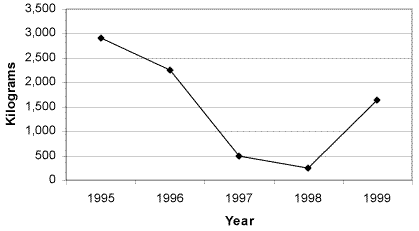 d-link
Source: Federal-wide Drug Seizure System.
Table 4. Marijuana Prices, Pennsylvania, 2001
| Reporting Unit | Ounce | Pound | Pound (Sinsemilla) | Kilogram |
| --- | --- | --- | --- | --- |
| Philadelphia | $150-200 | $800-1,200 | not reported | not reported |
| Pittsburgh | $90-150 | $750-1,600 | not reported | $3,000-4,000 |
| Allentown | $100-200 | $800-2,300 | $800-1,600 | not reported |
| Harrisburg | $100-170 | $1,500-2,000 | not reported | not reported |
Source: Drug Enforcement Administration, Philadelphia Field Division, Quarterly Trends in the Traffic, 1st Quarter, FY2001.
Limited violence is associated with cannabis cultivation, marijuana abuse, or marijuana distribution in Pennsylvania. Occasionally cannabis growers set dangerous traps in order to prevent the discovery of their cannabis crops, but marijuana-related violence is rare. Unlike some heroin and cocaine abusers, marijuana users generally are not driven to steal money to finance their addiction.
Cannabis cultivation is prevalent in Pennsylvania; however, cultivation has not reached the levels found in many southern and western states. Most cannabis growers are local independent dealers, who are not linked to any specific organized drug group.
Most cannabis is grown outdoors in the state, although the number of indoor grows has increased in the past year. Cannabis is grown outdoors in the northwestern counties of Crawford, Erie, Mercer, Venango, and Warren. Smaller amounts of cannabis are grown in Bucks, Delaware, Montgomery, and Somerset Counties. The number of indoor cannabis grows are increasing, according to law enforcement sources. For example, on April 25, 2000, 270 marijuana plants were seized from an indoor grow in Centre County. Police found plans to install an indoor hydroponic system and notes explaining how to expand the indoor operation to outdoors. The growers cloned their plants, using only female plants that provide the buds with the highest THC levels.
Growers are increasingly cultivating cannabis at remote sites in the state to conceal their activities from law enforcement. Some growers are using private farmlands without the owners' permission or knowledge, rather than growing marijuana on their own land, which would expose their property to asset forfeiture. In August 1999, more than 1,000 marijuana plants growing in two Westmoreland County cornfields were destroyed by state police officers, but authorities were unable to identify any of those responsible and made no arrests. Also to avoid asset forfeiture, some individuals grow cannabis public lands in western Pennsylvania, such as in the Allegheny National Forest. The Warren County Sheriff's Office reported that the cannabis grown in the Allegheny National Forest is typically of high quality.
Most marijuana used in the commonwealth is transported to the state from outside sources. Marijuana is transported to Pennsylvania from source countries, including Jamaica, Mexico, and Canada, and from domestic locations including Arizona, Florida, New York, and Texas, among other states. Jamaican and Mexican criminal groups are the predominant transporters of marijuana into the state. Local and statewide independent dealers, OMGs, and some members of street gangs also are involved. The Pagans, Breed, Seekers, and Warlocks are the most active OMGs in Pennsylvania. The Pagans, one of the four major OMGs operating in the United States, reportedly has strong ties to Italian organized crime in Philadelphia.
Bulk quantities of marijuana are typically transported to the state using private vehicles and commercial trucks on interstates. On May 8, 2000, authorities seized nearly 1,000 pounds of marijuana that was being transported by tractor-trailer from Mexico to Reading. The estimated revenue that would have been generated from the distribution of the seized marijuana was $1.2 million. In March 2001, 23 individuals from western Pennsylvania, New Mexico, and Texas were indicted for transporting 2,200 pounds of marijuana to Pittsburgh and distributing it between 1995 and 2000. The individuals purchased the marijuana from Mexican drug distributors in Mexico, smuggled it across the Southwest Border, and transported it to Pittsburgh in pickup trucks and rented cars.
Smaller quantities of marijuana are transported to Pennsylvania using private vehicles, commercial buses, and express mail services. In March 2000, 20 pounds of marijuana were seized in Breezewood, (south central Pennsylvania) from a Jamaican citizen who was traveling from New York by bus. In November 2000, 21.2 pounds of marijuana, mailed from California, were seized from the campus mailbox of two Wilkes University (Wilkes-Barre, Pennsylvania) students.
Jamaican and Mexican criminal groups are the most active marijuana distributors in Pennsylvania. These groups predominate in Philadelphia and Pittsburgh, and they are the primary suppliers of local independent groups that operate in midsize and smaller towns. Local and statewide independent dealers, Russian criminal groups, OMGs, Italian organized crime groups, and some members of street gangs are both wholesale suppliers and midlevel distributors in some parts of Pennsylvania. These and other groups are involved in retail sales. In many places, wholesale, midlevel, and retail groups are not distinct from one another.
Wholesale
Jamaican criminal groups are active wholesalers of marijuana in many parts of the state. In Philadelphia, Jamaican criminal groups are responsible for most of the city's marijuana trade, according to the Philadelphia/Camden HIDTA, and in Pittsburgh, Jamaican criminal groups dominate the market. In midsize and smaller towns throughout the state, other groups purchase multipound quantities of marijuana from Jamaican wholesalers. For example, the Sharon Police Department in western Pennsylvania reports wholesale marijuana sales by Jamaican criminal groups.
Mexican criminal groups distribute multipound quantities of marijuana throughout the state as well. In Philadelphia, Mexican groups are very active, possibly on a par with Jamaican criminal groups. In Reading, Mexican nationals who transport large shipments of marijuana from Mexico also act as wholesale distributors. Officials in Lancaster and Berks Counties assert that Mexican criminal groups distribute marijuana.
Other criminal groups distributing wholesale quantities of marijuana in Philadelphia include OMGs with ties to Italian organized crime and Russian criminal groups, according to the Philadelphia Police Department.
Retail
Jamaican criminal groups are the dominant marijuana retailers in Philadelphia and Pittsburgh. These groups also sell marijuana at the retail level in Bethlehem, Chester, and Sharon, according to responses to the NDIC National Drug Threat Survey.
Local independent dealers, some members of street gangs, other ethnic criminal groups, and OMGs are also selling retail quantities of marijuana in Philadelphia, according to the Philadelphia Police Department. Local independent dealers are the predominant retail marijuana sellers in most midsize cities and small towns, including Altoona, Beaver Falls, Devon, Erie, East Stroudsburg, Galeton, Glenshaw, Harrisburg, Johnstown, New Castle, York, and Wilkes-Barre, according to respondents to the NDIC National Drug Threat Survey. In June 2000, a Doylestown (Bucks County) businessman was accused of operating a marijuana wholesale business after authorities seized $250,000 worth of marijuana in bags and bales from his home, enough marijuana to roll 90,000 joints.
---
To Top To Contents To Previous Page To Next Page