National Drug Intelligence Center
American Samoa Drug Threat Assessment
June 2001
---
Methamphetamine
Methamphetamine use is rising in American Samoa. Most methamphetamine users prefer to smoke the pure (90 to 100%) crystal form, commonly known as "ice." Recent reports from the Criminal Justice Planning Agency point to the threat of methamphetamine production laboratories on the islands. Previously, any laboratories simply converted powdered methamphetamine to ice.
Territory officials do not report methamphetamine-related abuse statistics to Health and Human Services agencies. Prior to fiscal year 1997, there was no facility on American Samoa that tested arrestees for the presence of illegal drugs. The Drug Testing and Treatment Program became fully functional in 2000 but has not yet begun to report data. According to recent reports, both federal and local agencies suggest that methamphetamine abuse is rising in American Samoa.
High purity crystal methamphetamine (90 to 100%) continues to dominate the drug market in American Samoa. One ounce equals 28.35 grams, and one gram provides about 30 hits. During a recent trial, an American Samoan police captain testified that the street price of ice on the island is five times the price in Honolulu. The local street price can range from $50 to $75 per one-fifth of a gram, versus $50 for a gram in Honolulu. During FY 2000, territorial customs official confiscated over 200 pounds of methamphetamine.
Increased crystal methamphetamine use has been linked to an increase in violent crime. Local authorities generally tie rising crime rates to alcohol and illegal drug abuse. While in recent years violent incidents in villages involving alcohol consumption decreased, violent crime and methamphetamine use increased, especially among juveniles. The Juvenile Division of the Department of Public Safety reported 10 arsons, 267 burglaries, 2 homicides, more than 300 assaults, and 4 rapes committed by juveniles in 1997, the last complete reporting year.
Violence is also associated with individuals in the so-called tweaking stage experienced by chronic methamphetamine abusers. As euphoria from methamphetamine use diminishes, abusers enter the tweaking stage during which they experience delusions and paranoia, and are likely to be violent. Tweaking occurs at the end of a binge when nothing--even more methamphetamine--can counteract a user's feeling of emptiness and dysphoria. Tweaking is very uncomfortable, and many users try to buffer the effect of the methamphetamine crash with other drugs like cocaine or heroin. The physical and psychological effects, in combination with severe sleep deprivation, can result in an unpredictable, uncontrollable individual. A methamphetamine abuser is most dangerous when tweaking.
Recently enacted territorial laws impose harsher penalties for drug possession. First-time offenders receive a mandatory 5-year sentence with no possibility of parole.
The most recent report from the Criminal Justice Planning Agency states that methamphetamine production laboratories exist on the island. This new trend is attributed to enforcement efforts that disrupted methamphetamine smuggling to the islands. Some distributors also convert powdered methamphetamine to ice.
Generally, smugglers use two methods to transport drugs to American Samoa--commercial aircraft and cargo vessels. American Samoa officials rarely seize illicit drugs entering the territory via ports and docks due to the sheer volume of commodities imported and the lack of manpower. Local law enforcement agencies reported no methamphetamine seizures from commercial vessels, but the methods used to smuggle marijuana might also be used to ship methamphetamine to the territory. Smaller quantities are smuggled to the islands via the postal system. Officials believe that most of the methamphetamine available in American Samoa comes from Hawaii.
Figure 1. Methamphetamine Smuggling Route.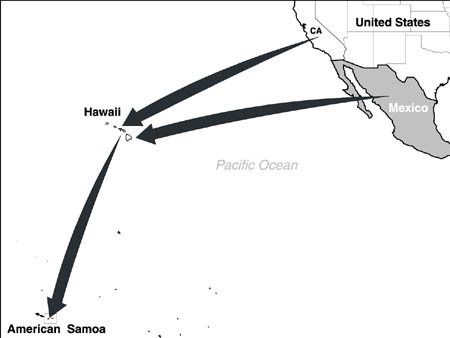 Couriers carry methamphetamine to American Samoa aboard commercial airlines. In March 1999, law enforcement officers apprehended a 15-year-old boy at Pago Pago International Airport carrying a sandwich bag full of methamphetamine and two sandwich bags full of cocaine.
In June 1999, officials seized a shoebox sent through the mail that contained approximately 13 grams of crystal methamphetamine. The intended recipient of the package told local customs official the shoes were for a school graduation, but the officials believed the box was too light for the purported contents.
Local authorities now believe that more methamphetamine enters American Samoa territory on purse seiners and other commercial fishing vessels that frequent local canneries than through any other smuggling method.
Extensive research revealed no information regarding groups responsible for distributing methamphetamine in American Samoa or their methods of operation.
---
To Top To Contents To Previous Page To Next Page