National Drug Intelligence Center
Wyoming Drug Threat Assessment
December 2001
---
Heroin
Heroin is not a significant threat to Wyoming. Public treatment statistics and arrest data suggest a small user population. The type of heroin available is almost exclusively Mexican black tar, according to law enforcement officials. Criminal groups in Wyoming do not normally distribute heroin. Abusers typically travel to large cities in neighboring states such as Colorado to purchase personal use quantities, then return to Wyoming to sell small quantities of the drug to support their own habits. While the primary distribution center for heroin available in Wyoming is Denver, Colorado, law enforcement authorities note that Salt Lake City, Utah, also is a distribution center for the drug.
Heroin abuse is not widespread in Wyoming. Public treatment admission data indicate that the number of individuals seeking treatment for heroin abuse is low. According to the Wyoming Department of Health, Substance Abuse Division, heroin treatment admissions rose from 14 in 1997 to 19 in 1998 and declined to 18 in 1999. TEDS data also reflect a low incidence of heroin treatment in Wyoming. Admissions to public treatment for heroin abuse numbered 16 in 1997, 19 in 1998, and 17 in 1999. Disparities between state and federal reporting on admissions to substance abuse treatment programs are likely to occur because of differences in data collection and reporting methodologies. Nearly 75 percent of patients admitted to treatment for heroin abuse in 1999 were over 36 years of age; almost 53 percent were female and 73 percent were Caucasian, according to TEDS. In 1999 DAWN data indicated one heroin-related death in Casper, the first such death since 1997. According to the 1999 YRBS, heroin abuse among Wyoming's high school students is slightly higher than the national average, with 2.9 percent of respondents reporting lifetime heroin use compared with 2.4 percent nationally.
Heroin availability in Wyoming is low due to limited demand for the drug. Heroin abusers in Wyoming typically purchase the drug in small quantities in northern Colorado or Utah, usually in the Denver and Salt Lake City areas. In Wyoming, abusers frequently purchase slightly more than they need for personal use, then sell the rest to support their habit. Law enforcement sources report that the heroin available in the state is almost exclusively Mexican black tar. The price range for Mexican black tar heroin in Wyoming is $125 to $250 per gram. Personal use quantities can be purchased at the retail level for $20 to $50. Retail-level purity in Wyoming averages 23 percent, according to DEA.
There are few reported occurrences of violence associated with heroin distribution and abuse in Wyoming. Heroin abusers are generally nonviolent, but some commit burglary or robbery to support their addiction.
Opium is not cultivated nor is heroin produced in Wyoming.
Abusers in Wyoming typically travel to large cities in neighboring states to purchase personal use quantities of Mexican black tar heroin. (See Figure 5.) Heroin abusers traveling to Denver, Colorado, to purchase personal use quantities of the drug typically travel I-25, the main route connecting northern Colorado and Wyoming.
Figure 5. Distribution centers for heroin in Wyoming.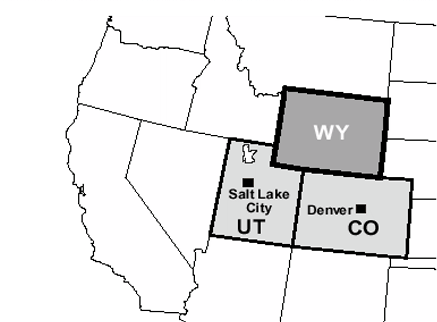 Abusers traveling to Salt Lake City, Utah, to purchase heroin typically use I-80, which connects northern Utah and southern Wyoming. No heroin seizures were reported to Operation Pipeline in 1999 or 2000; however, occasionally law enforcement seizes heroin during routine traffic stops. According to the Rocky Mountain HIDTA, nearly all seizures of heroin (130 grams) in Wyoming in 2000 were the result of interdiction efforts. Typically, the heroin being transported through Wyoming was en route to other states. Abusers use package delivery services as another method to obtain heroin from Denver.

Highway Stop Uncovers Heroin
In June 2000 State Highway Patrol officers stopped a vehicle bearing Minnesota license plates on I-80 near Rock Springs, Wyoming. The search of a passenger revealed approximately 126 grams of heroin concealed on his body. A search of the vehicle yielded more than 2 pounds of methamphetamine. The driver and passenger, both residents of Fresno, California, were traveling to Columbia Heights, Minnesota, near Minneapolis.

Source: 2001 Rocky Mountain HIDTA Threat Assessment.
There are no indications of organized wholesale or retail heroin distribution in Wyoming. The limited amount of heroin that is available in the state usually is sold by abusers who make purchases in adjoining states and sell small amounts to support their habit.

---
To Top To Contents To Previous Page To Next Page