National Drug Intelligence Center
New Mexico Drug Threat Assessment
April 2002
---
Overview
New Mexico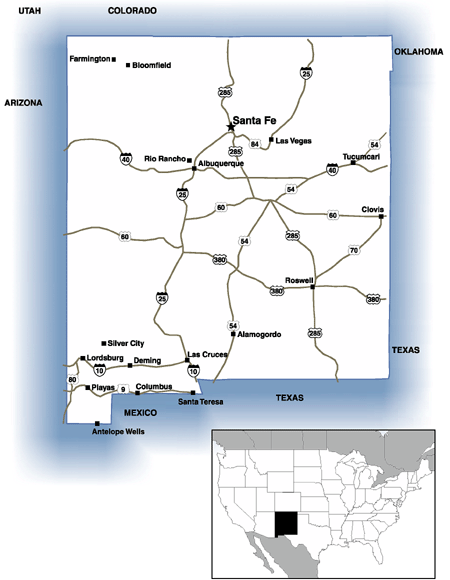 Note: This map displays features mentioned in the report.
New Mexico is the fifth largest state in land area, ranks thirty-sixth by population, and has over 1.8 million residents. Albuquerque, the state's largest city, has more than 420,000 residents. Other principal cities include Las Cruces (75,786), Santa Fe (69,299), and Rio Rancho (52,012). New Mexico's median household income, which ranks forty-fifth in the nation, is $33,096--considerably lower than the national average of $41,343. New Mexico has the fourth highest percentage of its population (18%) living below the U.S. poverty level.
New Mexico
Population (2000)
1.8 million
U.S. population ranking
36th
Median household income (2000)
$33,096
Unemployment rate (2001)
6.1%
Land area
121,356 square miles
Capital
Santa Fe
Other principal cities
Albuquerque, Las Cruces, Rio Rancho
Number of counties
33
Principal industries
Manufacturing of electric equipment, agriculture, petroleum and coal products, food processing
New Mexico has three land ports of entry (POEs) on its 180-mile border with Mexico. From west to east, they are Antelope Wells, Columbus, and Santa Teresa. Columbus is New Mexico's busiest POE and is the state's only border crossing that is open and staffed 24 hours a day. Interstate highways and secondary roads connect the POEs along the Southwest Border to major New Mexico and U.S. cities. There are approximately 63,900 miles of highway in New Mexico, including three interstates. The state's main vehicular arteries are Interstates 10, 25, and 40. Interstate 10 extends from Santa Monica, California, through the southwestern part of New Mexico, to I-95 in Jacksonville, Florida. Interstate 25 extends from I-10 in Las Cruces, intersects I-40 in Albuquerque, and connects to I-90 in Buffalo, Wyoming. Interstate 40 extends from Barstow, California, through central New Mexico to Wilmington, North Carolina. U.S. highways also run through the state, connecting New Mexico to large cities in the western United States, such as Phoenix, Arizona (via US 60); Wichita, Kansas (via US 54); and Lubbock, Texas (via US 84). State highways, such as SR-9, offer travelers alternatives to the busy interstate highways. Often used as an alternative to I-10, SR-9 extends from Santa Teresa to SR-80 just inside New Mexico's southwestern border with Arizona.
New Mexico has two international airports. The Albuquerque International Sunport is the state's largest and busiest airport, averaging over 640 arrivals and departures daily. More than 6.2 million passengers traveled through Albuquerque International in 2000. During the same year, the airport's freight center handled more than 190 million pounds of cargo. Las Cruces International Airport averages 189 commuter, charter, corporate, and private aircraft flights daily.
New Mexico also has transcontinental and regional cargo and passenger rail lines. Two major freight lines connect New Mexico and the western United States to the Midwest and points east. The state also has three short lines with regional routes that service New Mexico and Texas.
The state's proximity to Mexico, as well as its topography, makes it vulnerable to drug smuggling. Mexican drug trafficking organizations (DTOs) and Mexican criminal groups take advantage of the state's topography--particularly in the "boot heel" area--to smuggle drugs to the state by land and air.

New Mexico Boot Heel

The New Mexico boot heel--named because of its shape--is located in the southwestern county of Hidalgo. This barren area is sparsely populated and consists of mountain ranges and plateaus scattered throughout the highlands. Due to its geography and topography, the boot heel area is a vulnerable location for illicit drug smuggling.
One of the major challenges to interdiction efforts at the New Mexico-Mexico border are the "gates" in the border fence. According to the U.S. Customs Service (USCS) in Las Cruces, drug traffickers cut out sections of the fence creating gates to facilitate the movement of vehicles or individuals smuggling illegal drugs into the United States. The U.S. Border Patrol (USBP) uses remote sensors to monitor activity along the border fence in an effort to thwart smuggling at these gates.
The implementation of the North American Free Trade Agreement (NAFTA) has dramatically increased the volume of cross-border traffic at POEs along the Southwest Border. Since NAFTA went into effect in 1994, cross-border commercial truck traffic has increased 170 percent. The increase in commercial traffic has resulted in congestion at Southwest Border POEs, and New Mexico's POEs are no exception. Increases in commercial traffic have been noted annually at New Mexico POEs since the implementation of NAFTA. (See Table 1.) From 1999 through 2000 the USCS reported a 30 percent increase in the number of commercial vehicles at the Santa Teresa POE, located south of Las Cruces, and a 1 percent increase at the Columbus POE. Additionally, border crossings in private vehicles increased at the Santa Teresa POE (9%) and the Columbus POE (12%). Antelope Wells, New Mexico's third land POE, is not considered a full-service POE and is staffed by only one USCS inspector from 8:30 a.m. to 3 p.m. daily. Approximately 10 to 30 vehicles cross at the POE per month. Seizures are rare and statistics are not available.
Table 1. Port of Entry Totals and Percent of Change, Selected New Mexico Ports, 1999-2000
Port
Year
Pedestrians
Commercial Trucks
Private Vehicles
Columbus
1999
174,688
4,867
348,693
Columbus
2000
193,067
4,892
388,805
Percent Change
11
1
12
Santa Theresa
1999
4,274
23,899
71,879
Santa Theresa
2000
3,865
31,018
78,063
Percent Change
-10
30
9
Source: U.S. Customs Service, 2000.
Private and commercial vehicles are commonly used to smuggle drugs into New Mexico. Smugglers often use a technique called shotgunning to transport drugs into the state. Shotgunning involves the division of large quantities of drugs into several smaller shipments that are sent through the same POE at approximately the same time. Using this method, if law enforcement officers stop one or two of the vehicles, most of the drug shipments will still reach their intended destination. Some smugglers use a similar technique that involves the use of sacrificial vehicles that they expect law enforcement personnel to stop and seize. While attention is focused on the seized vehicle, other vehicles may pass through the POE without an intensive inspection.
Cargo and passenger rail lines also are used to transport contraband including cocaine, methamphetamine, and marijuana into and through New Mexico. Authorities in New Mexico have discovered false compartments in grain cars, concrete hoppers, and boxcars. Although the extent of drug transportation by rail is unknown, law enforcement personnel in New Mexico have made drug seizures from both freight and passenger trains.
Mexican DTOs and Mexican criminal groups transport cocaine, methamphetamine, heroin, and marijuana from Mexico into and through New Mexico using mail and parcel delivery services. In addition, Mexican DTOs often employ couriers and drug transporters to smuggle these drugs into the state.
Drug distribution in New Mexico is conducted by a number of criminal entities. Mexican DTOs and Mexican criminal groups are the primary wholesale distributors of illicit drugs in New Mexico. Some of these Mexican criminal groups often function as midlevel distributors who distribute wholesale quantities of drugs to outlaw motorcycle gangs (OMGs), prison and street gangs, and local independent dealers. Some criminal groups serve as retail drug distributors. OMGs, prison and street gangs, and local independent dealers also are involved in the distribution of drugs at the retail level.
Bandidos Motorcycle Club is the most significant OMG involved in drug trafficking in New Mexico. Bandidos maintains chapters in Albuquerque (2), Las Cruces, Alamogordo, Silver City, and Roswell. Additionally, Bandidos has a chapter in El Paso, Texas, which has extended its influence throughout the El Paso-Las Cruces area. Although drug trafficking is Bandidos' major source of income, it also is involved in contract murder, extortion, welfare and bank fraud, and arson. Law enforcement officials report that Bandidos is expanding in New Mexico in an attempt to control both the wholesale and retail distribution of methamphetamine.
In Albuquerque and other urban areas of the state, violence is often associated with drug-related gang activity. There are approximately 680 gangs totaling 13,800 members in New Mexico. Many of these gangs are involved in drug-related activities. Among these are prison gangs, including New Mexico Syndicate and Barrio Azteca, and street gangs, such as the 18th Street, Los Padillas, and San Jose gangs. The retail distribution of illicit drugs is the primary source of income for gangs in New Mexico. As a result, gangs often resort to violence to protect their turf and distribution base. The competition for drug distribution has intensified gang rivalries, leading to violent confrontations and adversely affecting public safety in the urban areas of the state.
Drug-related violence often occurs along the New Mexico-Mexico border. USBP agents have been fired upon and ambushed by drug smugglers. USBP officials state that one Mexican DTO has placed a $200,000 bounty on U.S. law enforcement personnel. In the 77-year history of the USBP, 86 agents have been killed in the line of duty; 17 have been killed since 1995.
Federal drug sentences in New Mexico have increased overall since the mid-1990s. According to the U.S. Sentencing Commission, the total number of drug offenses increased overall from 404 in fiscal year (FY) 1995 to 594 in FY2000. During this same period, the number of methamphetamine sentences increased each year, from 11 federal sentences in FY1995 to 129 in FY2000. Marijuana sentences were the most common drug sentences in New Mexico each year during this period. During FY2000, 49.8 percent of federal drug sentences in New Mexico were marijuana-related, compared with 31.2 percent nationwide.
Table 2. Federal Drug-Related Sentences, New Mexico, FY1995-FY2000
| Drug | 1995 | 1996 | 1997 | 1998 | 1999 | 2000 |
| --- | --- | --- | --- | --- | --- | --- |
| Crack Cocaine | 16 | 29 | 29 | 34 | 40 | 29 |
| Powdered Cocaine | 47 | 55 | 83 | 62 | 53 | 96 |
| Methamphetamine | 11 | 12 | 50 | 50 | 81 | 129 |
| Heroin | 7 | 22 | 17 | 9 | 12 | 38 |
| Marijuana | 317 | 176 | 239 | 231 | 234 | 296 |
| Other Drugs | 6 | 3 | 5 | 4 | 10 | 6 |
| Percent of Total Federal Sentences | 61.8 | 48.1 | 51.3 | 46.4 | 38.3 | 36.6 |
Source: U.S. Department of Justice, U.S. Sentencing Guidelines Report.
Drug-related deaths are increasing in New Mexico as a result of chronic drug abuse. Health care professionals and treatment providers in New Mexico note that many residents in the state heavily abuse drugs as a means to psychologically escape from impoverished living conditions. New Mexico has one of the highest drug-related death rates in the country. In 1997 there were 224 drug-related deaths reported in the state. The number of drug-related deaths increased to 237 in 1998 and to 259 in 1999.
Drug abuse is prevalent among adult male arrestees in Albuquerque. According to 2000 Arrestee Drug Abuse Monitoring (ADAM) data, 64.9 percent of adult male arrestees in Albuquerque tested positive for any drug. (See Table 3.) Among male arrestees, 78.6 percent of African American, 69.5 percent of Hispanic, and 59.3 percent of Caucasian arrestees tested positive for any drug.
Table 3. Percent of Adult Male Arrestees Testing Positive for Drugs, Albuquerque, 2000
| Drug | African American | Caucasian | Hispanic | Total |
| --- | --- | --- | --- | --- |
| Cocaine | 37.4 | 24.2 | 43.5 | 34.8 |
| Methamphetamine | 3.9 | 16.9 | 2.0 | 4.7 |
| Heroin | 6.8 | 5.8 | 16.6 | 11.7 |
| Marijuana | 63.8 | 40.3 | 49.4 | 47.3 |
| Any Drug | 78.6 | 59.3 | 69.5 | 64.9 |
Source: U.S. Department of Justice, Office of Justice Programs, National Institute of Justice, 2000 Arrestee Drug Abuse Monitoring Program Annual Report, Annual Report on Drug Use Among Adult and Juvenile Arrestees.
---
To Top To Contents To Next Page